While the rest of your home may be alive with activity, what you want most from a bedroom is an atmosphere of relaxation. It should be a space where once the door is closed, you feel as if you have entered a sanctuary that allows you to rest and recharge. What are the essential elements for creating a relaxing bedroom? Follow our guide below to turn yours into the perfect space to escape the stress of everyday life.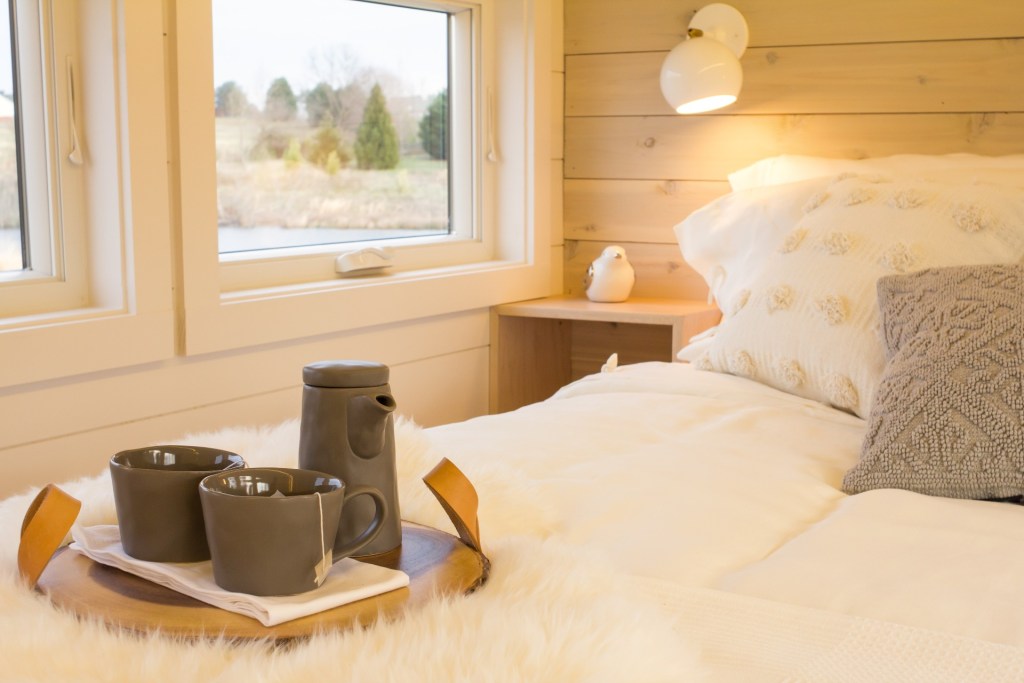 Calming color
Before a bedroom even has a piece of furniture in it, you need to think about what is typically the biggest surface in the room—the walls. Color can have a huge impact on how you feel in any space. Certain hues evoke energy while others promote tranquility. Warm, spicy shades like red, yellow, and orange are best in rooms you socialize and entertain in. While soft blues, greens, neutrals, and grays are ideal for spaces where relaxation is the focus. These gentle hues give an airiness to the palette that allows it to breathe.
From the ground up
Since most of the time you spend in your bedroom is barefoot, having soft and plush floor coverings is key. Even if you have wall-to-wall carpeting, area rugs are a great way to designate different sections in the space. For example, you can place one under the bed and one in a seating area. Rugs also reduce noise because they are quieter to walk on and absorb sound in the air.
Build up the bed
In a bedroom, the bed is the focal point. It is where you spend the most time while you are there. A padded headboard offers additional support and a cozy foundation. Indulge in the softest sheets you can afford. Generally, the higher the thread count, the better they feel. Don't forget to double up on pillows. Layer other elements to create interest and offer options—a blanket, a quilt or comforter, or a buttery throw strewn at the bottom will all add to the overall aesthetic. This heated throw blanket from Brookstone is perfect for wrapping around your shoulders while you read a book or watch television. To top it off, layer accent pillows on the bed to bring in personality and texture.
Mood lighting
The bedroom is not the place for harsh, bright lighting. Avoid using one overhead fixture and instead incorporate multiple sources throughout the space. Table and floor lamps are better at achieving the warm glow you want in a bedroom. Make sure to purchase soft white bulbs. Consider installing dimmer lights to give the option of adjusting the lighting throughout the day.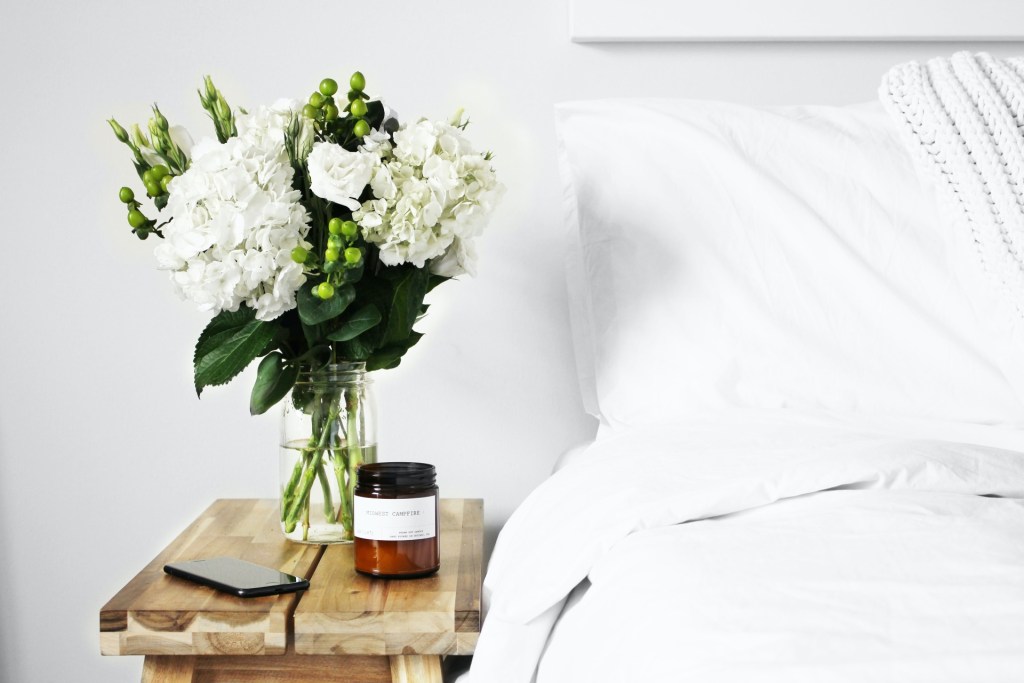 Keep it clutter-free
One of the biggest ways to quell a relaxed vibe is by having a continually messy room. Often, clutter results from not having proper storage and organization, so take the time to outfit your bedroom with furniture and materials tailored to your needs. Once everything has a place, it is easier to keep a space clean and tidy. Covered baskets offer storage and add a chic design element. A storage ottoman can house extra sheets and bedding and serve as a place to put your feet up in a reading or sitting nook.
Bring in natural elements
Bringing organic elements into a bedroom evokes the relaxation you feel when you are out in nature. Plants reduce stress and purify the air. An arrangement of fresh flowers awakens the design. Adding them and continually switching them up brings a freshness to the bedroom. Wood imparts warmth into a space—a shelf made of live-edge wood or a sliding barn door adds character to the room and instantly warms it up.
Stress reducers
A calm environment should appeal to all the senses. Bring in soft, touchable accessories such as pillows and throws. Add them to the bed and chairs or seating arrangements, so there are multiple spots in the room to snuggle into. To ensure a good night's rest, consider investing in blackout shades. Noise machines with options such as forest sounds, rain, or ocean waves can block out distracting sounds like traffic and construction. Essential oil diffusers like this one from InnoGear infuse the air with pleasant aromas—lavender and chamomile are especially effective at promoting relaxation.
Creating soothing bedrooms is about designing a space that feels like the stress outside slips away. Once you have put together your oasis, it will be a place you will be happy to retreat to every night and wake up in to start your day.
Editors' Recommendations