Patios and porches are fantastic places to hold informal gatherings and to bond with your family. Having quality pieces to furnish the area can make all of the difference in creating an inviting atmosphere, especially if you have a fireplace. Dated and worn furniture might send the wrong message. Here are a few tips to keep in mind when shopping around for new patio furniture.
How you know it's time to replace patio furniture
When you're considering whether or not to invest in new furniture for your patio, first evaluate the quality and style of the furniture you currently own. Is it still comfortable to use? Does it show little evidence of use? Is the upholstery clean and not faded or threadbare? Does it meet your current needs and design preferences? If you can answer "no" to any of those questions, it may be wise to buy new patio furniture.
Palm Casual offers this advice, "If you notice excessive rust, too much wobbling or creaking noises when you sit on it, or even tears and breaks in the weave, then it is high time to consider a replacement of outdoor furniture."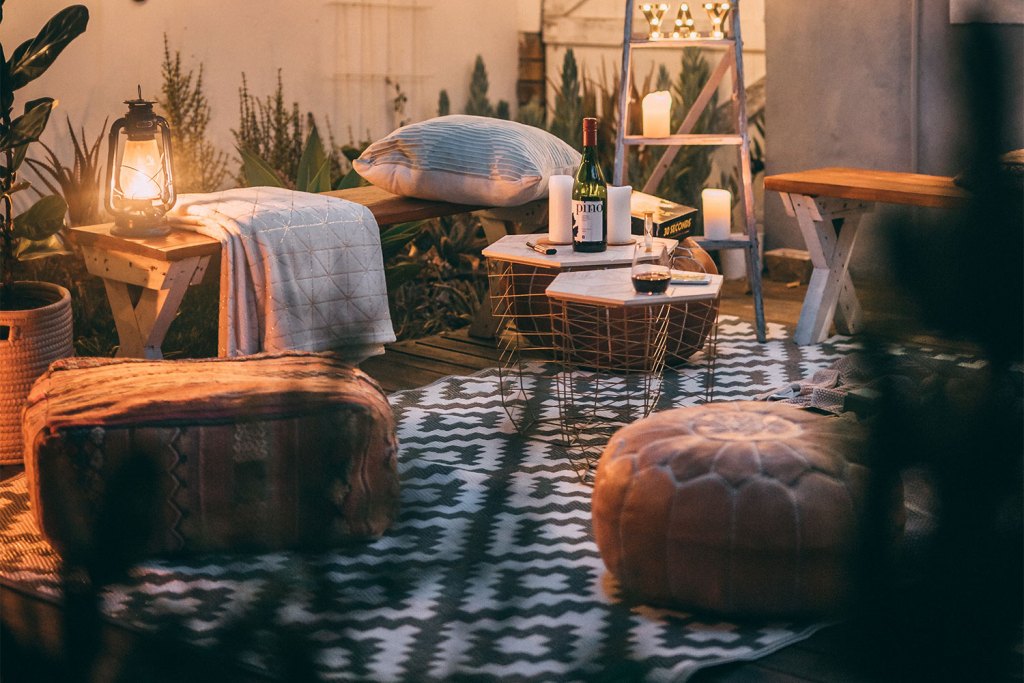 A briefing on types of patio furniture
The two main furniture pieces that are usually placed on a patio are a table and some kind of seating. Seating can come in the form of a bench, a sofa or loveseat, or individual chairs. These components might be primarily made of wood, wicker, resin, or metal. Some furniture is painted and other pieces are left naturally colored. You may choose to have cushioning affixed to your seats. While the basics of patio furniture are pretty succinct, you can get very creative in your customization of the articles. No matter which style of decor you are going for, you are sure to find a combination of furnishings for your patio that matches the theme, says Better Homes & Gardens.
Wood furniture: The natural, homey option
Wooden furniture can be simple and plain or intricately decorated. From South American hardwoods to your typical softwoods, there are many choices of woods that patio furniture might be constructed of. Hardwoods like teak last much longer when exposed to the elements than do softwoods, though the former must have oil applied to them in order to maintain the bright coloration. Most untreated woods will gradually fade to a silver tone. Wood Magazine reveals why this happens, "Most experts agree that two main culprits speed color transformation: oxidation (exposure to air) and UV (ultraviolet light) exposure."
The more durable the wood, the more expensive it is. Some wood furniture features natural cuts of wood; this type is not known for standing up well to weather and should only be placed in covered areas.
Wicker furniture: For a classic, refined look
For many, the traditional weave of a wicker chair elicits memories of a summer spent on Grandma's porch. You can relive those memories or make new ones by choosing to place wicker furniture on your patio. Natural wicker must be repainted as its finish fades and should not be sat on if wet, so it is best to use in covered areas. All-weather wicker does not fade and resists water damage, yet pieces made of this material should not be exposed to the sun for long periods of time.
To evoke an ambiance that is similar but also more tropical, opt for rattan over wicker. Rattan is stronger than wicker, says Homedit. Think of rattan like wicker's unwoven cousin. It goes great with correspondingly exotic patterns, like floral or animal prints.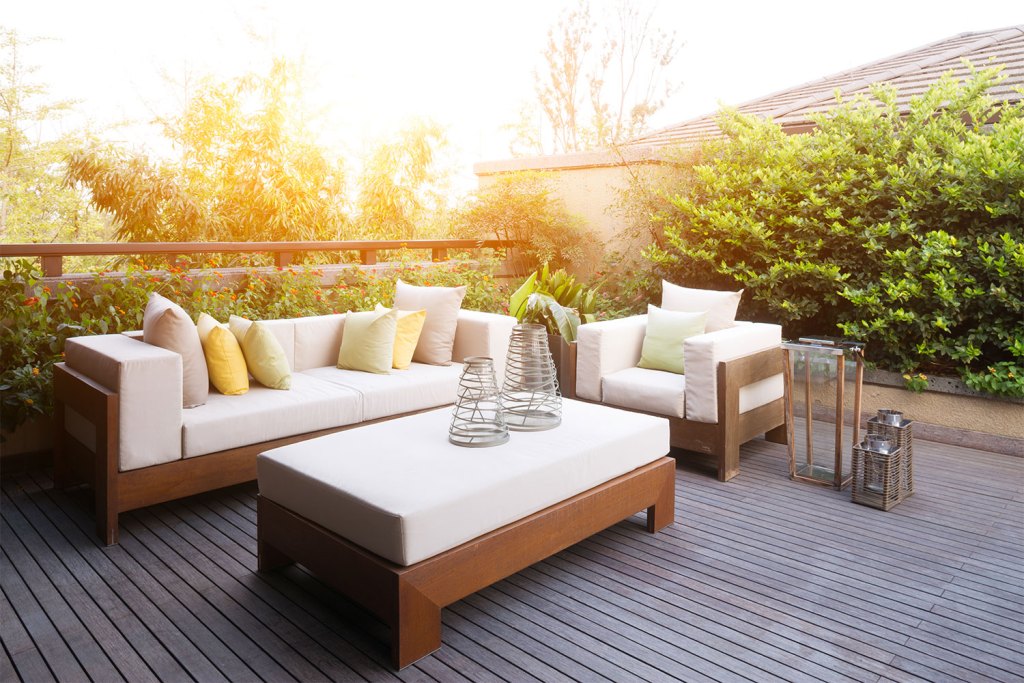 Resin furniture: The creative, weatherproof one
Since resin and plastic objects are completely man-made, they can easily be molded into any form. Therefore, the available number of designs of resin furniture is arguably the largest of any type of furniture. Indeed, this type of furniture comes in bright and vivid colors along with varied and interesting shapes. Take note, however, that pieces made of these relatively light materials are prone to tumbling in the wind if not properly anchored. Water can be easily wiped off them, though, so resin and plastic furniture is most apt for use in wet conditions, suggests Patio Productions. Due to their artificial nature, articles of resin and plastic furniture are probably most appropriate for contemporary theming.
Metal furniture: The most versatile and reliable
Purchasing metal patio furniture means you have chosen some of the most durable, heavy articles of furniture. From classical wrought iron to modern aluminum tubing, metal furniture comes in a range of materials, each with their own unique qualities and care requirements. Iron chairs, for instance, are difficult to move and typically have cushions since they are so hard. Aluminum chairs are made of a softer and lighter metal that is usually coated so as to require little maintenance. Most metal furniture is resistant to water and wind, but some metals rust. Many vintage pieces suitable for outdoor use are made of metal. Furniture from the Victorian period to the '50s, all the way to the current day, is crafted of long-lasting metal.
Guidelines for outdoor cushions
If you decide that your new patio furniture needs cushioning of some sort, be sure to buy waterproof cushions that are intended for outdoor use. Pieces designed for indoor use only should not be used outside as they will get moldy or otherwise be ruined by water. The actual material of your patio cushions does not matter as much as the fact that it is waterproof.
Patio furniture comes in many shapes, sizes, and materials. Finding a set of furniture that suits your fancy shouldn't be hard then, especially with this guide. You can even stay true to your favorite decorating styles, given the myriad designs of patio furniture available.
Editors' Recommendations