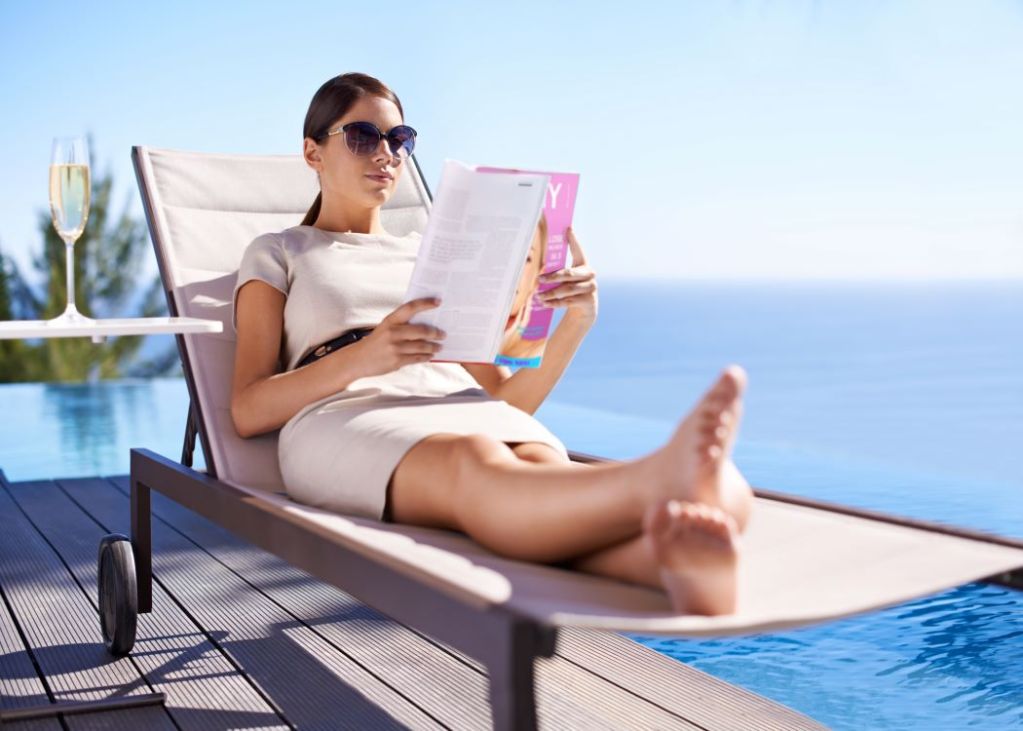 As we ease into the sunniest days of summer, it's a good idea to freshen up on patio furniture. Whether you're planning a backyard barbecue or you just want to relax outside with the family, having a great new assortment of seating, tables, swing chairs, and hammocks is always a bonus. Modern pieces are looking great this season, and we've scoured the shops to find our favorites to share with you. So, without further adieu, let's check out some excellent new pieces of outdoor furniture.
Seating
Our first stop is seating, because you can't very well relax if you can't sit down. Here are our favorite modern pieces of seating for summer 2020:
ECCB Outdoor Creek Side Adirondack chairs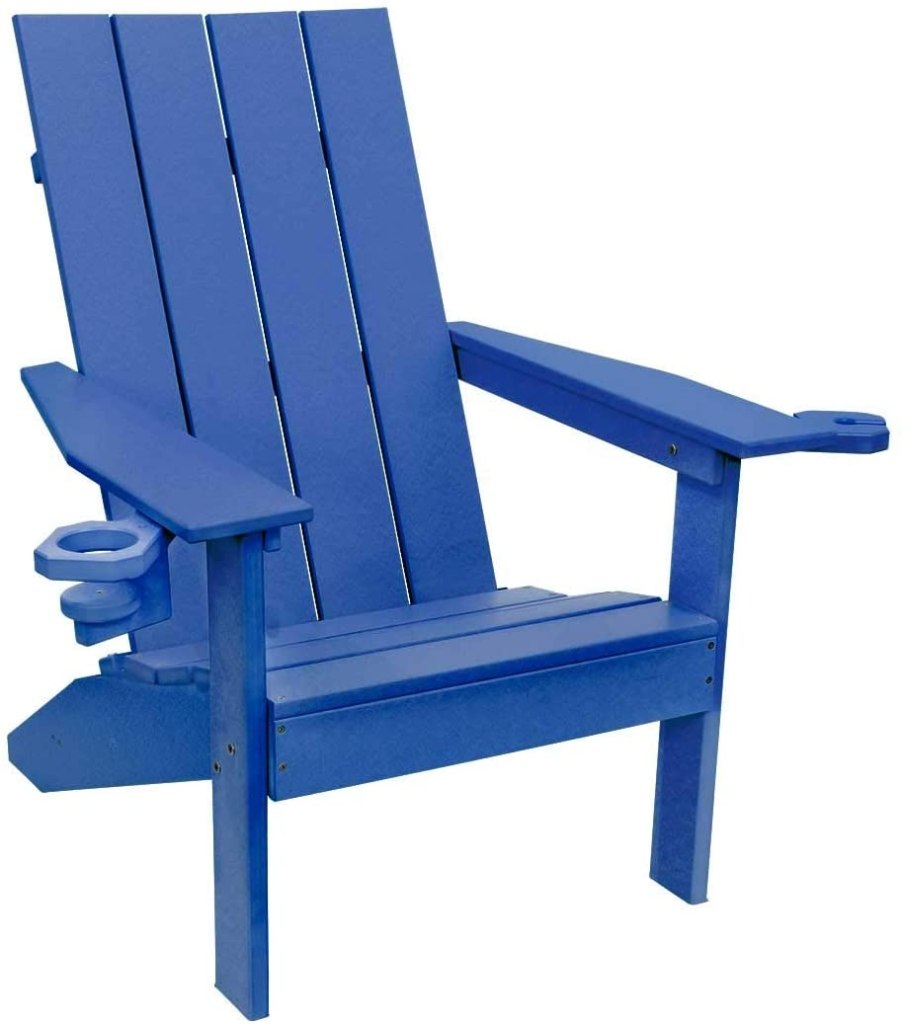 These modern chairs are popular and comfy, adding a pop of color to any contemporary patio. Made with 95% recycled materials by the American Amish, Adirondack chairs won't crack, peel, or rot, are easy to wipe clean with simple soap and water, and are built to resist mildew, insects, salt spray and more. The right armrest hides a cup holder for your favorite beverage, too.
Available on the Adirondack site for $170.00, offered in 13 vibrant colors, as well as on Amazon for $180.00, offered in Royal Blue (shown) and Driftwood Grey. Light assembly is required upon delivery; all necessary tools will be included in the box.
Chevron riviera side chair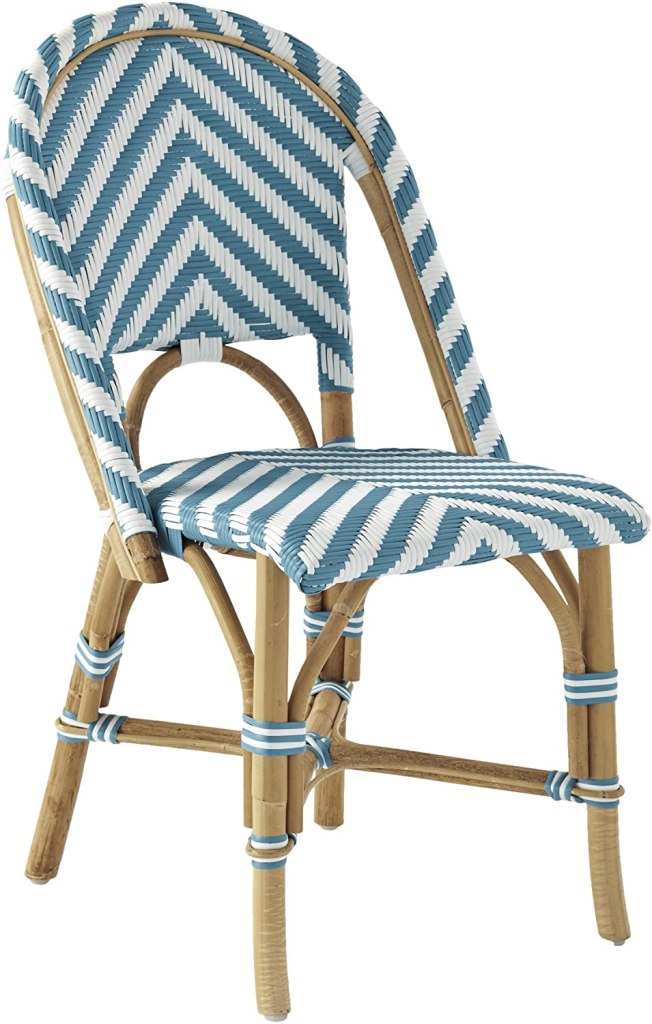 These stunning chairs are covered in woven rattan and plastic, modeled after the dining area of a vintage French bistro. Dimensions are 18-inches W by 23.5-inches D by 35-inches H, with a seat height of 18-inches. For best results, keep them inside until the party begins, and always store away from rain or snow. Available at Serena and Lilly for $250.00. Not sure if the colors work for you? Get a 6-inch by 6-inch swatch first to check it out.
Torrey all-weather wicker papasan swivel chair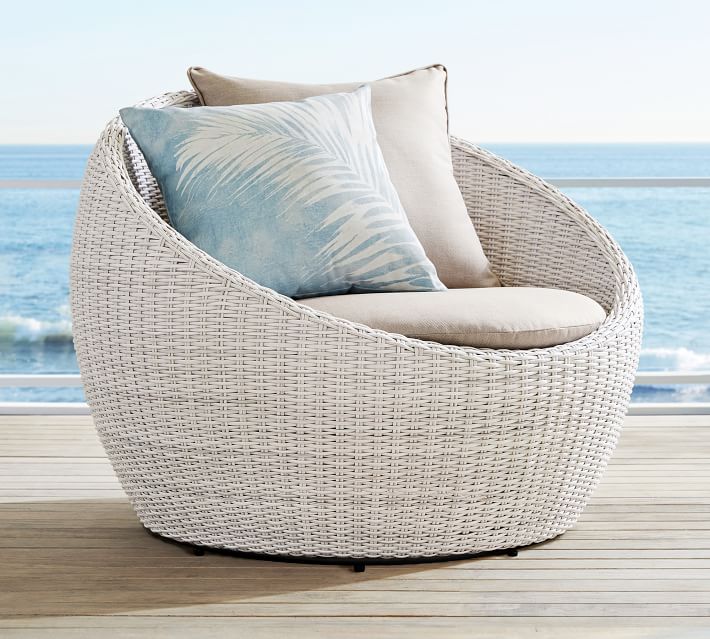 The durable Torrey all-weather wicker papasan swivel chair is tastefully hand-woven in thick rattan and weather-resistant (that's resistant to heat, water, snow, sun, and cold) with a removable cover for washing (it's removable in case you want to swap out the color too). Looks like wicker, but holds up much better. Cozy with a powder coat finish, this unique chair is available at Pottery Barn for $340 in white.
Sunbrella outdoor bean bags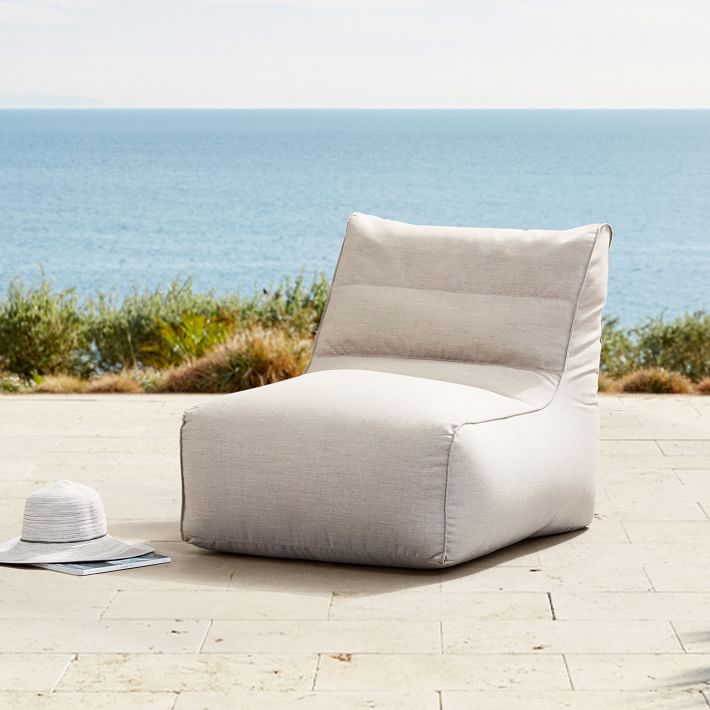 Perfect for outdoor movie night or a shindig with the kiddos, Sunbrella outdoor bean bags are quick-drying and covered first in water and fade-resistant acrylic. Dimensions are 34.5-inches W by 30-inches D by 27-inches H, filling is 100% polystyrene beads, and the entire product is made in the USA. Use them both inside and out. Available for $300 at West Elm, Sunbrella outdoor bean bags come in 3 subtle colors.
Tables
Next up we found a couple of tables, because you've gotta sit your drink down somewhere:
Mosaic tiled outdoor coffee table
Smooth white marble tiles meticulously placed onto a gentle wood base make the perfect cocktail or card table for any modern patio. Store in a safe, dry place during inclement weather. Tile is white. Will be assembled upon delivery for you via complimentary white glove service. This pretty table is available at West Elm for $500.00, where you'll have 3 choices for the base: weathered cafe, weathered grey, and driftwood.
Coral Coast Berea outdoor wicker storage coffee table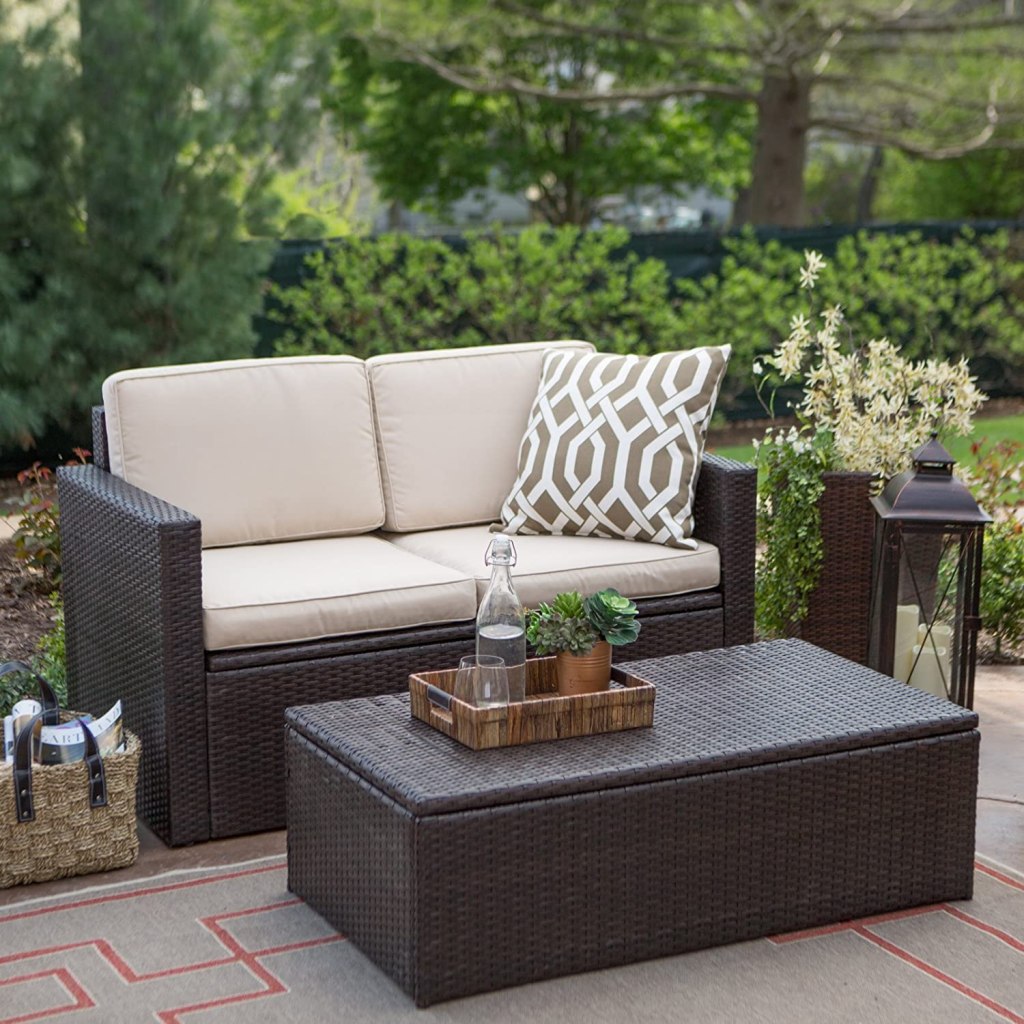 Sturdy, weather resistant, and easy to assemble, the Coral Coast Berea outdoor wicker storage coffee table is perfect for stashing your sofa pillows or other outdoor supplies when not in use. Dimensions are 43.5-inches W by 23.63-inches D by 13.75-inches H, and the storage space is ample. Available for $260.00 on Amazon, where you can also match it with the loveseat shown here.
Loungers
Loungers are next, for when it's time to recline for rest or sunbathing. Sometimes it's just great to put your feet up:
Daisy outdoor teak finish chaise lounger set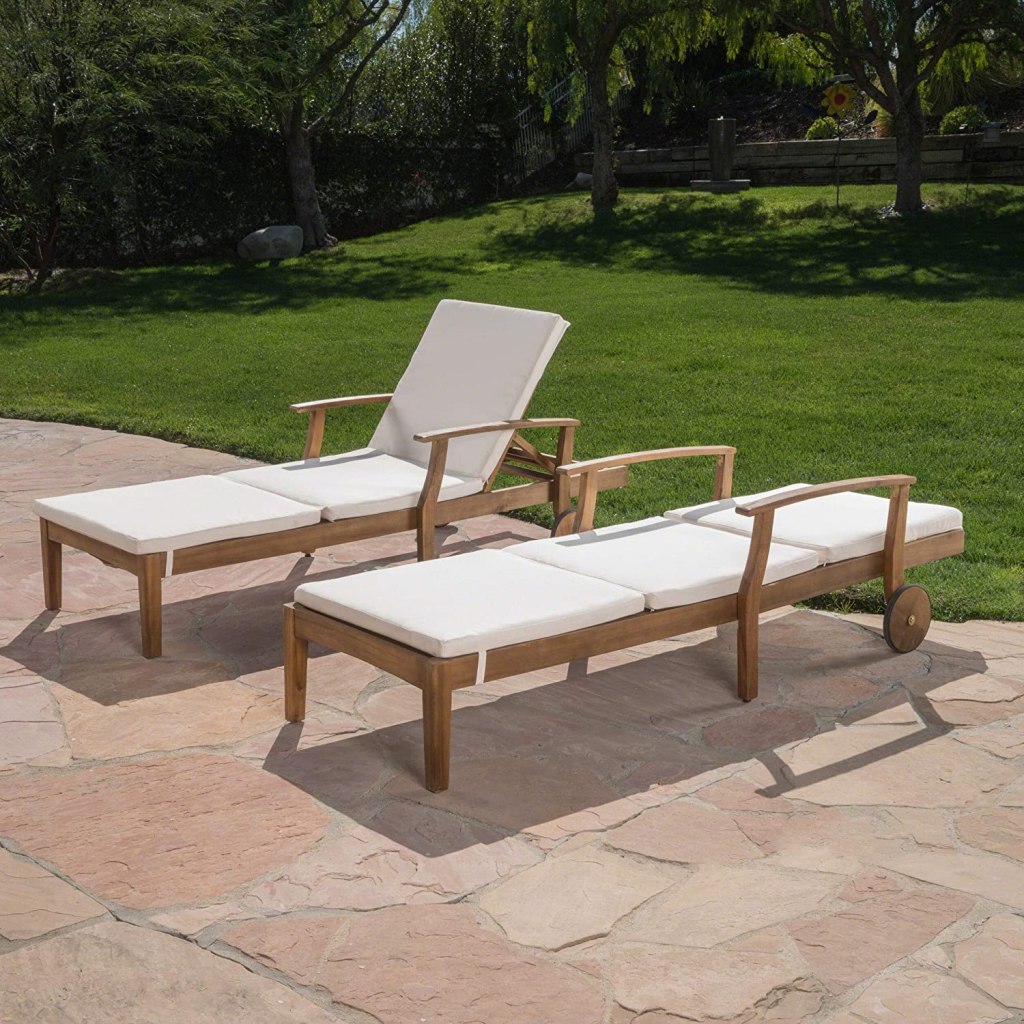 This simple and chic contemporary chaise lounger set lets partners chill together in style. The Daisy outdoor teak finish lounger rests on acacia wood with cooling, smooth cream-colored cushions, all of it water-resistant and easily maneuvered on wheels to the best spot on the patio. Dimensions are 79-inches D by 29.50-inches W by 37.25-inches H. Available on Amazon for $600.00, this lounger set requires light assembly upon delivery.
Sol 72 Rebello sun lounger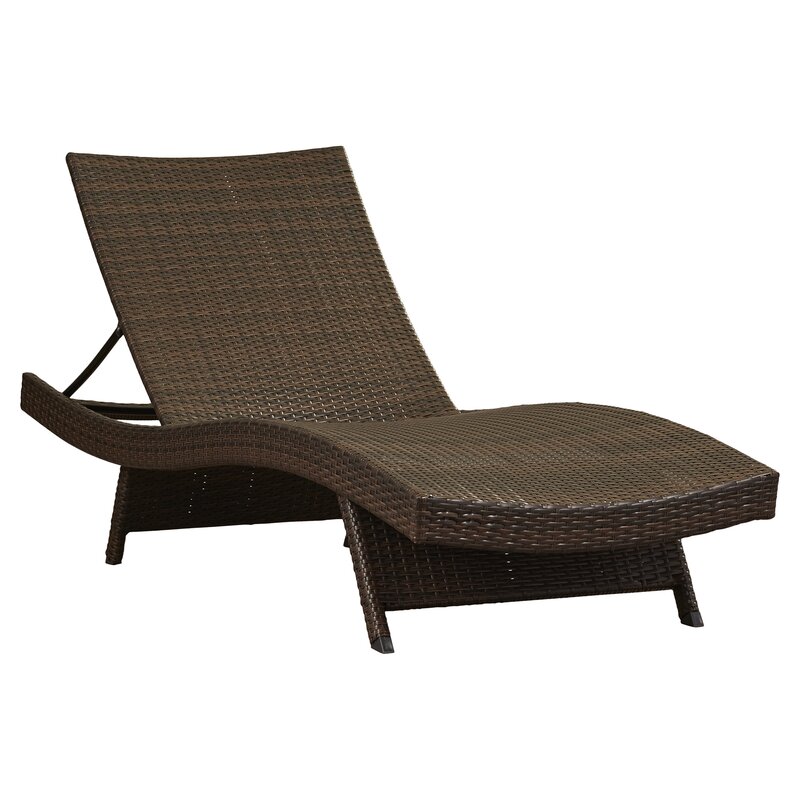 Enjoy four relaxing reclining positions in the sun or the shade when you lie back in the Sol 72 Rebello sun lounger. The inner frame is a sturdy iron, while the exterior is covered in weather-resistant woven rattan in a mellow color to round out your patio ensemble. Dimensions are 15-inches H by 27.5-inches W by 79.25-inches L, and the lounger measures almost a full 80-inches long from head to toe when fully reclined. Easily moved when necessary, this lounger only weighs 36 pounds. Light assembly is required upon delivery. Store in a dry location when not in use. Available for $610.00 from Joss & Main, this cozy lounger is offered in brown or mix mocha.
Swing chairs and hammocks
And last but not least, when it's time to really stretch out or use your chair as a swing (well, a light, swaying type of swing, that is), we've got some great items here, too:
Rainbow ombre hanging chair
It's the rainbows in life that remind us the storms will pass. From the Swingasan collection at Pier 1, the rainbow ombre hanging chair is crafted in hand-woven weather-resistant wicker, and ideal for indoor or outdoor use. Dimensions are 44-inches W by 28-inches D by 46.5-inches H, and the swing can support up to 275 pounds. Cleans up easily with a damp washcloth. Arrives needing light assembly, for which hardware is included in the box. Available for $430.00 at Pier 1, where you'll need to separately add on a cushion (they have them for $100.00 each in 6 different colors), and a stand, (which they also have for the same prices in the same colors).
Best Choice 2-person Brazilian-style cotton double hammock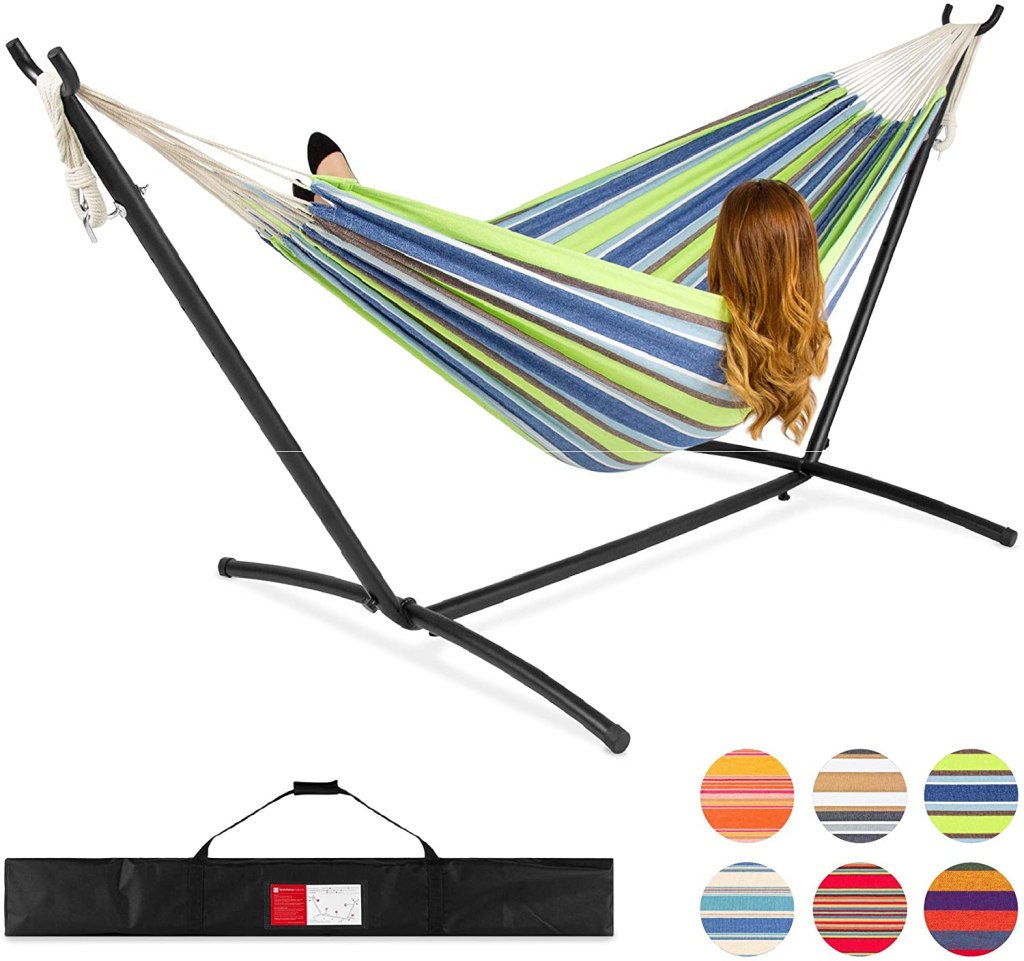 Curl up with a book on the patio in this, lie back and listen to the birds sing, or spend the night under the stars. Spacious enough to fit two, this colorful Brazilian-style hammock gathers elegantly at each end and comes with a convenient stand and carrying case. Very stable and weather-resistant, this hammock's dimensions are 115-inches L by 48-inches W by 43-inches H and it can support up to 450 pounds. Available on Amazon for $180.00. Choose from 6 different color variations, shown above.
*If you're interested in a piece, be sure to click in for the most recent sale prices — there might be a great deal awaiting you. (We generally don't share those since they tend to change so often.)
Editors' Recommendations