If you're thinking about remodeling your kitchen, one of the biggest changes you can make to transform the space is to replace your kitchen flooring. Old, outdated flooring can age the space, even if you've invested in new appliances, lighting, and a backsplash over the years. There are tons of kitchen flooring ideas on the market depending on your needs and design style. Of course, because the kitchen is the heart of the home, you do need to consider something that holds up in high-traffic areas and is easy to clean and maintain. Luckily, there are lots of materials that fit the bill in terms of functionality while still adding character to the room.
Here are some of our favorite flooring options for the kitchen and the pros and cons of each, so you can decide what will work best for you based on how you use the space.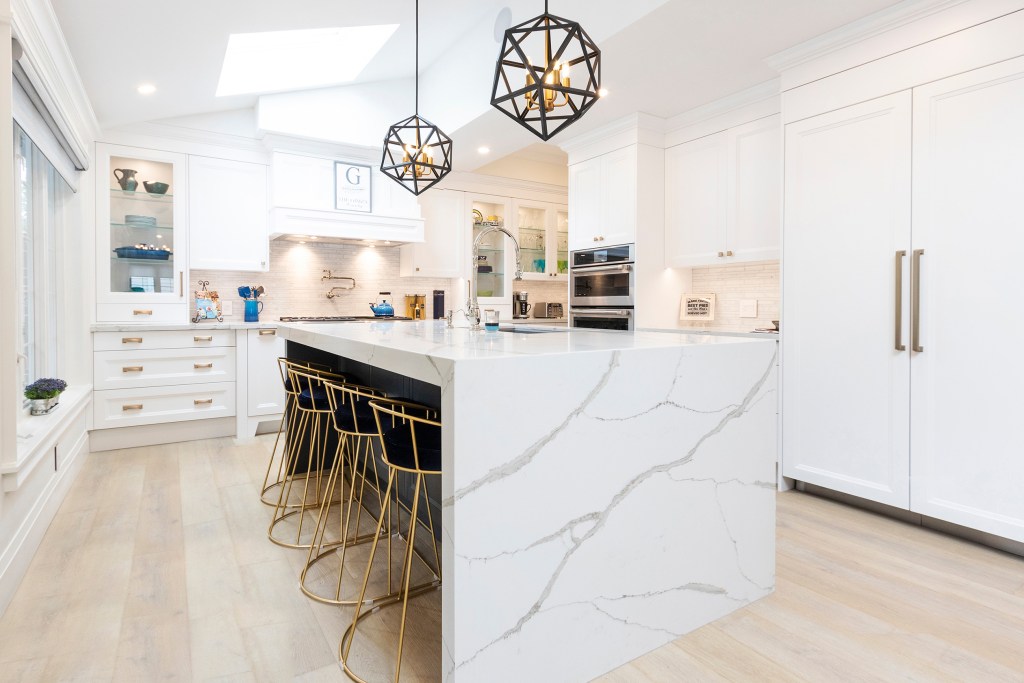 What is the best flooring for a kitchen?
There are several options we love for a kitchen because of their ability to withstand wear and tear and still add beauty to the room.
Hardwood
Hardwood is one of the most common and traditional options for flooring, but there are a few considerations to remember.
Here's why we love it:
Tons of colors and patterns are available
Easy to lay yourself to save money
Goes well in any kitchen from farmhouse to traditional
Cons:
Not water-resistant
Can scratch or dent if items are dropped on it
Expensive (though you can buy laminate that looks like hardwood at a fraction of the price)
Tile
Another common option in a kitchen is tile. You can choose from stone, porcelain, and ceramic, and they all hold up to the foot traffic of a kitchen.
Here's why we love it:
Water-resistant
Durable
Comes in tons of colors, styles, and patterns
Cons:
Can become slippery
Should be installed by a professional (which means more money out of pocket)
Concrete
A relative newcomer in the past decade is concrete in kitchens. We love it for its industrial look, and it can be stained or placed to look like wood, but it's more durable and significantly less expensive.
Here's why we love it:
Waterproof (with proper sealing)
Durable
Inexpensive
Cons:
Cold underfoot
Should be professionally installed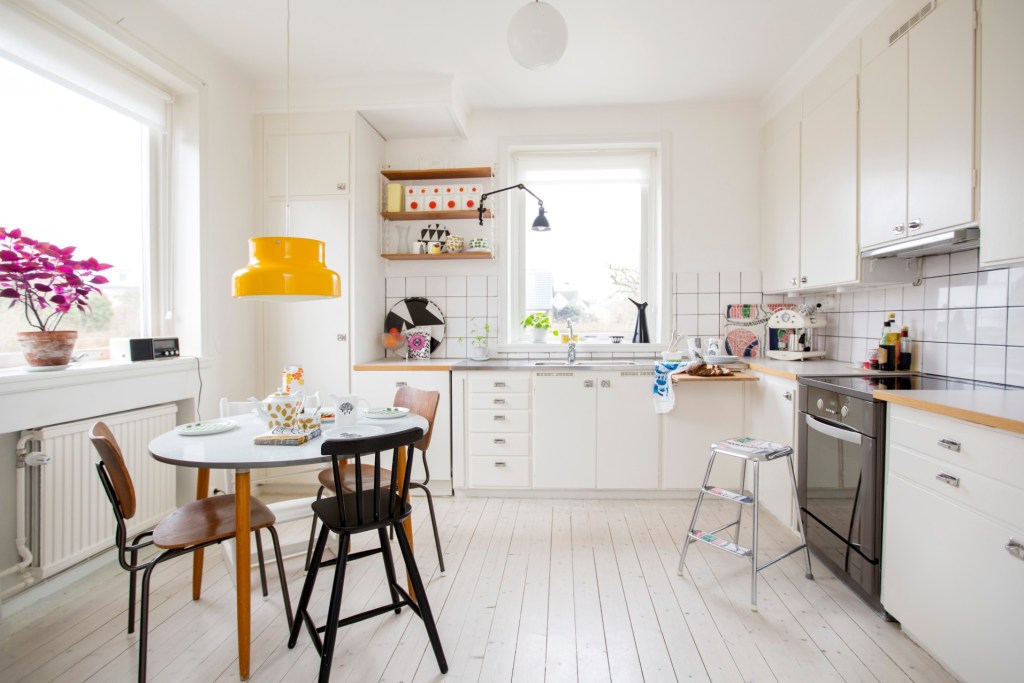 What is the easiest kitchen floor to maintain?
In terms of upkeep, tile and concrete are the easiest to maintain in a kitchen because they are easy to clean. Neither requires much upkeep as long as you are sealing them properly every couple of years, which will prevent stains from leaking into the pores and surfaces.
If you get a floor that has a pattern or choose a stone tile that is multicolored, it can hide dirt and small stains that will inevitably happen while cooking and entertaining in your kitchen. If you have a big family or pets, avoid light-colored flooring because it will show everything.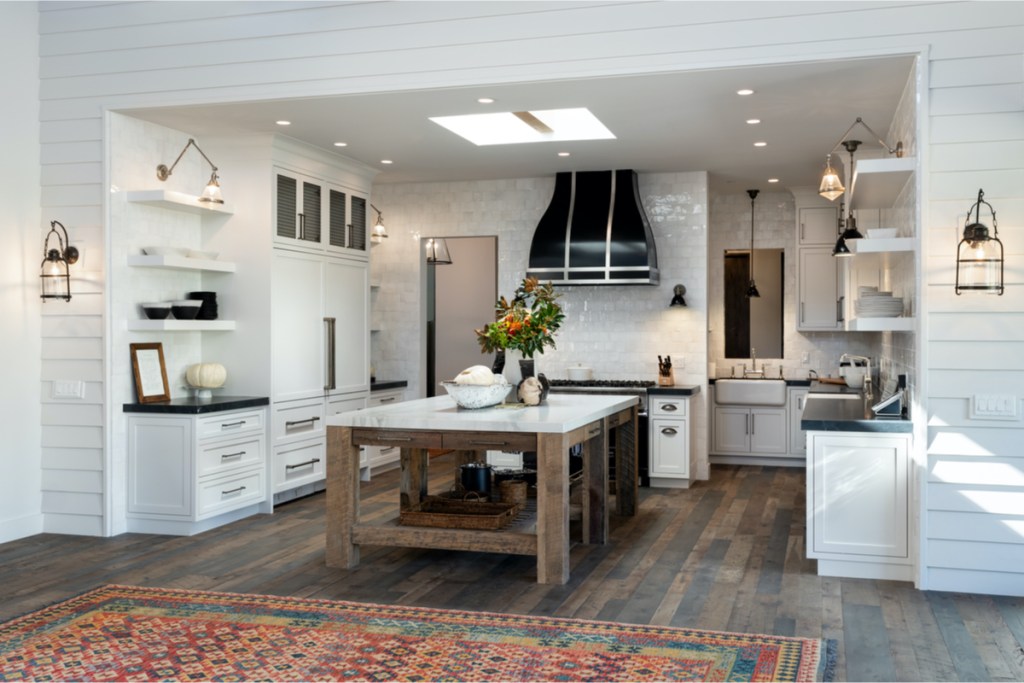 How do you replace a kitchen floor cheaply?
The best way to save money when replacing your kitchen floor is to do it yourself because labor can be as much as half of the total price you pay for the raw materials. Unfortunately, unless you know exactly what you're doing, laying kitchen flooring is best left to experts. In this space, you want to make sure flooring is laid evenly and doesn't have gaps where water can leak into it, especially around a dishwasher or fridge. If you do choose to tackle the project yourself, make sure you talk to an expert beforehand to make sure you have all the necessary tools and are considering all options before you begin.
Your kitchen is a place where family and friends gather over meals, where homework gets done, where you work from, and where you cook. Because it's one of the most used rooms in a home, the flooring should be able to withstand foot traffic, dropped dishes, and the stains that come with cooking and baking. The options above will all do this while looking stylish at the same time. With so many choices available within each category, it's important to set a budget before you begin shopping around so you know how much you have to play with and which options fit within your set price range. Once the floor is in, take care to seal and clean it regularly, and it will be a part of the kitchen you'll enjoy for many years to come.
Editors' Recommendations