A home filled with plants is a happy one. Whether your aesthetic is traditional or rustic, greenery can help make your home a little more inviting. While it's easy to add a succulent to a windowsill or pop a vase in the corner, there are so many other fun and unique ways to showcase plants in your home.
Your living room is where you entertain family and friends, binge your favorite Netflix series, play games, and tuck in after a long day at work. Make this lounge spot explode with life by filling it with greenery that can make you happier and healthier. Plus, a room filled with plants is simply just nice to look at. As you rearrange this space, check out these plant arrangement ideas to make your home really stand out.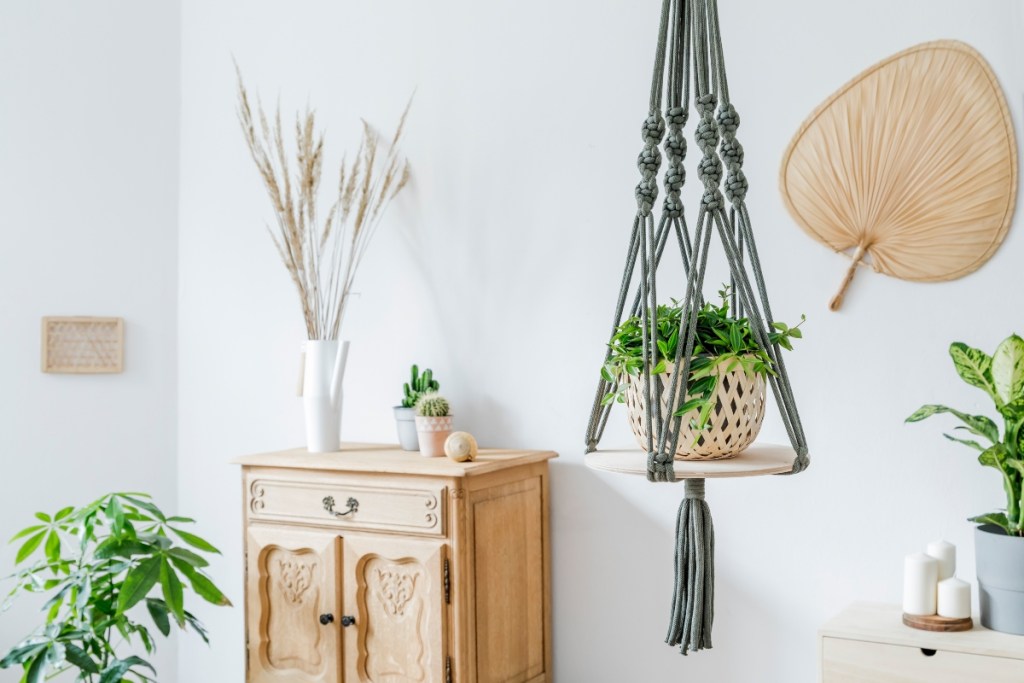 How do I arrange live plants in my living room?
If your living room is an odd shape, filled with non-90-degree corners and bump-outs, this is a great opportunity to fill those awkward, empty spaces.
Compile some pots into clusters around the room to give depth and perspective to different parts of your living room. Placing two or three plants of different sizes and heights adds visual interest to the room, encouraging guests to look up, down, left, and right all across the space.
To make even more dramatic height differences, place a few atop a small stool and make them stand out in a more interesting way.
How do you organize indoor plants?
Keep in mind that you need to balance plants that need a lot of sunlight with ones that thrive in a dimmer environment. This way, you can fill those shady corners without worrying about your blooms wilting away.
Mix and match different plant species
Curate an exciting room by including different species of plants like cactus and ferns to make the room feel creative. Just keep in mind that, for this specific pairing, each plant needs to flourish before they live close together.
Choose your planters wisely
Your decorative eye shouldn't just focus on the plants themselves, so find unique and different planters to add some color, texture, and shape to your design. We recommend checking out Target, which has a ton of affordable indoor planters in various colors, shapes, and sizes that are sure to fit any design aesthetic. Use this as an opportunity to add a pop of color to an otherwise neutral room or add a rustic element to a vintage aesthetic, creating a more layered design.
How can I make my plants the star of the show?
Plants can fill our homes with fresh aromas and gorgeous colors like few other decor items can. So why not make these the star of the show in your living room?
Make a coffee table showpiece
If you have a large coffee table, display your favorite plant on it, being sure to protect your table from any water damage by placing a waterproof mat underneath the pot.
Dress up your fireplace
If your fireplace is the room's focal point, flank this feature from the floor to the mantel with live plants. If you don't have a big mantel to house your plants, don't worry. Instead, place them in hanging planters on either side of your fireplace.
Before you decide to invest, take some measurements of the room, especially if you plan to put plants (and planters) on a fireplace mantel, to make sure you have enough space for the design you're trying to accomplish. The last thing you want is to bring a car full of plants home just to find out you don't have the space to execute your vision. A little planning goes a long way, so ensure your new plant babies have the best environment for them to thrive.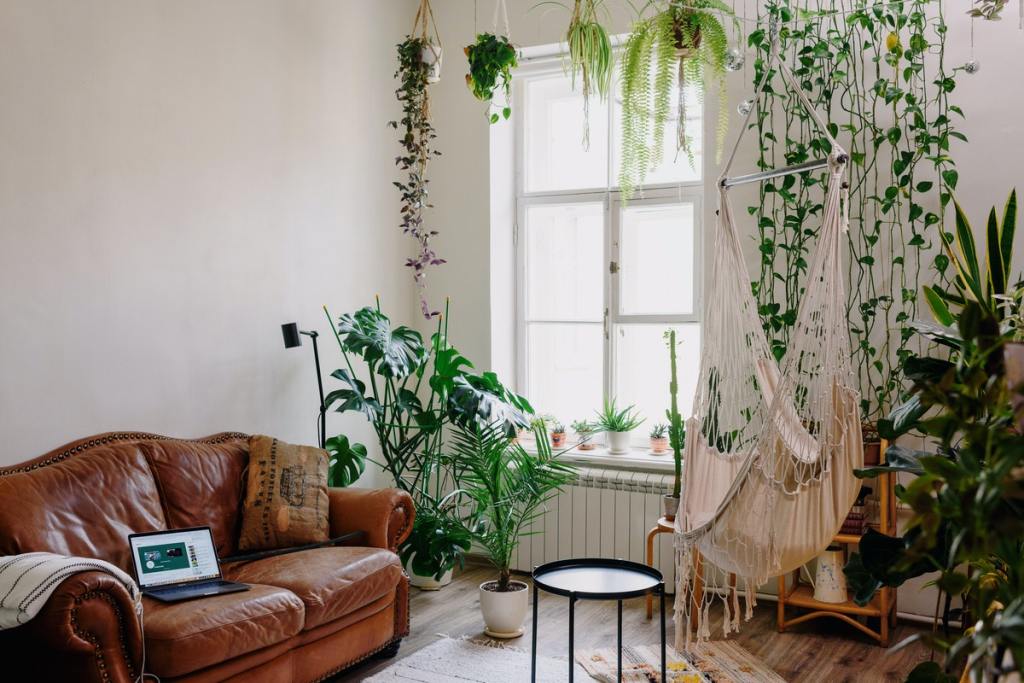 How do I create a plant corner?
Just like an accent wall, a dedicated plant corner can break up any monotony of the space and anchor your room's design with a central feature. If you have a window bench area or corner with an oversize armchair, transform this space into the indoor jungle of your dreams. Hang Golden Pothos from the ceiling, place a small lemon basil plant on the ledge, and add a tall Fiddle Leaf Fig on the floor. All that's left is to find a good book, brew a pot of coffee, and snuggle in for the day.
Indoor plants can reduce stress, sharpen your attention and concentration (a great benefit for those working from home), help you recover faster from illness, and boost productivity. These benefits aren't just reserved for plant lovers with a bright green thumb. There are options available that are safe for those with allergies, pets, limited sunlight, and even people who struggle to keep a succulent alive. Do a little research to find out what variety is right for you, and start building your mini greenhouse right away.
Editors' Recommendations