Central air is convenient and space heaters can warm up a space quickly, but there's nothing quite like the cozy warmth of a fireplace. When it comes to decorating a fireplace, the options are plentiful, whether you want to decorate the mantel, the wall above it, or the fireplace itself (if it's nonfunctional). You can update your fireplace mantel decor with the seasons or pick one look and stick with it. Either way, if you're looking for some ideas to inspire your fireplace update, you've come to the right place. Check out our eight favorite designs below.
Add cushions
If you have a fireplace ledge, add comfy cushions to make this makeshift seating area look extra inviting. Cozying up on an oversized pillow in front of the fireplace will be irresistible for you and your family as the temperatures drop. And, if you have pets, this will certainly become their favorite place to sleep. This is a better option for enclosed fireplaces that don't become too hot. Otherwise, your guests may end up accidentally burning themselves by sitting too close to the flames.
Art on the mantel
If you're a little artsy, the mantel above your fireplace is an excellent place to show off. The mantel is a perfect spot for trinkets, sculptures, and even framed paintings or photographs. Since the fireplace is naturally the focal point of the room, it is a prime spot to showcase some of your favorite pieces. Don't be afraid to combine different styles or mix decorative items with practical elements like a lamp or candle.
Shelve books
If you have a fireplace that doesn't work, you may not be using this space to its full potential. Instead of letting your hearth sit unadorned, use this area as a built-in bookshelf and install shelving to display your collection of novels, short stories, figures, or whatever else you want to show off.
Plants
Houseplants bring life and color to any room, and this natural feature will pair well with your existing decor, regardless of the style. If you have any tall or hanging plants, just be sure to keep them away from the heat of the fireplace. Many plants will not grow well near direct heat, and it may even burn the leaves. If your fireplace is out of commission, add a little color and fill the alcove with small houseplants.
Keep it simple
Sometimes, less is more. A few simple decorations, like a small vase or framed painting, can draw the eye to the details of the fireplace and let the architecture really shine. Otherwise, keep it classic by adding a wrought iron fire tool set and wood rack — it never goes out of style.
Go festive
If you tend to change your home's decor along with the seasons, start with the fireplace. Since fall is here, now is an excellent time to add some pumpkins, chrysanthemums, fall-scented candles, and vases filled with bright-colored leaves. Once fall is over, you can decorate the hearth with stockings, Christmas lights, and pine needles (kept far away from live flames, of course). Then, in the spring and summer, adorn the mantel with fresh flowers, bowls of citrus fruits, and leafy plants.
Use a mirror
Sometimes a thoughtfully placed mirror is all you need to transform the living room. Placing an oversized mirror on the wall above the fireplace is a great way to decorate simplistically, and it can make the room appear bigger. If you have a non-functional fireplace, put a mirror in the empty firebox to fill the space with a little dimension.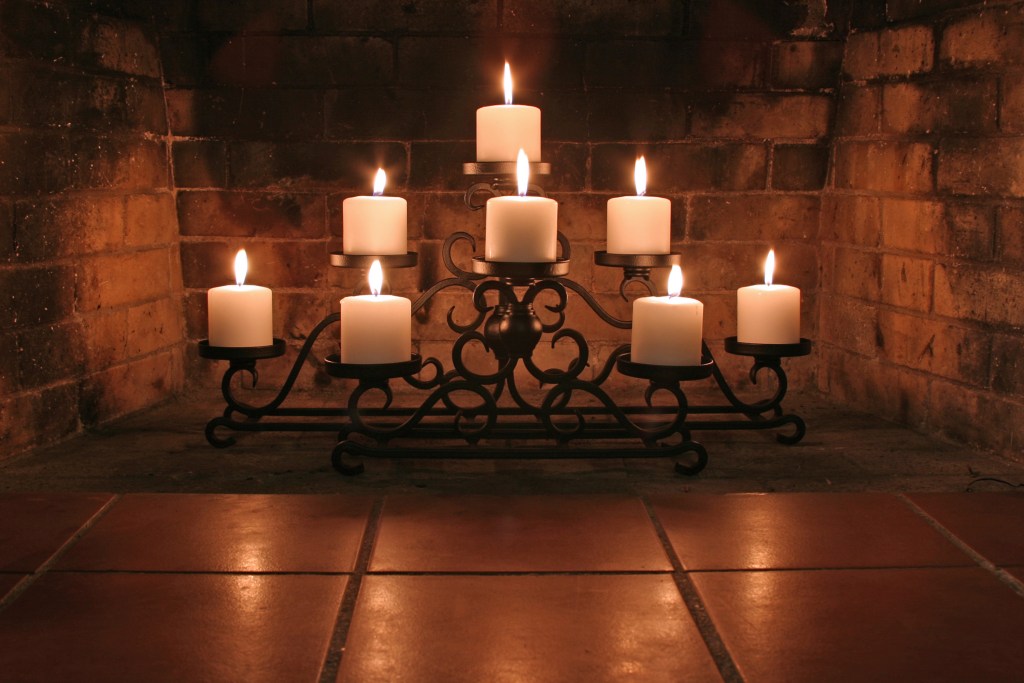 Candles
When in doubt, use candles. Whether you need to decorate the mantle, enhance the walls around the fireplace, or fill the empty hearth, candles will not disappoint. You can go the minimalistic route and utilize just a few nice tea lights on the mantle or you can go candle crazy and fill the entire firebox with them. Don't worry, if you don't want dozens of little flames in your living room unattended, you can always opt for the battery-powered variety and achieve the same ambiance.
If you have a fireplace that has become more of an eyesore than a focal point, it may be time for a makeover. You don't have to spend a ton of time or money to redo your fireplace — all you need is a little inspiration and know-how. Even if your fireplace doesn't work anymore (or never did), you can still find a creative and personalized way to liven up the space.
Editors' Recommendations