Want to extend the growing season of your garden or grow delicate plants from seedlings? Most avid gardeners will tell you that a greenhouse is the best route to reaching these horticulture dreams. While you can hire a contractor to build your greenhouse, but that can cost hundreds or even thousands of dollars.
With a bit of research and a weekend's worth of work, you can create a DIY greenhouse that suits your specific needs, space, and budget — and it's so much easier than you think!
Before beginning a full-fledged DIY greenhouse build, a little planning is in order:
Place your greenhouse running lengthwise, from east to west, to maximize the amount of daylight it receives. Ensure your greenhouse will enjoy at least six hours of sunlight in the winter.

Planning on running electricity through your greenhouse? Be sure to position it close to the power source on your property.

Add a thermometer to the interior of your greenhouse. The minimum inside temp of your greenhouse in the winter should be between 45-60 degrees F to maintain active growing. A sunny winter day will quickly heat up the greenhouse's interior, so be sure to open vents to let in cool air and keep the temperature consistent.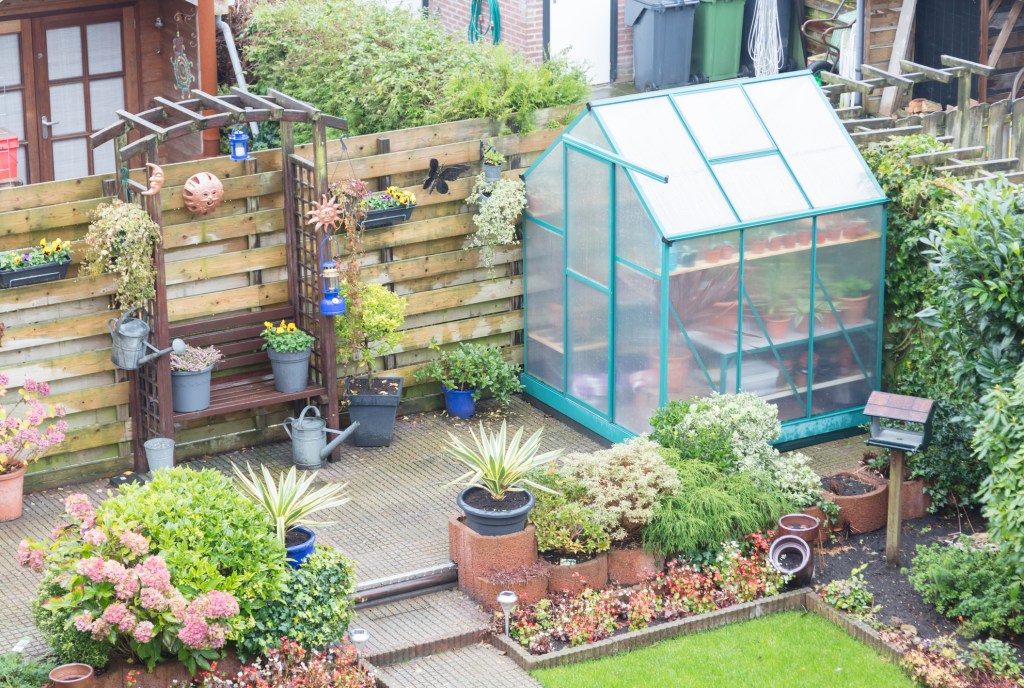 DIY greenhouse ideas
There's a plethora of how-to videos and step-by-step guides on creating a DIY greenhouse with old windows. Some are elaborate plans for walk-in designs, and others create tiny greenhouses with lift-up roofs for access to the plants. Whichever one you choose, these repurposed window designs add both style and function to your yard.
Geodome greenhouses for colder climates
In areas where frost, blustery winds, hail, and snow are the norm for winter, a geodome greenhouse is an excellent option. Lightweight yet surprisingly stable in inclement weather, geodomes offer optimal light absorption and ground space for growing. You can find a lot of tutorials and videos online with step-by-step instructions, but we recommend this one from Northern Homestead.
DIY cold frames
If you don't have the room or building skills for a full-size greenhouse, consider crafting a cold frame. It does everything a regular greenhouse does but on a smaller scale. Plus, a cold frame greenhouse is portable! Building these frames might necessitate some carpentry skills, but there are also simplified plans that beginners can master. Check out the DIY ideas and instructions on Epic Gardening to find a cold frame plan that works for you and your skill level.
Greenhouse kits — everything you need for DIY-ing!
Not into construction but still have the DIY greenhouse bug? You can create a backyard greenhouse by purchasing a greenhouse kit online. Much easier than building from scratch, these all-inclusive kits have everything you need and can be assembled in an afternoon. With styles under $100, there's no reason to delay. Browse the options on Amazon today.
Help save the planet with this greenhouse design
We've never seen a more ingenious use of plastic water bottles than the DIY greenhouse plans from Reap Scotland. You'll need quite a lot of water bottles (the plan calls for around 1,500 2 liter bottles), but the end result is not only stunning to look at but results in an enormously expansive 'recycle, repurpose, reuse' project.
DIY mini greenhouse ideas
Another way to reuse plastic bottles…
Not everyone has the time and resources to collect 1,500 two-liter water bottles. Luckily, this plan just calls for a few.
This quick mini-greenhouse solution works for both plants in the ground that need protection from not-quite-warm-enough temperatures, outdoor potted plants, and windowsill seedlings. Simply cut off the bottoms of your two-liter plastic soda bottle, place it over the plant, and secure it into the soil.
In both cases, just remove the cap to vent the plant.
Under my umbrella…
You can create an adorable — and effective – mini greenhouse for container or garden plants using nothing more than a cheap dollar store umbrella (just select a clear umbrella to allow sunlight in). Remove the handle, and insert it into the container or straight into the ground to protect vulnerable seedlings or plants from inclement weather.
Small or big, simple or challenging, you're sure to find a DIY greenhouse plan that works for you. Once you've made your pick and rolled up your sleeves, you can extend your growing season from just a few months to all year long!
Editors' Recommendations