A dining room light can transform your entertaining space. It sets the tone for the room, with grand chandeliers creating a more traditional space and pendant lights bringing in a modern touch. Regardless of the aesthetic, the dining room should be a well-lit space that welcomes people and encourages them to spend countless hours around the table eating and connecting. As long as you pick a fixture that is the right size for your table and room, you'll find yourself with a beautifully illuminated dining room that can host both formal dinner parties and casual family game nights.
If you are hanging any light above a dining table, its bottom should be 30 to 36 inches above the tabletop. If you're hanging more than one light fixture above a table, make sure they're spaced two feet apart. This is far enough to prevent the ceiling from looking crowded but close enough to ensure there won't be any dim spots. To check the height without undergoing an entire install, tie a balloon to a piece of string at your desired length and tape it to the ceiling. Once you're satisfied with the height and spacing, you can wire the fixture into place.
We've scoured the internet for dining room lighting fixtures that will transform an ordinary room into your dream entertaining space. These lights can all find a home in your dining room whether it's styled as a modern farmhouse or a contemporary loft.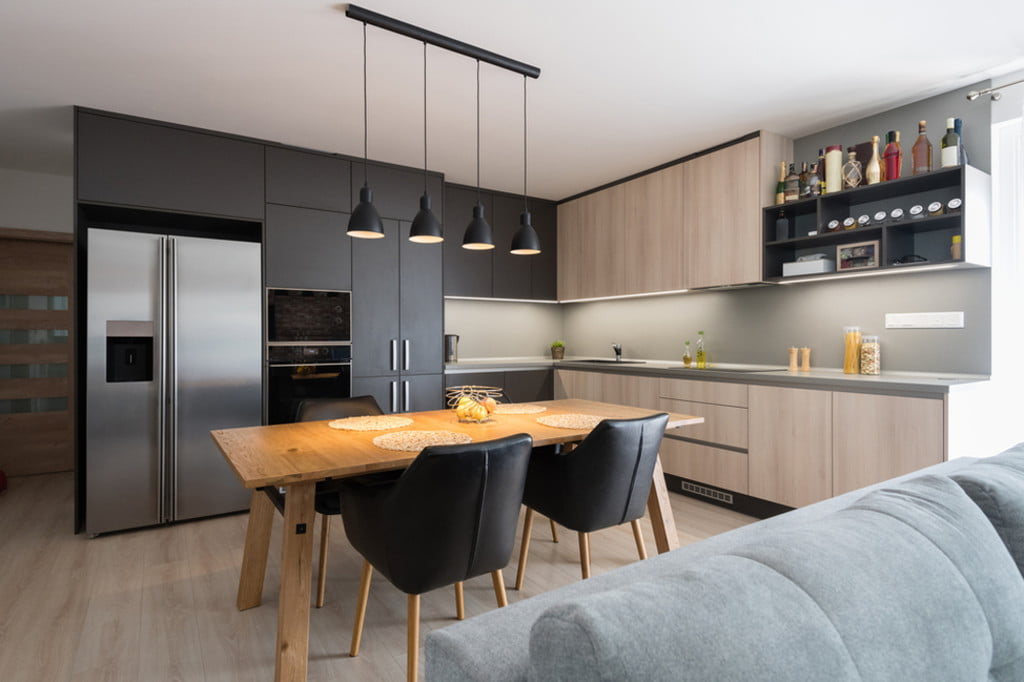 Multiple-light chandelier
Dramatic chandeliers are classic and timeless. They make a statement without being too chaotic or over the top, and you can find options that are as simple or as intricate as you'd like. We're particularly smitten with this seven-light brushed brass option from West Elm. This fixture is highly customizable, so you can change the shade and size of the bulb colors, the type of metallic finish, and the hanging length to best complement the height of your ceilings. At under $300, this piece won't break the bank but will still make an impact.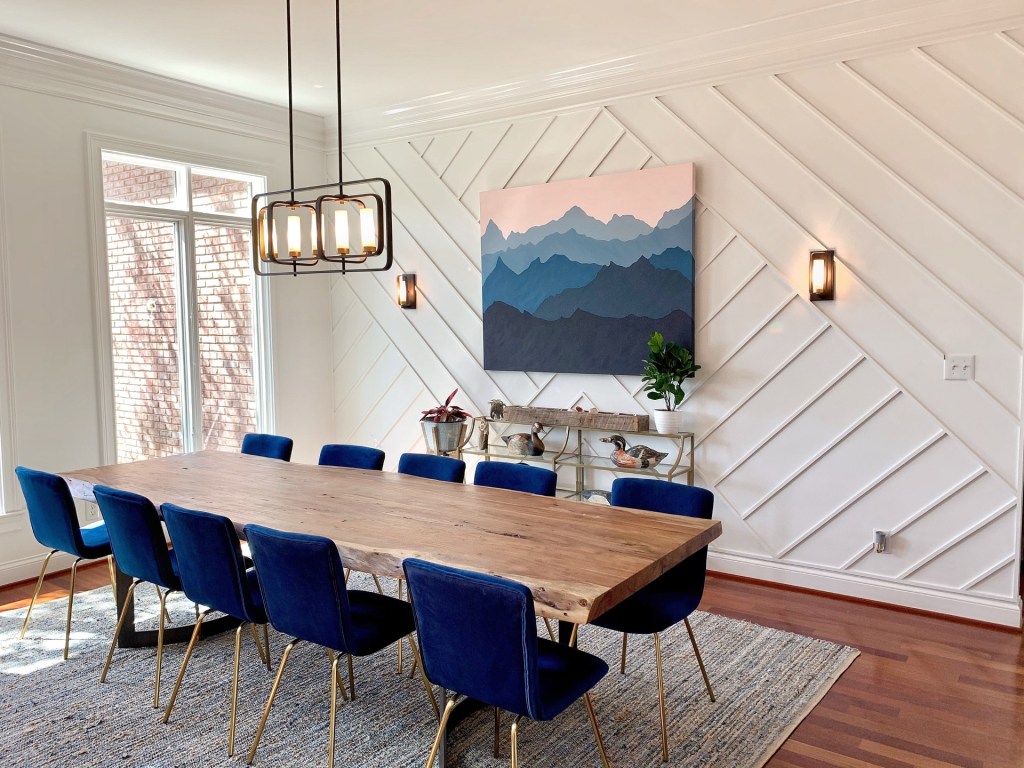 Large pendants
For a simpler single-light option, which works best mounted over circular tables, check out this Flora rattan fixture from Pottery Barn. The natural, lightweight material will keep a room looking more casual, and adds a bohemian vibe to the room. It comes in 23″ and 18.5″ in diameter, so you can integrate this look into your dining room regardless of its size.
For a more dramatic feature, take a look at this Emmett pendant from William Sonoma for a vintage fixture that's available in both brass and bronze.
Sputnik lights
Sputnik lights have gained in popularity in recent years for their futuristic style that adds a dose of fun to any dining room. They give off a ton of light, and the simple clean lines pair well with modern, minimalist decor. We particularly love this Dorcia 12-light sputnik sphere chandelier from Wayfair. Its height is adjustable and its brilliance is dimmable, so you can easily adjust it to fit your needs. If you have an extra-long table, you could buy two and create a slightly more eclectic style. At $172, it's an inexpensive way to update your space.
Crystal elegance
More formal dining spaces benefit from a big statement, and this Vienna crystal chandelier from William Sonoma is up to the challenge. It comes in both 32″ and 52″ diameter options and is available in both brass and polished nickel. Depending on which size you choose, you could be looking at a price tag of $3200-5000, so it's definitely the most expensive option on this list. However, if you're budgeting for a luxurious makeover, this is certainly a piece that conveys tasteful opulence. If you spend a lot of time entertaining guests or hosting large family events in your dining room, it may just be worth it.
If you love the idea of crystal but don't have $5000 available for a statement piece, this Monique Lhuillier crystal chandelier from Pottery Barn Teen delivers all the crystalline beauty you want for only $299.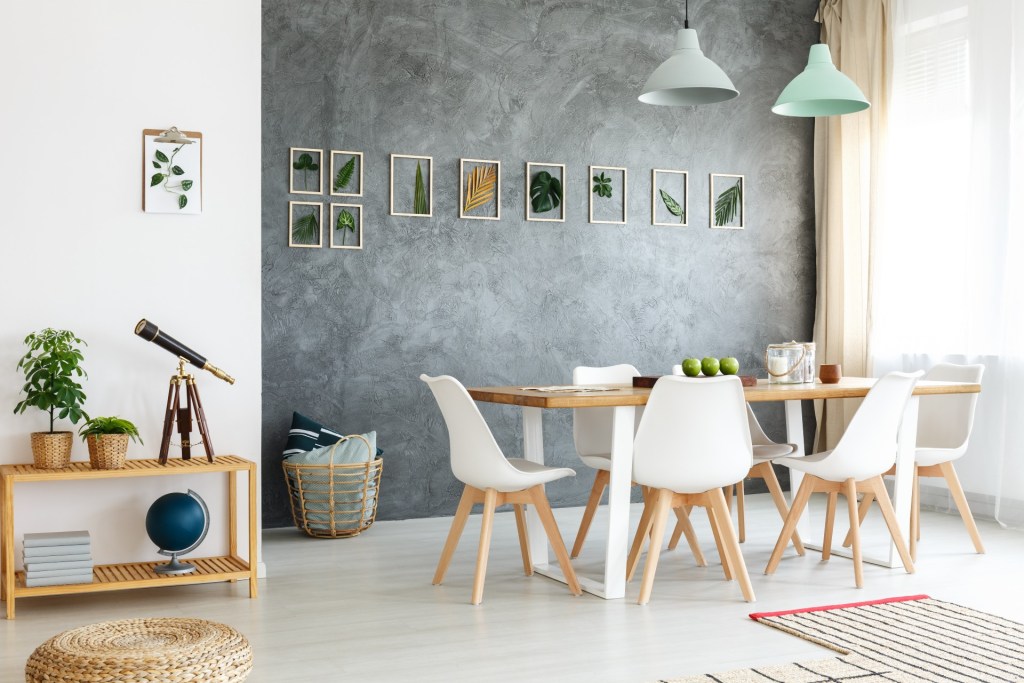 While more traditional or formal dining rooms have lower hanging chandeliers and more casual spaces have higher lighting, this is not a hard and fast rule. Your personal preference and design sensibilities should be the determining factors when picking all of your decorations. Have fun with the remodel, and experiment with different shapes, sizes, and colors to find something that works for your room and your style. Regardless of your budget, you can find lighting fixtures that create the perfect dining space for both formal dinners, cozy brunches, and everything in between.
Editors' Recommendations