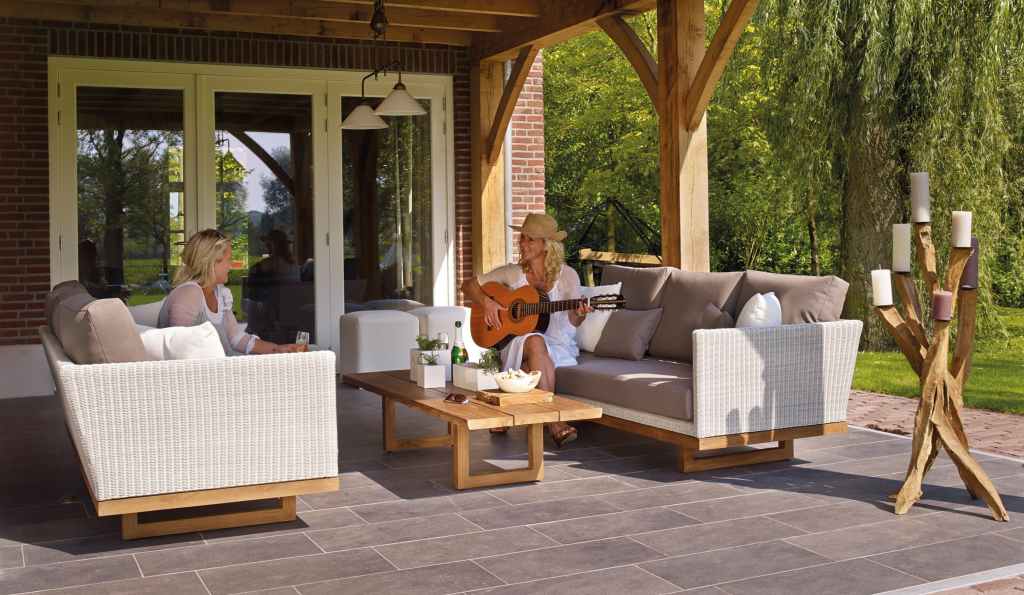 For many homeowners, summer is a time to enjoy backyard barbecues and relaxing evenings with family and friends. A patio can be the ideal location for a gathering, provided you have the right furniture.
If you've never bought patio furniture before and you've done a little research, you may be feeling overwhelmed and confused by all the options. If you have purchased outdoor furnishings in the past, you may have been disappointed by their quality and may want to avoid making mistakes this time around. Here are some important things you should consider before you begin shopping for new furniture for your patio.
Think about How You Will Use the Patio
Try to estimate the maximum number of people you might need to accommodate on your patio at any given time. If you plan to host large gatherings, you will need one large table or two or more smaller ones, plus plenty of seating. Separate chairs may work, or you may decide to use benches with a long table.
If your goal is to create an intimate space to sit and talk with your immediate family or a small group of close friends, you may want to limit your purchases to one or more sofas or a sofa and loveseat, plus a coffee table and perhaps some end tables.
Understand the Pros and Cons of Common Patio Furniture Materials
Stores and online retailers sell outdoor furniture made from numerous materials. Each material has intrinsic qualities, and some of them can't be changed via manufacturing processes or protective coatings. The way that each material reacts to different types of weather and the conditions in your area will influence your selection.
Metal Patio Furniture
According to Luke Walsh, an in-house designer with Yardbird, "[Aluminum's] corrosion resistance is unbeatable, and its lightweight and low maintenance requirements make it the smartest choice for any consumer looking to buy outdoor furniture that will last…. I would unquestionably recommend an aluminum frame product for exceptionally adverse climates. Wet and humid, hot and dry, or snowy and below freezing, it doesn't matter the nature of the climate, a properly built aluminum piece will outperform all others." (emphasis by Luke Walsh)
Stainless steel is heavier than aluminum, but it can become hot if it sits in direct sunlight. Patio furniture made with stainless or powder-coated steel can stand up to harsh weather. Steel is affordable and requires minimal maintenance. Wrought iron, on the other hand, can be heavy and expensive.
Sunlight can affect the color of metal furniture. "If you use metal, it's going to fade on you half the time," Alex Ruiz, a landscaper with A Lil Bit of Everything in Waterbury, Connecticut, said. Take that into consideration if your patio is exposed to direct sunlight.
Wood Patio Furniture
Teak furniture can last up to a century, even if it's frequently exposed to harsh sunlight and rain. "Teak wood is also highly resistant to outdoor conditions, but it comes at a higher price point, a considerable increase in weight, and a lot more required maintenance than aluminum," according to Walsh. "Out of our customers, the ones who do choose teak over aluminum do it solely for the softness and warmth that the wood accent brings to their space."
Teak can gradually change from brown to a silvery gray. "If you want your furniture to keep its golden color, we recommend that customers apply a teak rejuvenation oil followed by a weather sealer to their furniture at least twice a year. If you don't apply that rejuvenation oil, the teak's color will weather into a silvery gray patina," Walsh explained. "Structurally speaking, this weathering will not affect the piece, but we do recommend that customers still apply a protective sealer to the wood at least once a year to keep their pieces looking great for the many years to come."
Eucalyptus can last nearly as long as teak and costs less, but it need to be sealed several times a year. Cedar can last up to 20 years. It costs less than teak and eucalyptus and should be coated with a protective oil every year.
When shopping for any type of wood patio furniture, think about how exposure to sunlight could affect it. If you prefer wood furniture and you live in an area that gets a lot of sun, make sure that you buy pieces that can stand up to those conditions. "If wood isn't pressure treated, it turns brittle and starts to deteriorate," Ruiz said.
If you decide to get any type of wood patio furniture, be sure that it's well constructed. Some inexpensive outdoor wood furniture is held together with glue or staples.
Wicker Patio Furniture
Real wicker can be damaged by sunlight and moisture. All-weather wicker is an alternative crafted with synthetic fibers attached to an aluminum frame. All-weather wicker furniture can stay outdoors in nearly any weather conditions and can be cleaned easily with just soap and water. Synthetic wicker furniture may fade, but "not as much" as real wicker, Ruiz said. If you're interested in all-weather wicker patio furniture, look for pieces with fibers that are tightly woven.
Plastic Patio Furniture
Plastic is the least expensive type of synthetic patio furniture. Repeated exposure to the sun may cause the color of plastic furniture to fade and may make the material become brittle. Plastic furniture can be treated to protect it from sun damage.
Some experts advise homeowners to stay away from plastic patio furniture because it can look cheap and won't last as long as other materials, but Ruiz disagrees. He said he recommends PVC because it's easy to clean and he has found that "it doesn't fade."
Think about Potential Problems When Selecting Materials
When shopping for patio furniture, you will have to consider many of the same factors that are important when buying indoor furniture: style, color, size, functionality, comfort, and price. Shopping for outdoor furniture can be more complicated, though, because you'll also have to think about the myriad weather conditions that your patio furniture may be exposed to and how various materials could stand up to them. Consider the conditions where you live, as well as any concerns that are specific to your property, so you can choose patio furniture that's right for you.
If you live in a place that sees a lot of rainfall, teak furniture will have to be treated regularly to protect it from moisture damage. Humidity can damage patio furniture made of natural wicker. If you like the look of wicker, choose a synthetic version instead.
If your patio area gets a lot of direct sunlight, purchase outdoor furniture that's designed to withstand fading and discoloration caused by the sun or buy an umbrella that can cast shade over a large area. Don't choose stainless steel because it can become too hot for people to sit on.
Consider how windy it is where you live. Lightweight furniture can get tossed around by a strong wind gust. That may cause damage to the furniture and other property, as well as injuries to people. If your area frequently experiences strong wind gusts, get sturdy furniture that will stay put.
Choose Accessories Wisely
Select cushions and pillows with durability and maintenance in mind. When looking for a cover or pillows for a couch, choose a weather-resistant material. If you don't, the color may fade, or you may find your new cover or pillows covered in mildew. "As for cushions, Sunbrella brand fabric is the best in the business," according to Walsh.
Think about how much time you will be able and willing to devote to caring for your patio furniture. If you don't want to scrub pillows and cushions on a regular basis, buy ones that you can remove and clean in the washing machine.
Think about How to Protect Your Patio Furniture When You're Not Using It
Your outdoor furniture will need to be protected from harsh weather during the months when you aren't using it. Many companies recommend storing outdoor furniture indoors during the off season, but Walsh doesn't think that should be necessary.
"When making a purchasing decision, consumers shouldn't need to think about whether they have enough extra space in their garage or basement to store the furniture. It's outdoor furniture, why should you need to store it inside? When it comes to our products, you don't have to," Walsh explained. "We design our pieces to live outside 365 days a year; all we ask is that you cover them up in the winter to keep them looking their best for when springtime comes around."
Take Advice from Family and Friends with a Grain of Salt
People you know may recommend styles or brands of patio furniture that they have and are pleased with, but you should use caution when taking advice from others who don't live nearby. They may reside in areas that have completely different weather patterns, and what works for them might not work for you. Patio furniture that holds up well in a dry climate, for example, may be the wrong choice for you if you live in a place that gets a lot of rain.
Invest in Quality Furniture
A quick online search or a walk through a store will reveal patio furniture at a wide range of price points. You don't have to break the bank to decorate your outdoor living area, but you should look for quality pieces.
"The biggest mistake that people make is buying lower-priced products and expecting them to last more than a year or two," according to Walsh. "The unfortunate reality is that quality outdoor furniture is relatively expensive."
Higher-priced patio furniture will last much longer and will have a longer warranty than cheap pieces. Rather than buying inexpensive furniture that you'll have to replace relatively soon, it may be better in the long run to invest in higher-end patio furniture if you can afford it.
If you're on a tight budget, shop around and compare deals. You may want to spend a significant amount on the piece that will be most important, such as a table, and combine it with more affordable accent pieces and weather-resistant cushions and pillows.
Check sales at the end of summer or beginning of fall. You may find a patio set that you would otherwise be unable to afford at a substantial discount.
Editors' Recommendations