A patio can be a peaceful and serene place for you to relax and escape, entertain friends and family, and serve up some delicious grilled meals. If your patio is small, you can still make the most of it. Strategic Real Estate Advisor Kim Kapellusch told us exactly how to put together the patio of our dreams no matter the size of your space.
Create visual illusions
If your patio is small and you want it to look and feel more spacious, you can create some visual illusions to make the patio feel more open. Kapellusch recommends sectioning off spaces naturally, using plants or ground cover to differentiate between different areas of your patio.
"Camouflage any walls by layering container plants and create a seating area or two with additional plants and/or differentiating ground coverings to designate seating areas," she says. "To finish the illusion, create the look of a 'pathway' or two with another material such as stepping stones, pea gravel, or mulch. These 'paths' should appear to lead to somewhere else in another part of the garden, even though they disappear behind a plant or two on your patio."
Camouflage any barriers
Any barrier, such as a fence or brick wall, can give the feeling of being confined and closed in. Even if you do have a massive wall on the other side of your online space, it's all about the visual appeal, Kapellusch said.
"Making small patios feel larger can be easily achieved if the neighboring areas have additional greenery beyond your yard," she said. "The goal here is to expand the visual horizon of your space by marrying the two landscapes as if they were one. You can achieve this with plants or by adding a fence with a gate to cover a cement wall as if it leads to the rest of the yard."
Camouflaging barriers doesn't have to be time-consuming. Growing a vine over a fence can take some time, but leafy potted plants lined up alongside a brick wall are easy to find and bring home. Kapellusch recommends playing with scale by adding plants that seem to connect the two spaces together, either by the style of the plants or by their size.
Having plants climbing the wall or fence can also make the patio feel bigger than it is. The greenery creates an illusion of a garden rather than the edge of the sitting area. Ivy, bamboo, or hanging potted plants can achieve this aesthetic and accentuate the space you do have.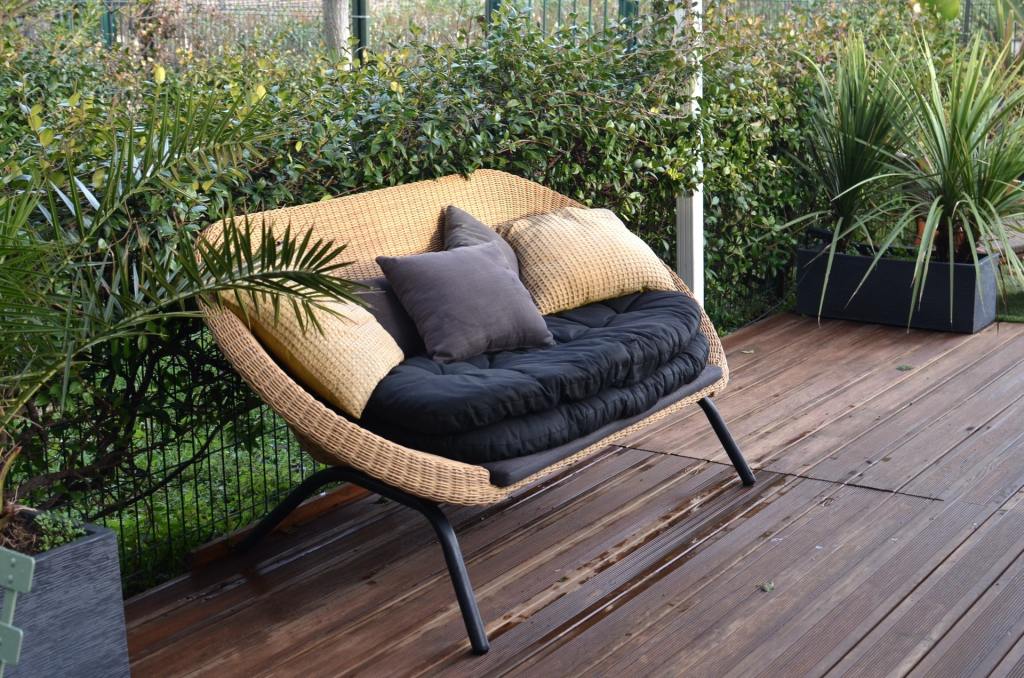 Create tangible definition
Adding furniture, an indoor-outdoor rug, or string lights to visually differentiate your patio from the rest of your outdoor space is a great way to trick your eye (and your guests) into believing you have more space. For example, if you have enough space for an outdoor food preparation space and a seating area, using a bench or low couch to clearly define that area. This will not only ensure your guests can flow easily from getting their food to taking a seat, but ensure that your patio has a clearly-defined purpose that not only functions well, but looks good too.
Simplify the space
The impulse to use your small outdoor space for many purposes may be strong, so defining the use of your space is essential. Even before you start combining design elements like plants and furniture to delineate space, you should be considering the common uses for your patio and how you can ensure you're making smart design choices.
If you want to use your outdoor space primarily for entertaining or dining, prioritize comfortable seating that is conducive to eating, like low tables and benches with space for a fire pit or grill. If you'd like to cultivate a peaceful outdoor space, making space for a hammock or lounger should be paramount. If you're attempting to build a safe outdoor space for your kids or pets, the furniture and plants you place in your space should reflect that as well. There's no right or wrong way to put together an outdoor space; what's important is that you're using the space wisely.
Whether you use your small patio for entertaining, relaxing, work, or play, these expert tips will make your outdoor space feel more spacious and luxurious. You can achieve a lot with furniture arrangement, alternating flooring material, and by adding plants to create the illusion of more greenery and space beyond the walls. By using these design tips and elements to your advantage, you'll be able to take full advantage of your outdoor space.
Editors' Recommendations