October is a time for pumpkins, apple cider, and getting into the Halloween spirit. And while Halloween is always a festive time of year, it took on special significance last year, with most of the country working from home due to the COVID-19 pandemic. While individuals and families were stuck at home, they had to find new ways to have fun so they could cling to some semblance of normality. One such pastime? The Home Depot's 12-Foot Giant Skeleton with LifeEyes, affectionately referred to as "Skelly."
Skelly was introduced in the fall of 2020 and, as it turns out, he was just what people needed. Skelly trended on social media, and celebrities and businesses alike featured the Halloween decoration in their holiday posts.
And Skelly has proven to be just as popular this year, with the obsession for this giant skeleton still going strong: Skelly is back for Halloween 2021, and Home Depot has capitalized on the popularity, debuting a new holiday decoration: the 12-Foot Inferno Pumpkin Skeleton with LifeEyes.
So what's the real story behind everyone's favorite Halloween decoration?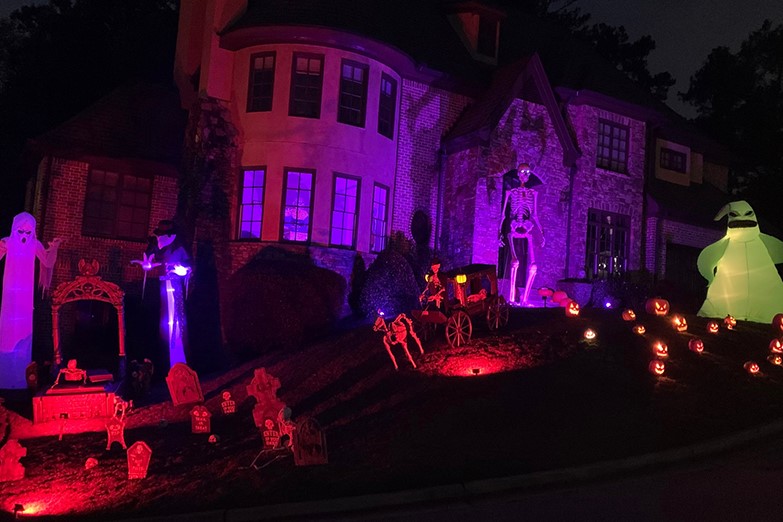 The inspiration for Skelly
Lance Allen, a decorative holiday merchant for The Home Depot, designs Halloween decorations and decks out his own home for the holiday each year. He said his decorations are popular with his neighbors — and they particularly enjoyed his 12-foot skeleton.
Allen and his team were inspired to create the 12-foot skeleton after they saw a large skeleton torso at trade shows and haunted houses. They wanted to take the concept further and create a full-sized, freestanding skeleton that could be posed in a variety of positions.
At first, Allen and his team wanted to make their skeleton stand 10 feet tall, but they changed their minds and decided to aim for an even more ambitious 12 feet. They got to work on the project in 2019 and designed a skeleton that's made with plastic and steel.
The design incorporates in-house LifeEyes technology. "Our LifeEyes technology utilizes LCD screens, which makes the eyes appear to move and blink," Allen explained. "The best part of these screens is that we can fully program whatever image or scene we want on them. That's what gives Skelly his realistic blue eyes."
Setting up a 12-foot-tall skeleton can be a bit of a project due to its size. Fortunately, the team at The Home Depot designed the skeleton so it can be disassembled to make storage easier.
The 12-foot skeleton became an instant hit
When Skelly was introduced, the response was overwhelming. Allen attributed the skeleton's popularity to its size and quality, as well as the value it represented for customers.
"The 12-Foot Skeleton or, as we like to call him, Skelly, had customers excited when we launched the product online, but I don't think anybody realized how big it truly was until it hit stores," Allen explained. "Once Skelly was on display in stores, it exploded overnight. Customers could see both the scale and quality of this piece. He is an amazing value for the size of an item that [one] previously could only find in a commercial setting."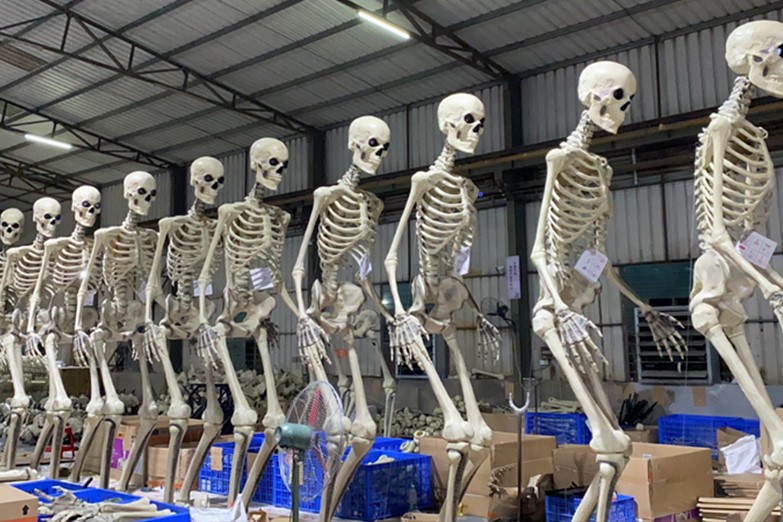 How the 12-foot skeleton helped people cope with the pandemic
Skelly was introduced at an opportune time. During the COVID-19 pandemic, millions of people were forced to stay home and felt stressed and overwhelmed by the sudden and radical departure from normal life. The skeletons brought joy and a sense of normality and allowed people to connect with others, both in real life and online, at a time when people sorely needed social connections.
"We designed one of the greatest Halloween items of all times when people needed it the most," Allen noted. "It was amazing to see all the fun it brought to our customers when not a lot of great things were happening, during the height of COVID. His social media presence also took him to a whole other level. He really has taken on a whole life of his own."
Skelly became more than just a Halloween decoration
Customers who bought a 12-foot skeleton didn't want the fun to end at the close of October. They soon began to see possibilities that extended far beyond Halloween. Many dressed up their skeletons for other holidays (despite the challenges of finding clothes that would fit) and shared photos on social media.
That trend inspired designers at The Home Depot to create a line of lightweight costumes. They're meant to make it easier to dress the skeletons so that customers can use them for holidays throughout the year.
"We realized that after Skelly went viral, people started dressing him up for various holidays, including Christmas and Easter — and we knew we had to help our customers with what turned out to be quite a big task: finding clothing large enough for their giant skeletons," Allen noted. "Here at The Home Depot, we're all invested in making people excited for the holidays and putting smiles on our customers' faces."
Consumers can now choose from several garments specifically designed for this tall skeleton. According to Allen, "This year, we've introduced three new festive costumes for our customers to enjoy with their 12-Foot Skeletons: the Witch, Scarecrow, and Santa costume kits!"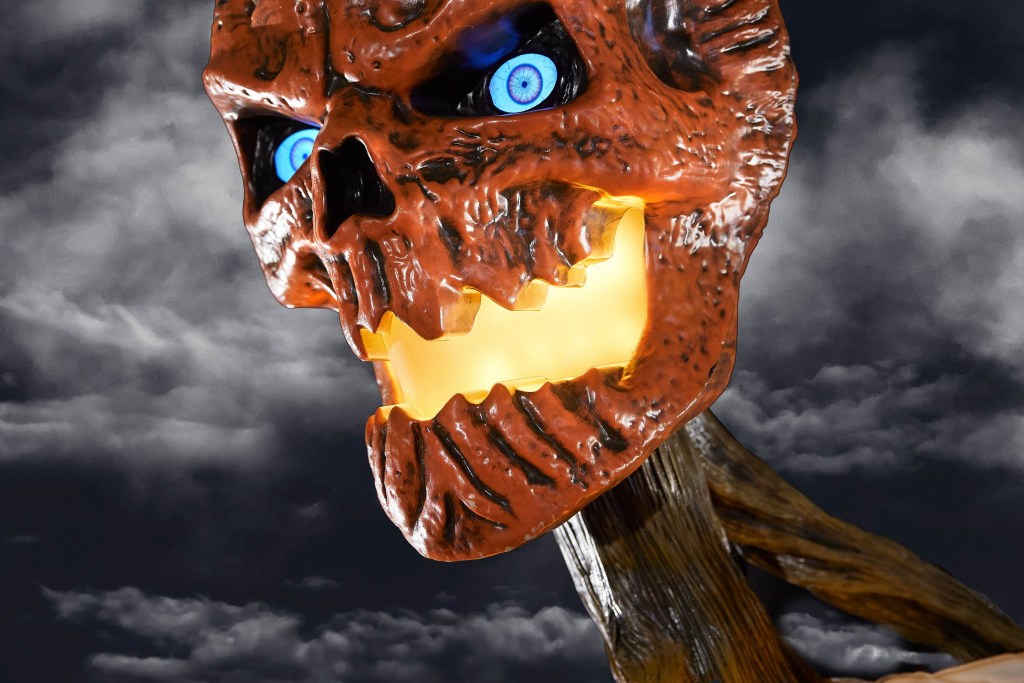 Scary new decorations for Halloween 2021
Allen and his team have also introduced another gigantic skeleton with more terrifying features. The 12-Foot Inferno Pumpkin Skeleton is part of The Home Depot's Rotten Patch collection, which includes "putrid pumpkins and scream-inducing scarecrows."
The collection incorporates several types of technology, including motion activation, animatronics, flickering LED lights, and recordings to scare trick-or-treaters and anyone else who ventures into the yard. The pumpkin skeleton has a fiery inferno burning in its chest, courtesy of LED light panels.
Pieces in the collection can be plugged in or powered by batteries. The collection is weather-resistant, and many of the decorations can be used indoors or outdoors.
More Halloween fervor this year
Although sales of 12-foot skeletons have been strong this year, Allen declined to provide specifics.
"We cannot talk about sales, but what I can tell you is that the 12-Foot Inferno Pumpkin Skeleton is very popular, and it's an amazing example of how The Home Depot is leading the market with designs and innovation that customers love," he said.
Grab a 12-foot skeleton if you can
Interested in getting a Skelly of your own? You may have a hard time getting your hands on one. These skeletons are so popular that they sell out quickly after they're restocked.
"The 12-foot skeletons and their new friends are very popular!" Allen said. "Americans snatched up Halloween yard decorations at a record pace again this year. While many of our popular Halloween products are already sold out online, customers could be lucky enough to find the skeletons along with other Halloween decor in stores."
If you'd like to purchase a skeleton for Halloween, Allen recommends going to a physical store to look for one. "Visit your local Home Depot store to check to see if Skelly or his new giant friend, our 12-Foot Inferno Pumpkin Skeleton, are in stock. Home Depot associates are always happy to assist with all your fall and Halloween decorating needs," he said.
Other ways to decorate for Halloween
If you stop by your local Home Depot and find that the skeletons are sold out, don't despair. You can still get into the Halloween spirit and decorate your lawn with other pieces from The Home Depot, according to Allen.
"If you can't find a 12-foot skeleton, we have lots of other skeleton-themed products in our Grave and Bones collection," Allen said. "We have an 8-foot Ferry of the Dead. This is a unique, exclusive piece that is sure to grab all of your guests' attention…."
The animatronic, 8-foot-long Ferry of the Dead features the Grim Reaper rowing a boat to transport skeletons to the afterlife. A sensor triggers motion and sounds to frighten anyone who comes close.
Allen continued, "The realistic head movements on our 7-foot Inferno Reaper bring that bone-chilling piece to life! I'm now using the Bone Throne as an office chair, so you don't want to miss that one either!"
The Bone Throne has a blood-red seat cushion. It can be used either indoors or outdoors.
If you have your heart set on decorating your yard with a skeleton, but you can't find one that stands 12 feet tall, you can instead go with a shorter posable skeleton. The Home Depot is offering several props that stand around 5 feet tall and feature adjustable joints, as well as an Animated Halloween Skeleton Dog that stands 2 ½ feet tall, has glowing red LED eyes, and produces a terrifying howl. In addition, The Home Depot is offering creepy animatronic clowns and a variety of scary inflatables.
The frenzy surrounding The Home Depot's 12-foot skeletons is continuing this year. If you haven't gotten your own skeleton yet, head to your local Home Depot and see if you can find one. If not, you'll have plenty of other options to decorate your home for the frightful holiday.
Editors' Recommendations