Are you feeling uninspired by your concrete patio this summer season, wishing you could update the look? Concrete is a super functional option for patios — affordable and easy to maintain, too — but wouldn't it be nice if your patio furniture, barbecue, and fire pit sat on another material… say, wood?
Well, what about concrete stained to look like wood? In a recent Reddit post, user Thick_Number5077 posted concrete flooring that's made to look like wood and the results were stunning.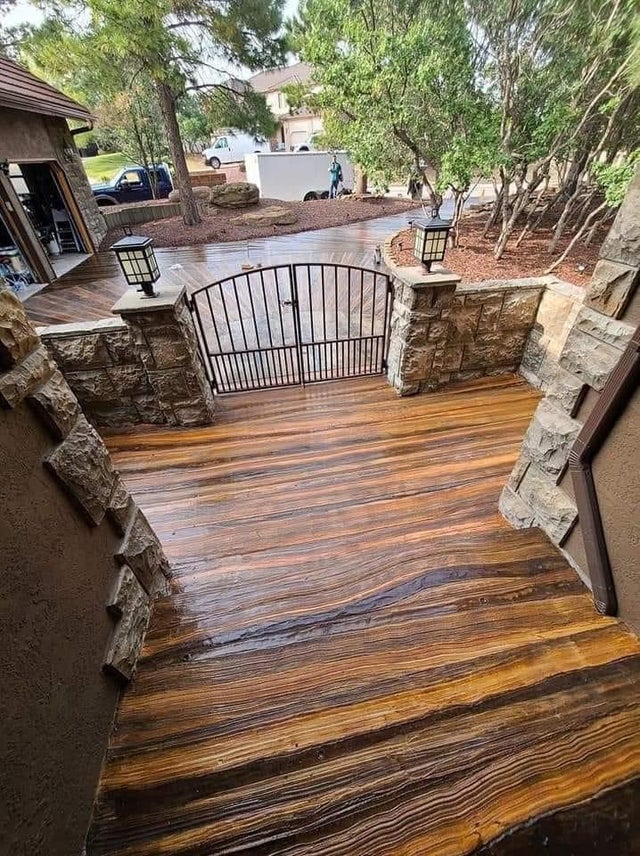 Redditor whogivesahart noted, "I'm not usually a fan of materials pretending to be something other than what they are, but this looks amazing."
Others agreed, calling the project gorgeous and incredible. User Captcha_Imagination pointed out that the work being done with concrete these days is impressive. "Instead of paving stones, I did a hard landscaping job where they used stamps to create a stone look and it looks amazing," they said.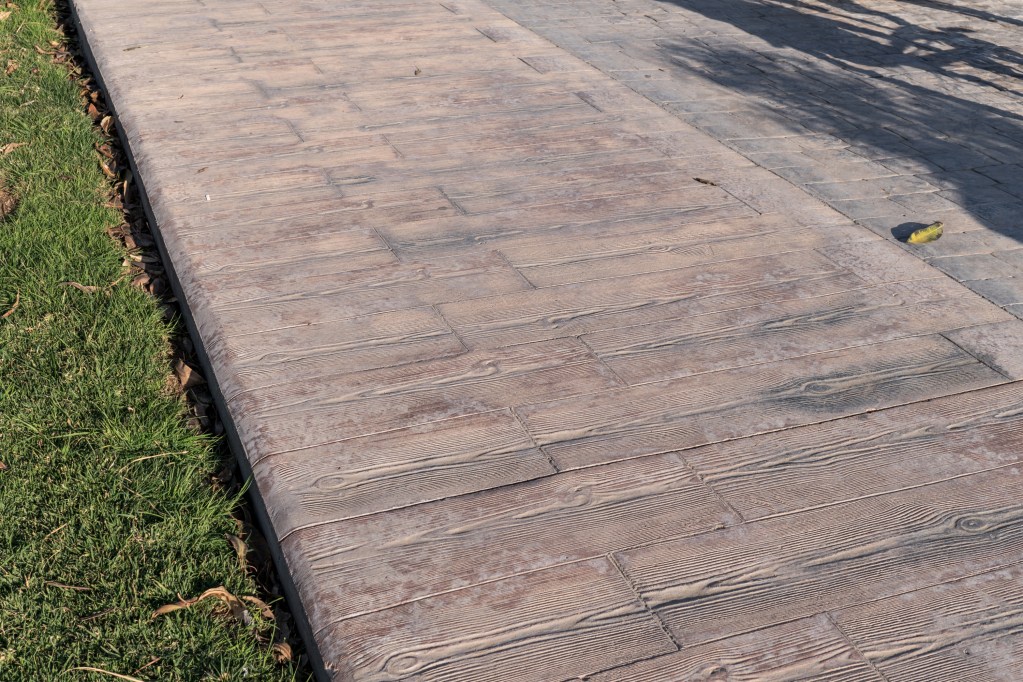 Pros of concrete stained to look like wood
While there are a few different methods for achieving a wood-look patio, stamped concrete is one of the most popular. (You can also stamp your concrete to look like natural stone or brick, among others.) There are plenty of advantages to wood-stamped concrete:
Concrete is an affordable option (and even more so if you have an existing concrete patio)
Stamped concrete increases your curb appeal, adding visual interest to your landscape design
There's a variety of options and patterns out there for you to choose from
It's easy to maintain when sealed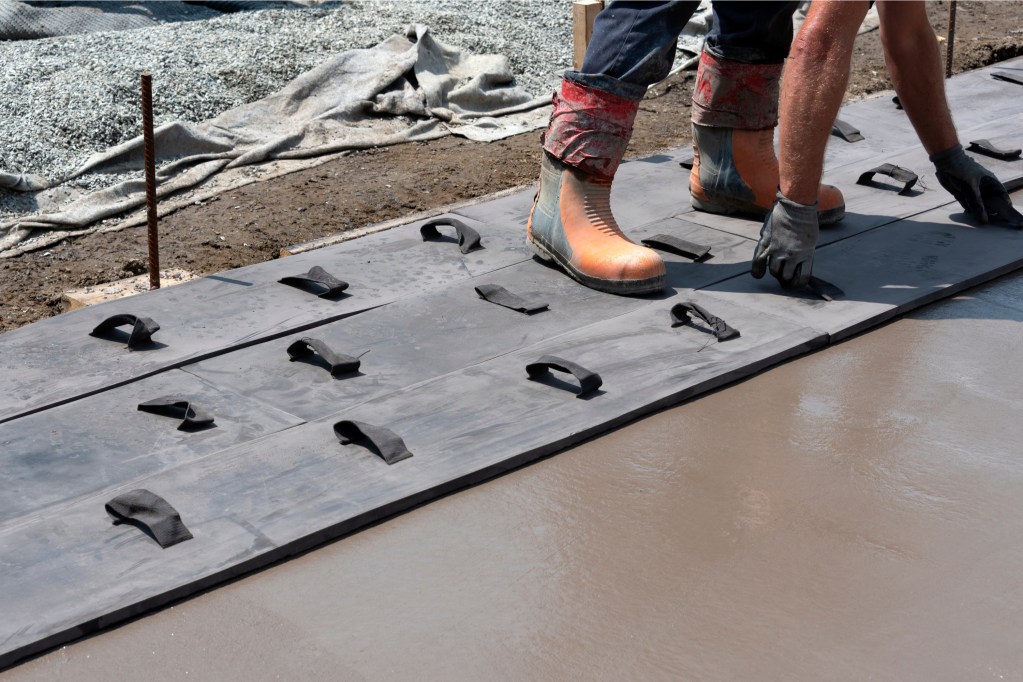 Cons of concrete stained to look like wood
Redditors were quick to point out some of the cons of this type of concrete.
It's slippery
Wudrow noted, "You have to put sand in the sealer because it becomes like ice when it's wet so in high-traffic areas when the grit gets worn off it's insanely slick."
According to The Concrete Network, stamped concrete can be slip-resistant if it's treated with a non-skid additive. If you choose to update your patio, walkways, or porch with wood-stamped concrete, this is definitely a must-have.
It's not DIY friendly
Redditor Competitive_Travel16 noted that achieving this sort of look requires staining. "The staining is difficult, requires some artistic talent, and can look terrible if done poorly," they noted.
If you do plan to invest in concrete stained to look like wood, it's best to consult a professional who can make sure the job is done right.
There are several other cons to wood-stamped concrete:
Stamped concrete, like all concrete projects, can sometimes crack. If you're lucky, the wood-grain pattern you choose could hide some of these cracks, however.
Stamped concrete needs to be resealed. SealGreen, a concrete resealing company, says you should anticipate resealing every 18 to 24 months.
If you live in a cold climate, you need to think about how to deice your walkways. Salt can damage concrete, so you're better off using something like sand.
Repairs can be difficult.

Make sure you choose the right contractor for your wood-stamped concrete
Wood-stamped concrete is an investment for years to come, and one that's not terribly DIY friendly. It's important to choose the right contractor for this project.
Shop around
Get estimates and make sure to check their references. If you have a friend or neighbor who can recommend someone, even better.
Make sure the company specializes in stamped concrete
You want to make sure anyone you choose is comfortable with this method. Ask for a portfolio of their prior work as well as samples. (They might also have a showroom with decorative concrete on display or the ability to let you check out a previous install.)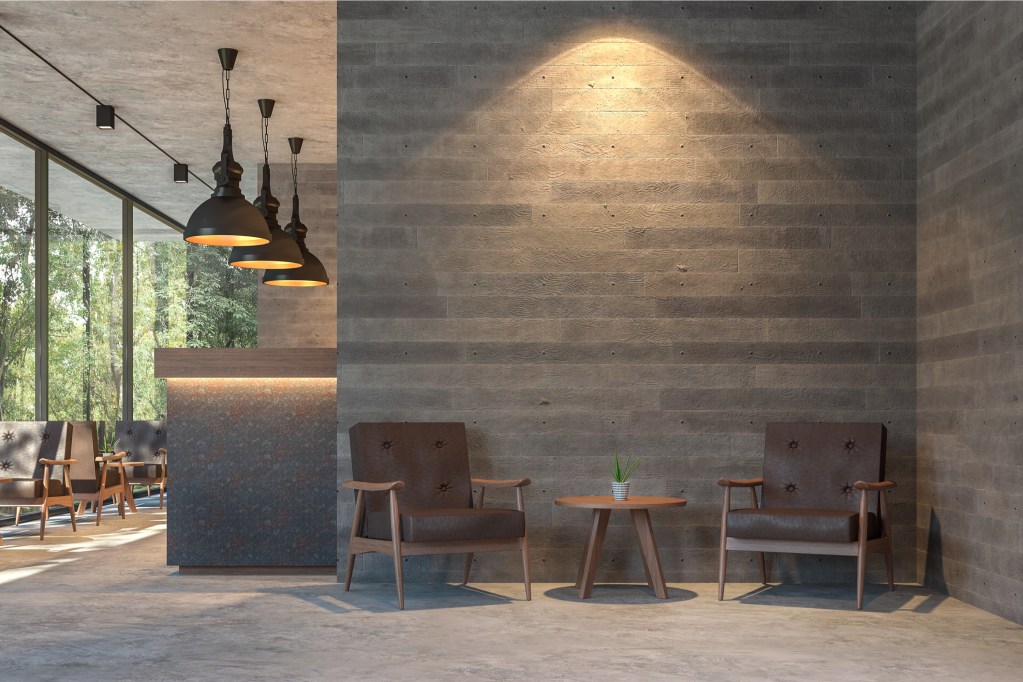 Other wood-stamped concrete options: The wall
Many of the potential issues with wood-look concrete have to do with high-traffic areas — so why not take foot traffic out of it?
Redditor Competitive_Travel16 believes "the texture won't last, and will wear off along footpaths and below water runoff. The wear will take the stain and sealant with it, and look even worse than a bad stain job."
PCCoatings' suggestion? "It's better to do this on a wall."
We definitely think that could look pretty gorgeous, too.
Concrete stained to look like wood can be stunning — but there are also downsides. If you're considering the investment, do your research and make sure it fits your lifestyle. (While stamped concrete could work on your patio, you might not want it surrounding your pool.) Talk to specialists in your area and do your due diligence to ensure you're hiring the right team for the job.
Editors' Recommendations