Changing up your bathroom's flooring can have a transformative effect on the room, and it's far more affordable than a full-scale remodel, which can cost upwards of $10,000-25,000, depending on the size of the room. So, if you don't have the budget for a floor-to-ceiling makeover, start by switching up the tiles. Tiles are also perfect for the bathroom because they are easy to clean and maintain, won't buckle underwater, and, as long as you reseal the grout every couple of years, will hold up to any stains that can occur from dropped and spilled products.
Whether it's traditional, vintage, farmhouse, or retro, the perfect tile design is out there for you. Worried about making a design mistake? We've got you covered.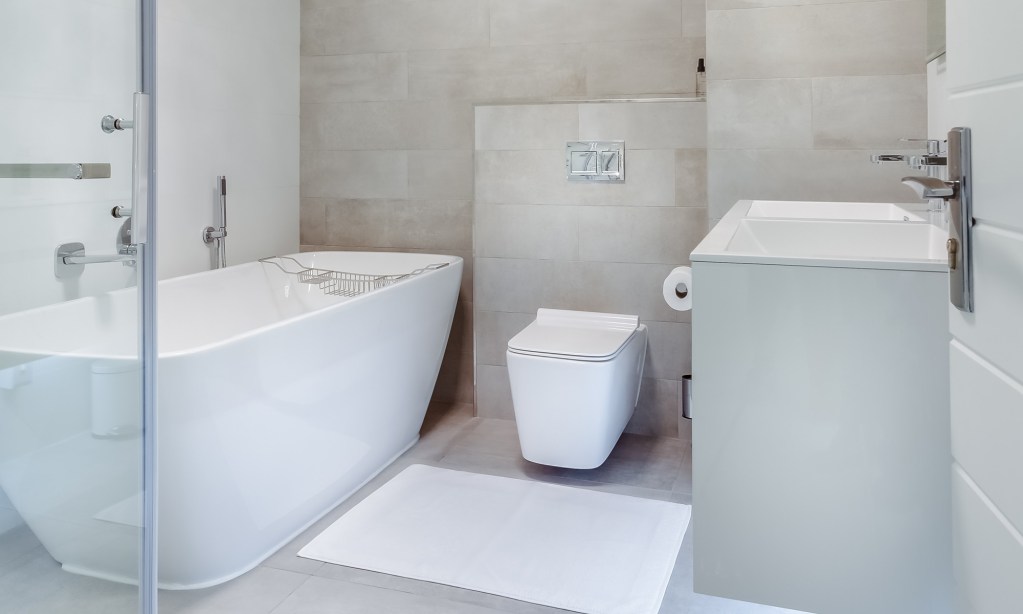 Before you begin
While picking out and laying tiles is a fun project, you need to do a little homework first. Measure the area(s) of the surfaces you are looking to tile to get a sense of how many tiles you'll need for the job. This is essential for making sure you allot a reasonable budget for the project.
Next —not surprisingly — choose a budget for the project. Keep in mind that tiles range wildly in price. Give yourself a little flexibility in your budget just in case you fall in love with a print that's more expensive than expected. If you choose to hire an expert to install the tile for you, don't forget to include the cost of labor in your overall budget estimate.
Bathroom floor tiles on trend for 2022
Bright colors and patterned tile is definitely on trend for 2022, and for good reason. Since the bathroom is typically one of the smaller rooms in your house, you can add a vibrant floor or feature wall, but the surface area isn't so large that the design becomes overwhelming.
You can never go wrong with blue or green in a bathroom — both colors exude serenity and peace — and the floor is the perfect place for a pop of color, especially if the rest of your bathroom is mostly whites or neutrals. We love these BluePrint Ceramics Bohemian tiles as the perfect statement piece, creating a bold and colorful feature in the room. The bathroom is the ideal space to go bold and experiment, and these tiles perfectly blend trendiness and class to ensure you have a fun and updated bathroom that you'll enjoy for many years to come.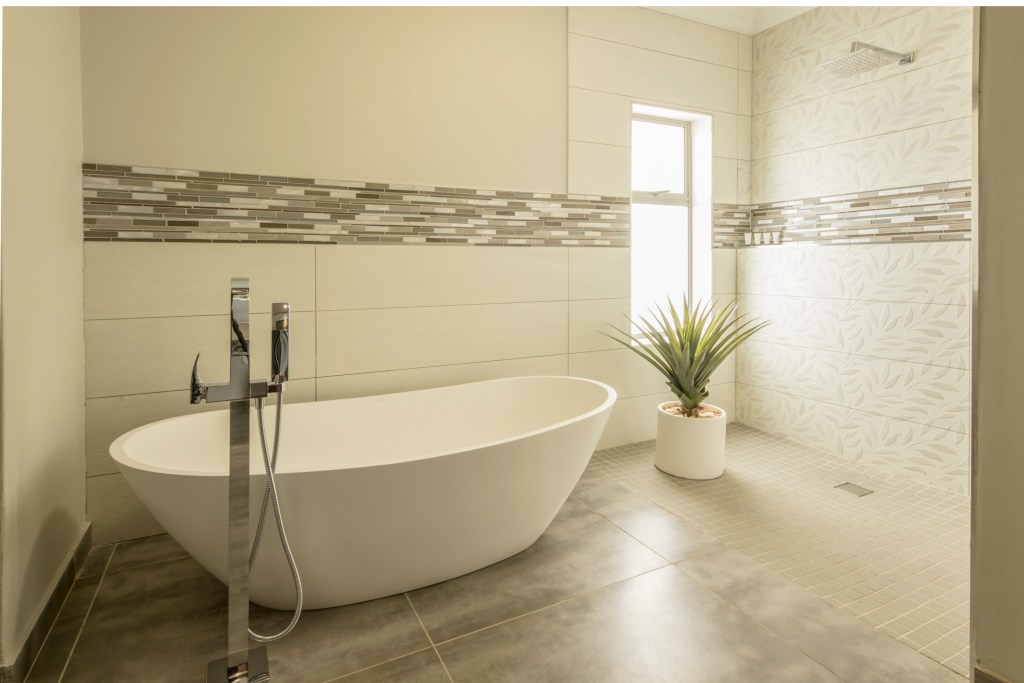 Bathroom tile ideas for small bathrooms
If you're working in a small bathroom, don't worry. The size of your bathroom doesn't limit your choices — you just have to be a little more creative to incorporate a design that makes the space feel open and spacious. Regardless of the color or shape, opt for larger tiles. The long pieces draw the eye across the entire room, encouraging visitors to take in the entire space. Smaller tiles with compact patterns keep the eye focused on a smaller area, making the entire area feel a little more enclosed.
We love this matte black floor tile from Ivy Hill Tile for a farmhouse or contemporary bathroom. Be sure to use a dark grout to keep the entire floor flowing from one end to the other. Keep in mind that dark colors tend to make a space feel smaller, so counteract this with light-colored walls and decorative features.
Tiles for the pattern lover
If you can't get enough pattern in your life, we have the floor tiles for you. Both of these options work well in both large and small spaces, so you can deliver a punch of character regardless of the square footage you're working with. If you love the retro aesthetic, these hexagon blue and seafoam tiles from Tile Bar will delight you. The shape gives a vintage, '70s vibe while the trendy color keeps the whole look firmly in the 21st century.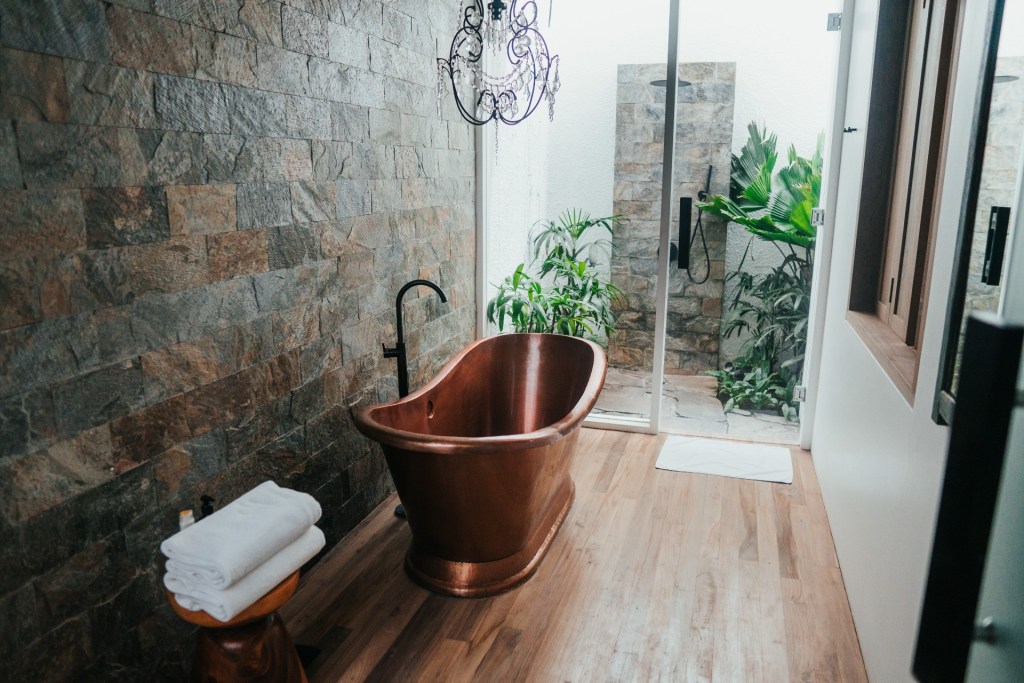 Tile for the rustic homeowner
If you love the idea of wood flooring, why not imitate the same design with tile? Lowe's sells Woods Natural tile from Della Torre for those who want the solid wood aesthetic but have a tile-only budget. While the tile won't be as gentle and warm as hardwood floors, you can easily soften up the space with a plush ivory rug. We also love this patterned star-style tile from EliteTile that also offers a rustic, farmhouse feel.
Any of the above options will make for attention-grabbing features in your bathroom. We encourage you to go bold in the bathroom because, unlike connected entertaining spaces like the kitchen, living room, and dining room, this space is set apart from the rest of the home. It doesn't need to flow with the overarching design, so you have more room to try out a different aesthetic, pull in bright and exciting colors, and add in all the knick-knacks that don't quite have a spot in the main rooms of the house.
Editors' Recommendations