Modern-farmhouse decor is the perfect combination of old and new. The trend brings a homey, approachable feel to any room, especially a bathroom. Industrial-farmhouse bathrooms (a twist on modern with an edgier feel) can be as minimalist or dramatic as you desire. Take inspiration from all the internet has to offer with tile work, paint colors, wallpaper, and decor to transform your old, dated bathroom into a relaxing oasis.
Whether you're online or in stores, look for fluted wood panels, hand-hammered metals, warm color tones, and vintage tiling—all of which have a home in a modern farmhouse bathroom. Playing with textures, patterns, and colors can give the space a cool vibe, while modern accents and furniture with clean lines provide a modern appeal.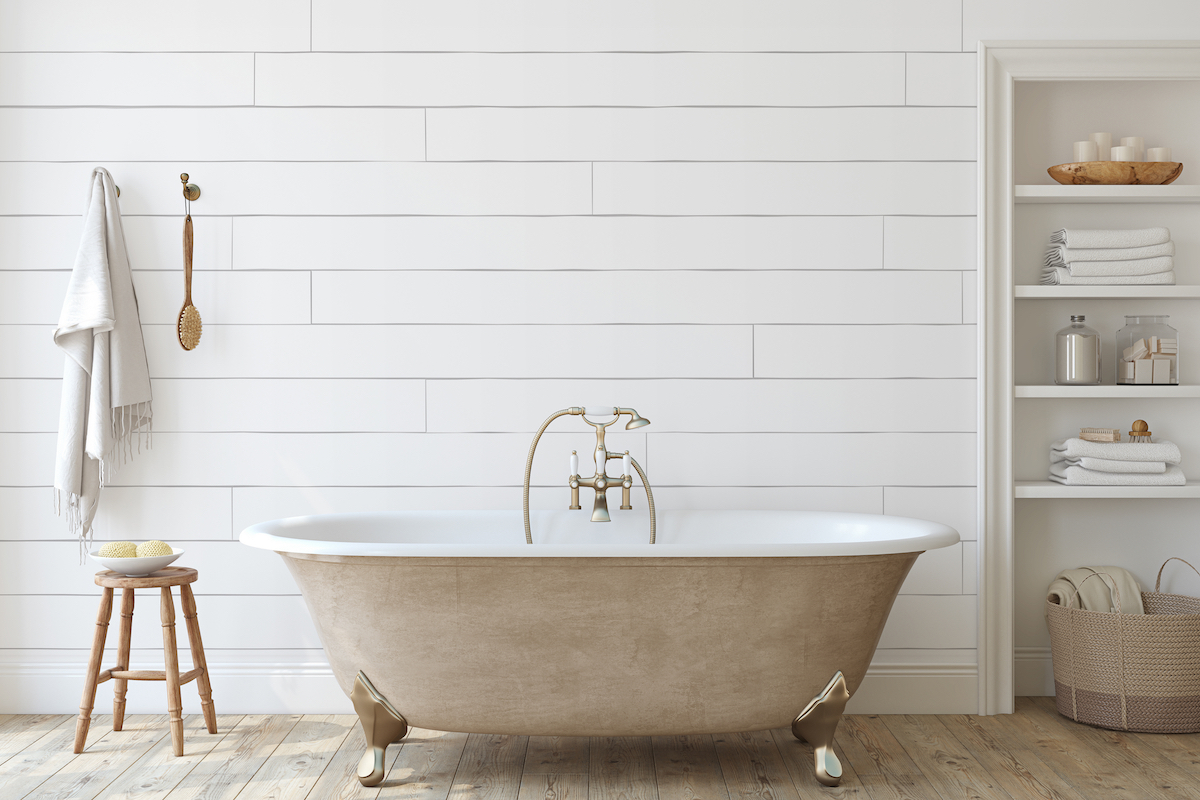 Ideas to get you started
Find your flooring: A good place to start for a bathroom would be with flooring. It's one of the most fun parts to pick out and can give you a palate to base the rest of the room. If you choose to go with a modern floor like this dark Dearborn tile, you can add farmhouse touches elsewhere. If you choose to go more farmhouse like this herringbone Barberry 24 x 24 brown matte porcelain tile, you can pair modern, industrial elements later.
Choose a vanity: Finding the perfect vanity is not easy, no matter what sort of space you're dealing with. For larger bathrooms, this Davey 60″ vanity is an ideal pick for bringing modern and farmhouse together in one piece. You could pair it with a matte black countertop or lighten up the room with a marbled granite. Either way, this one makes a statement. Another way to give your bathroom a more farmhouse look is to skip a standard vanity altogether and opt for a wall-mounted farmhouse sink.
Get playful with hardware: For hardware, anything that comes in oil-rubbed bronze or copper like this rain shower head will give the space character. For a more modern/industrial look, you could also opt for black drawer pulls and towel holders. Mixing metal with wood (say in a vanity) pulls off modern and farmhouse well.
Consider wallpaper: Wallpaper has made a major comeback in the past six or so years, and the bathroom is the perfect place to try it out. If you're just warming to the idea, try using it on a feature wall or put in wainscoting and wallpaper together on one wall. This Stag Toile wallpaper from Wayfair is a perfect choice to bring a touch of farmhouse inside.
Room for a bathtub? If you have space, look at purchasing yourself a clawfoot bathtub in stark white or one with a copper base. Not only are they a stunning centerpiece for a bathroom, but they are a quintessential vintage-inspired item that's both breathtaking and stress relieving.
Think about materials: As you're considering materials for your renovation, consider bringing in multiple options that inspire a modern and farmhouse vibe. Concrete, metal, exposed piping, brick, and upcycled pieces you can find at local antique or vintage shops add one-of-a-kind charm and balance.
Don't forget about lighting: Lighting is one of the single most important decisions to go into a bathroom. It needs to be bright enough to get ready but also on a dimmer when you want to soak in that bathtub and relax. If you have room, add a modern chandelier for maximum light. Also, think about additional lighting like these modern wall sconces for added flair.
Farmhouse bathroom colors: The good news is, there is really no wrong answer here. If it's a small or windowless space, keep the colors a neutral ivory or very light grey, so it bounces off the light and creates a larger feel. If you want to play with color, consider navy, charcoal grey, or even black for a dramatic touch.

Decision paralysis
The best part about an industrial-farmhouse look is you can play with a ton of different materials, colors, and decor to achieve a modern-farmhouse bathroom that feels right for you. The bad news is that there are so many options on the market; it can make it difficult to decide which way you want to go.
Take your time and do research online to find ideas and pieces that you love. Then, look at similar items in your budget so you can find everything you're looking for to renovate your bathroom without breaking the bank. Eventually, you're going to have to rip the bandaid off and go for it. Then the fun really begins.
Editors' Recommendations