Entryway benches are the best way to add seating and functionality to your entryway space. They provide convenient seating for taking off shoes or getting yourself organized before heading out. There are a number of bench styles to choose from, whether you're into farmhouse chic or a sleek, minimalist look. You will love how much more convenient and practical your entryway becomes with these great bench options.
Swiss Valley Furniture advises to get a bench for this area of the home. It tends to get a bit crowded and messy, but with a entryway bench, your area will have more comfortable and inviting feel to it.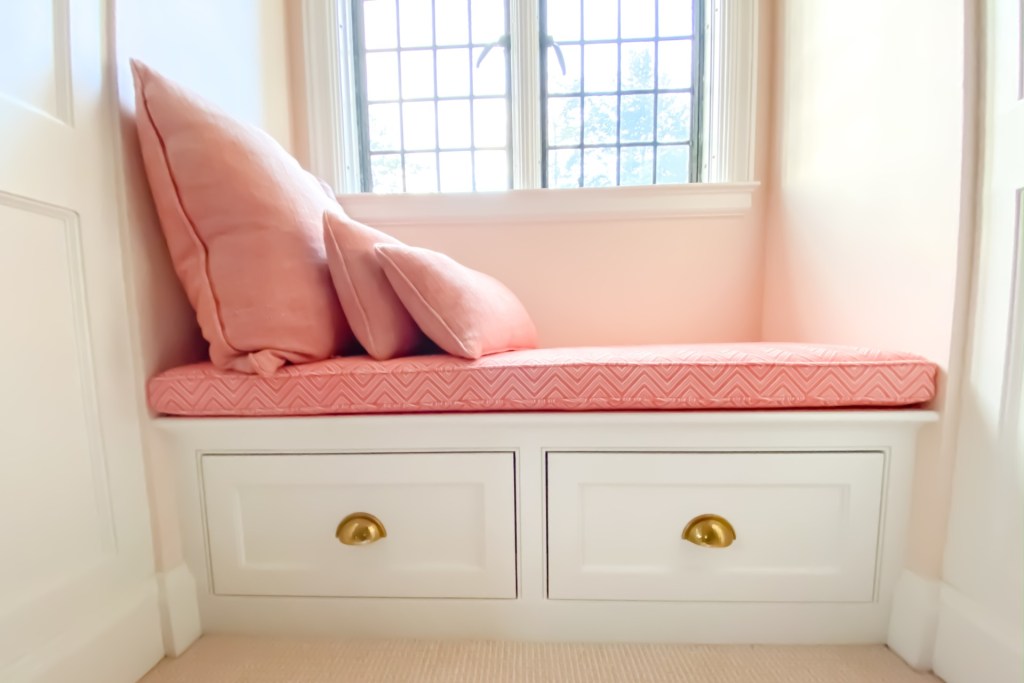 Storage benches
You can never have enough storage. So, a bench that offers you storage plus comfortable seating is a winning combination. Some benches have built-in drawers below the bench, others have flip-up seat cushions to reveal hidden storage, while some incorporate storage in shelving alongside and below the bench.
When choosing a storage bench, you should consider what you need to store and how easily you need access to it. Drawer storage benches may be more helpful for quick, grab-and-go items like an umbrella or rain jacket. Flip-up benches with hidden storage may be better for storing larger items.
No matter what storage bench design you choose, it will be a functional and practical addition to your home's entryway.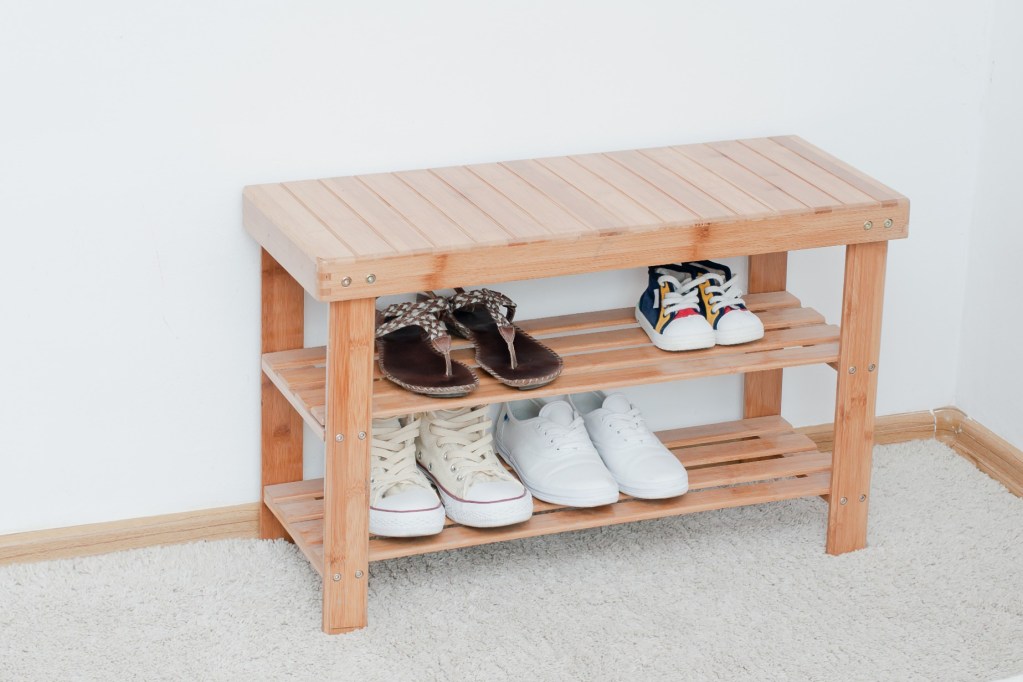 Shoe-rack benches
Some benches have specialized storage specifically for shoes. Shoes have a tendency to be left at the door and can cause an entryway to feel cluttered. Luckily, shoe-rack benches can be the solution to all shoe clutter. These benches are designed to have short, shoe-size racks that can easily accommodate multiple pairs. It helps keep shoes off the floor and neatly stored away until further use. Some of these benches have drawer-like racks that can be rolled in and out for easy access.
Home-Designing suggests a shoe bench with some trunk space. You'll be able to make the most out of a small area.
One of the main uses for a bench in your entryway is to put on your shoes, so why not have them close by and easy to grab? You can choose from a variety of these types of benches, including ones that are cushioned, wooden, or metal, just to name a few. This rack will be the perfect way to wrangle all those shoes into a neat, organized storage unit.
Minimalist benches
If you want your entryway to feel modern, light, and airy, then a minimalist-style bench is perfect for you. Minimalism is all about having less. So, minimalist benches tend to be small, thin, and light, and don't offer storage. They are meant for one thing — sitting. These benches will help maintain an elegant, clean look in your entryway while also adding a bit of functionality.
Sometimes, it is great to have a piece of furniture that just does one thing. Its focus is on style and design and nothing else. If you are looking to add a clean-looking bench to your entryway, a minimalist bench will fit into your space perfectly.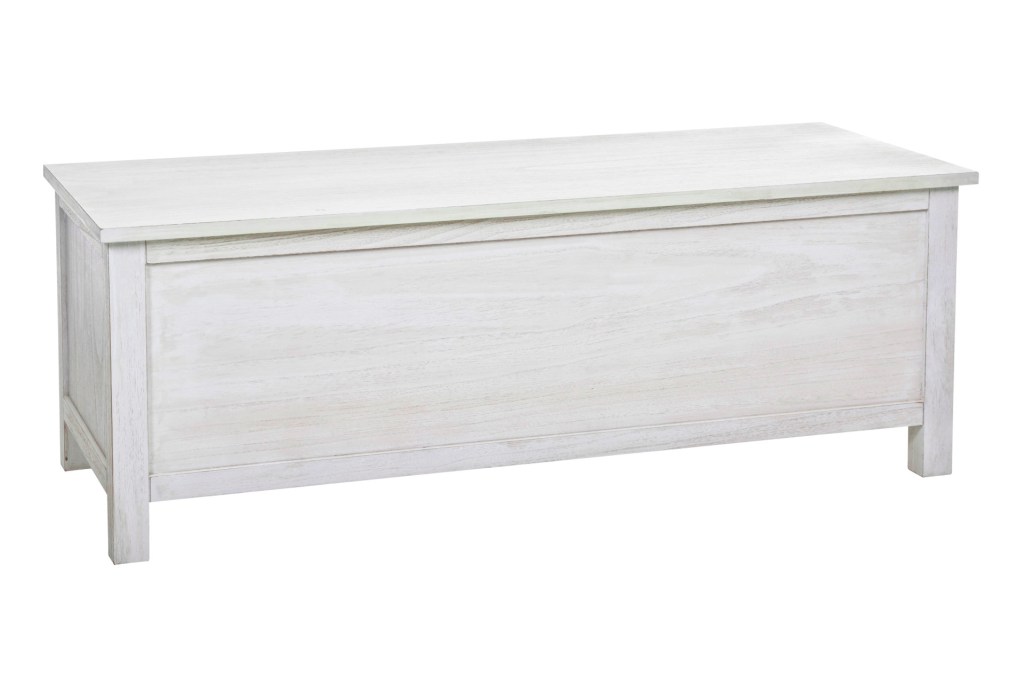 Trunk benches
Whether you have kids or just love the look of a big trunk, you will appreciate the massive storage space of a trunk bench. Trunk benches are just what they sound like. They are big trunks that also function as benches. These trunks benches are perfect for storing shoes, winter jackets, hats, gloves, boots, umbrellas, and so much more. They hold so much stuff and you will love how easy it is to keep your entryway free of clutter.
These benches can add a fun, rustic look to your entryway while providing storage and convenient seating. These benches come in many finishes and styles, from industrial to rustic farmhouse. No matter what design you choose, these benches will make your entryway fun, functional, and full of character.
There are so many great bench options for your home's entryway. No matter what storage or design needs you have, you can find one that is both functional and beautiful. You will love how much more practical your entryway will be when you add some comfortable, fun seating to the space, reiterates Hayneedle.
Check out all of the great benches available to you. Find one that is comfortable, functional, and suits your decor. A good bench will result in a more efficient, clean, and useful entryway space.
Editors' Recommendations