Laundry detergent efficiency doesn't have to sacrifice your skin or the environment. Enjoy the feel of crisp, clean clothes that are washed with organic, unscented, and natural laundry soaps. With the detergents on our list, you can keep your clothes clean and looking great while considering your health and the health of our planet.
Skin sensitivity can develop from reactions to household products. Redness, itchiness, stinging, or burning can all be signs of sensitivity caused by your laundry detergent. Keep your skin safe and healthy with natural detergents that are hypoallergenic and fragrance free, to feel comfortable and fresh at all times. Let's take a look at our favorite natural laundry soaps for you to make a good choice for the environment and yourself.
Forever New Granular Detergent
Best natural detergent overall
Deep-clean your clothes with the Forever New Granular Detergent's base of sodas and citrus, for fabrics that feel fresh against your skin and smell naturally clean. This detergent removes stains and soils, but never leaves any soap residue behind. It is biodegradable, hypoallergenic, and dye-free for a pure wash.
Molly's Suds Unscented Laundry Powder
Best detergent for sensitive skin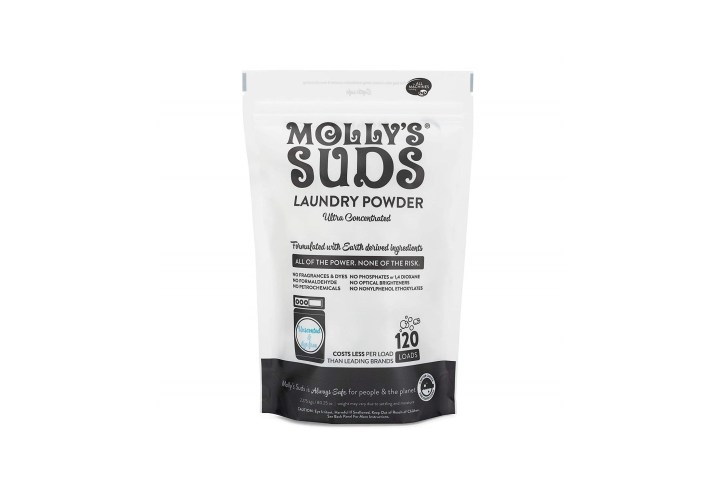 Protect your sensitive skin from harsh chemicals with the natural laundry soap from Molly's Suds. This detergent was especially formulated for sensitive skins and delivers on its promise to wash with all of the power and none of the risks. For your peace of mind, this cruelty-free and vegan detergent is free from harmful chemicals and is safe for allergies, eczema, newborn clothing, and bedding.
Charlie's Soap Laundry Liquid
Best liquid laundry detergent
With Charlie's Soap Laundry Liquid, you can wash with all the power of concentrated liquid detergent, while taking a step in the right direction to safeguard the environment and the well-being of your skin. This natural detergent rinses off completely to effectively remove stains, smells, and dirt from your clothes. Eliminate the need for fabric softener or any other additional products.
All-natural laundry detergent is the best option to deeply wash your clothes while avoiding skin irritations and protecting the environment. With the soaps on our list, you can finally say goodbye to the harsh chemicals that make you itchy and dry, and experience the feel of naturally clean clothes on your skin.
Editors' Recommendations