Although you benefit from using laundry sanitizer every time, for most white-colored laundry, you can get away with washing with hot water and using bleach. But for all your colored clothes, this laundry sanitizer additive will make sure your garments are clean, have a delightful smell, and are sterilized as well. Pick your favorite product from our curated recommendations.
Laundry Sanitizers also serve the purpose of cleaning your washing machine. Most gentle warm-water wash cycles fail to kill harmful bacteria like E. Coli that comes from feces particles. They just spread around to all your clothes and the washing machine itself. This could very well trigger a chain reaction of invisible laundry contamination that you can avoid with one of our top recommendations.
Lysol Laundry Sanitizer
Best overall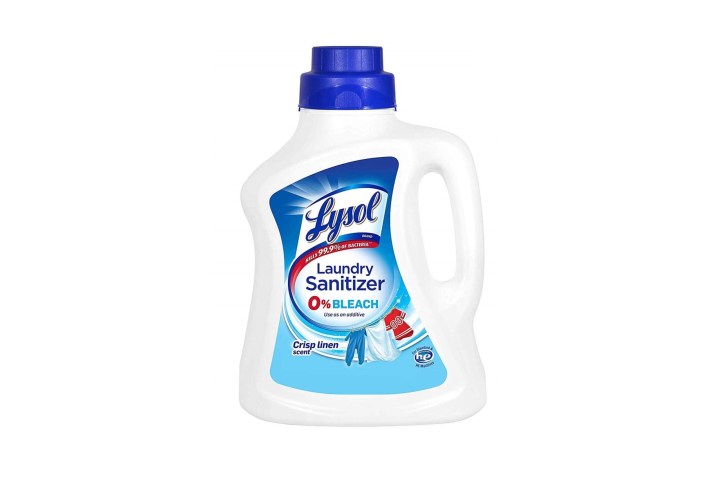 If you are looking for the product that created the category, the Lysol Laundry Sanitizer is what you want. Boasting a 99 percent rate at killing bacteria-causing odors, this cleaning product is suitable for use on everyday clothes, bedding and towels among other fabric items.
It works with cold water and is compatible with all high efficiency and traditional washers. Gentle on fabric, this top of the line product is backed by a well-established brand.
Nature's Miracle Bio-Enzymatic Laundry Additive
Best for tough odors
For the pet owners with tough odors and smelly clothes to deal with, Nature's Miracle Laundry Bio-Enzymatic Additive is a phosphate-free laundry sanitizer that breaks down smeared fabric, fights stubborn urine odors and cleans deep fibers with the sole mission of eliminating pet stains and odors.
Micro Balance EC3 Laundry Additive
Best natural sanitizer
When living a planet-friendly life and wanting to keep chemicals out of your cleaning, the Micro Balance EC3 Laundry Additive will provide you with the protection from mold spores, yeasts, and bacteria without introducing potentially harmful chemicals that are non-degradable. This product is 100 percent natural and free of aluminum silicate, caustic substances, chlorine, ammonia or phosphates.
When you are faced with the challenge of pet smells, gym clothes or old laundry, turn to our selected laundry sanitizer additives. These recommendations will make winning the odor battle much easier and will make sure you stay healthy during flu season.
Editors' Recommendations