Colanders help wash veggies, fruits, and rice, but you've probably used them mainly for straining pasta. Make cooking easier with the right colander by choosing the most suitable material, hole diameter, and bowl size.
You'll find that colanders are made of different materials from steel to plastic to silicone. They also vary in size and openings at the bottom, depending on what you're using it for. Colanders typically have side handles for easier use and for straining hot ingredients like spaghetti noodles. They also have a bottom stand so your food doesn't touch other surfaces or just roll away. Check out our top picks below.
KitchenAid Plastic Colander
Best colander overall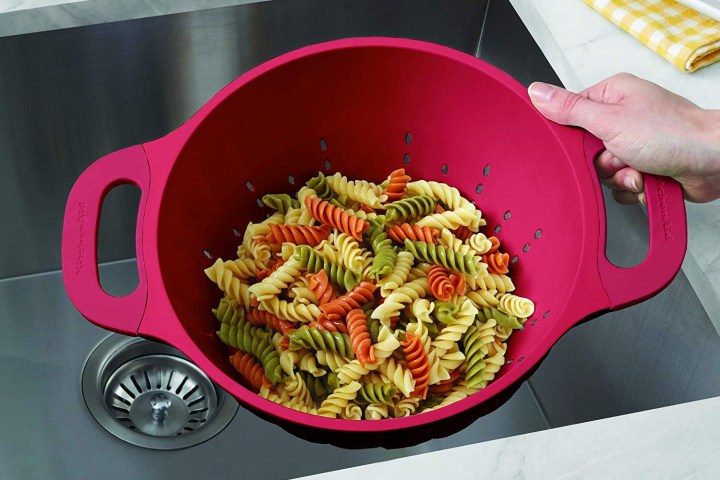 The KitchenAid plastic colander comes in a commanding red color with a sturdy construction to match. It holds up to five quarts of food and features a scalloped design to let water escape quickly. A higher-than-average stand keeps your food off of sink bottoms and countertops. The colander's handles are meant to be hung for storage so if you're struggling to find space in your cupboards, this is a practical option.
LiveFresh Stainless Steel Colander
Best metal colander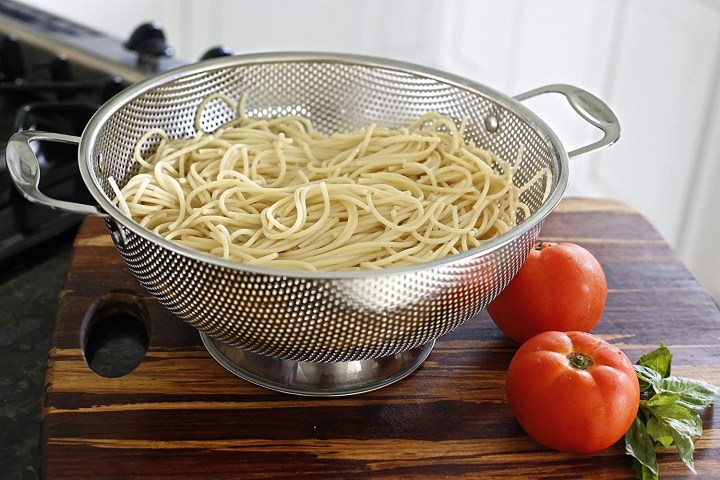 LiveFresh presents the stainless steel five-quart colander, featuring a micro-perforated surface. The extra petite holes mean you can drain various types of food without them getting caught, which drains water more efficiently than traditional colanders. It features a 304 grade stainless steel construction that resists corrosion and is guaranteed to last a lifetime.
OXO Good Grips Washing Colander
Best for washing rice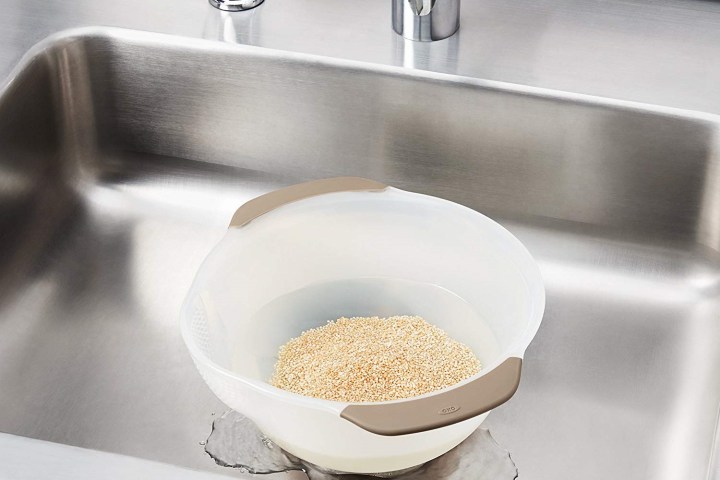 Say goodbye to grains doing down the drain with OXO's Good Grips Rice Colander. Rinse rice, quinoa, and other small grains efficiently with square holes that catch food and side holes that drain excess water. The non-slip handles provide extra grip and comfort in the kitchen. If grains are a staple in your kitchen, opt for OXO's rice colander.
Colanders are handy for various kitchen needs such as washing produce and straining noodles. Conveniently, there are also colanders specifically for washing small grains. Note that most colanders will have side handles and a stand for added benefit. The right colander depends on what material you prefer and what size draining holes you need. Whatever you choose, make sure it's aligned with what you cook most and what will make your prep time less demanding.
Editors' Recommendations