If you need tips on how to declutter quickly, look no further. While it's easy for your home to become messy and gather items that you forget about in time, a quick decluttering session can offer relief and prevent unwanted stress. You know what they say. When you declutter, you also remove mental clutter.
And what's better than finding happiness but ridding your home of things you don't need or use? Here are some quick decluttering projects you can start now and finish over the weekend.
Get rid of expired food
One of the first places you can begin decluttering is your kitchen. While many people clean out their refrigerators of expired food regularly, it's important not to forget the pantry!
It's a simple decluttering project that should only take an hour or so. The best part is that you get to reorganize and implement more effective storage solutions when you go through your fridge and pantry.
Before decluttering your kitchen, you might want to purchase refrigerator bins to optimize storage on the inside of your fridge or purchase some stackable shelves and lazy Susan's to ramp up your pantry organization.
When you go through your pantry, be sure to check expiration dates and toss anything that is old or expired. Use any free space to add space-saving storage solutions and do your best to bring your pantry items forward. If canned goods or cereal boxes are hidden, you may forget about them and will have to toss them in the future. So it's best to do what you can to make everything visible and easily accessible. Doing this during your decluttering session is the optimal time, and you're sure to be satisfied with the results!
Say goodbye to old and broken electronics
Over time, chargers, cords, and batteries break or wear out to the point where they're unusable. The issue is that most electronics cannot be tossed in the trash and require special attention to get rid of them safely. So what do we do? We throw them in a drawer or a storage bin and forget all about them.
A great project to do over the weekend is to go through every room of your house and collect old electronics that don't work or are not in use. Follow proper procedures for getting rid of broken electronic items and take them to places that will dispose of them correctly.
The great part about this decluttering project is that you will also investigate which electronics you'd like to keep. You can store them more efficiently, ridding your home of visual clutter and organizing your cords in a way that makes them more accessible.
A great tip is to get a small sewing box or a container with internal dividers. Wrap up cords and chargers and store them in these divided containers. Use tape or labels to jot down what each item is used for so that you eliminate any confusion down the road.
Limit paper clutter
Paper clutter is not just visibly distressing to behold, but it's also a nightmare during times of need—like tax season. Sifting through old receipts, checks, tax forms, bills, or mail you've accumulated over time can be a daunting task. It's made worse if you are looking for a specific piece of paper in the middle of a large pile!
While having a filing system and a paper shredder are common office tools for relieving paper clutter, it's inevitable that what you once deemed an "important document" no longer serves a purpose over time.
For example, say you switched car insurance during the year. Your old car insurance paperwork no longer serves you. Should you keep them?
While it's up to you to deem what is worth keeping and what is not, it's always a good idea to spend some time at least once every year decluttering old paperwork.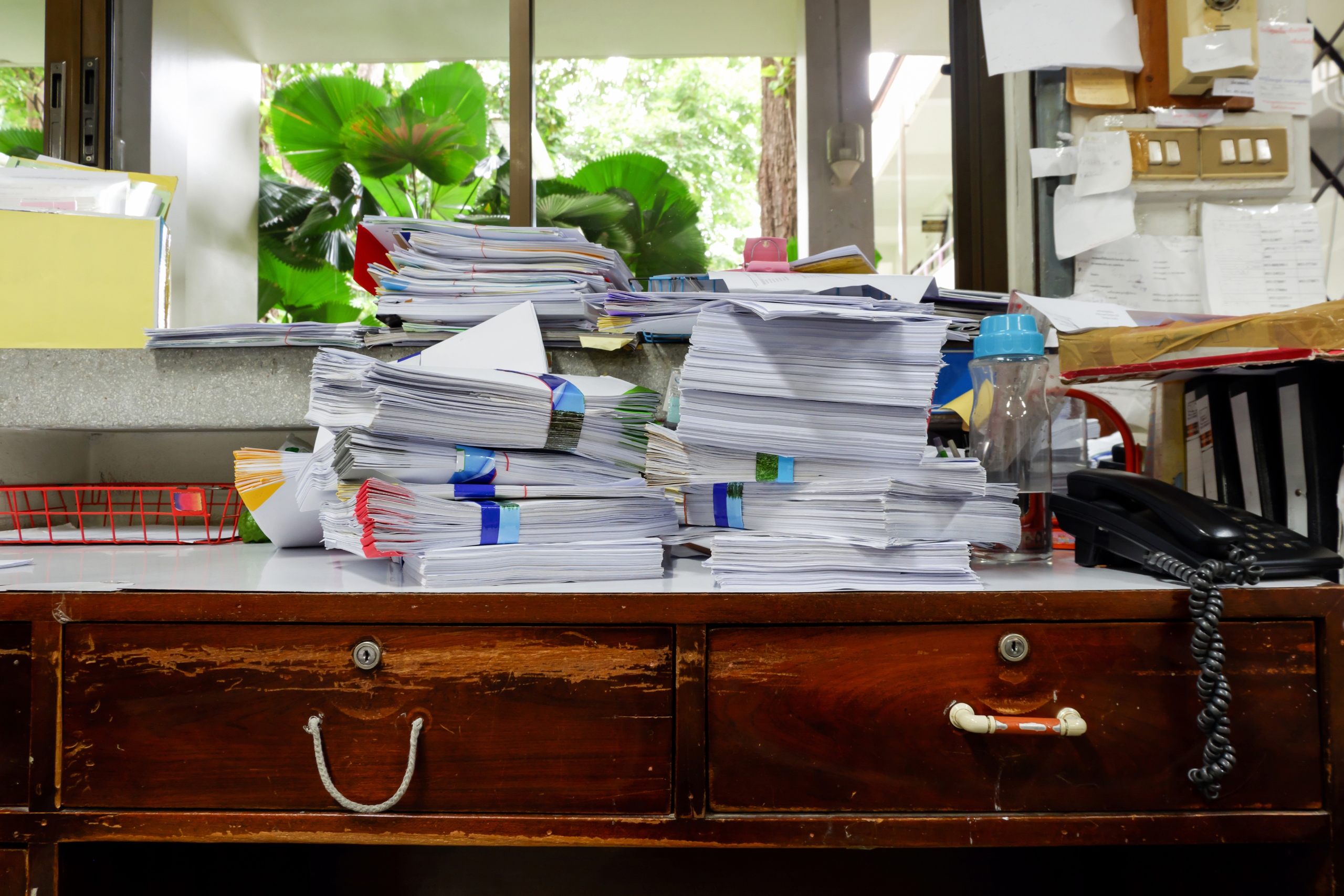 Go through your wardrobe
A decluttering favorite, going through your wardrobe can be one of the most fun decluttering projects to perform. You'll inevitably grow out of old clothes over time, or your tastes in fashion will shift.
Often, it's recommended that you go through your wardrobe once every season. While that may not be necessary for every household, decluttering your closet is certainly an activity to partake in regularly.
Try on clothes you haven't worn in a while and separate your clothes based on use. If you can't decide what to keep or get rid of, ask yourself the following questions:
Does this item of clothing fit me?
Does it fit in with my style?
Have I worn it in the past year?
Is it free of rips, tears, or stains that hinder its appearance?
Does it hold sentimental value?
If you answered yes to these questions, you could keep it. If you answered no, you might want to evaluate whether this item of clothing should remain in your wardrobe.
Beyond your own closet, you can also tackle your partner's or kids' wardrobes if you desire. Decluttering your wardrobe allows you more freedom and provides a bit of relief when it comes to choosing what to wear in the morning!
No matter how much time you have, these decluttering projects can be a quick fix to clear your space of clutter or unused materials. It offers peace of mind and welcomes mental clarity and the opportunity to better organize spaces you typically don't think about.
Editors' Recommendations