Styling your home can be an exciting adventure. You get the opportunity to show off your personal flair and create a space that serves you and your family. With all the excitement accompanying the process, it's easy to get carried away with your design and end up focusing on appearance over function.
We spoke to the experts who wanted to inform homeowners of some of the most dangerous design trends in recent years. While open floor plans and decor like exposed brick and piping sound appealing, they may not be the safest designs to implement in your home. So, here are five design trends deemed unsafe by home experts and how to fix them.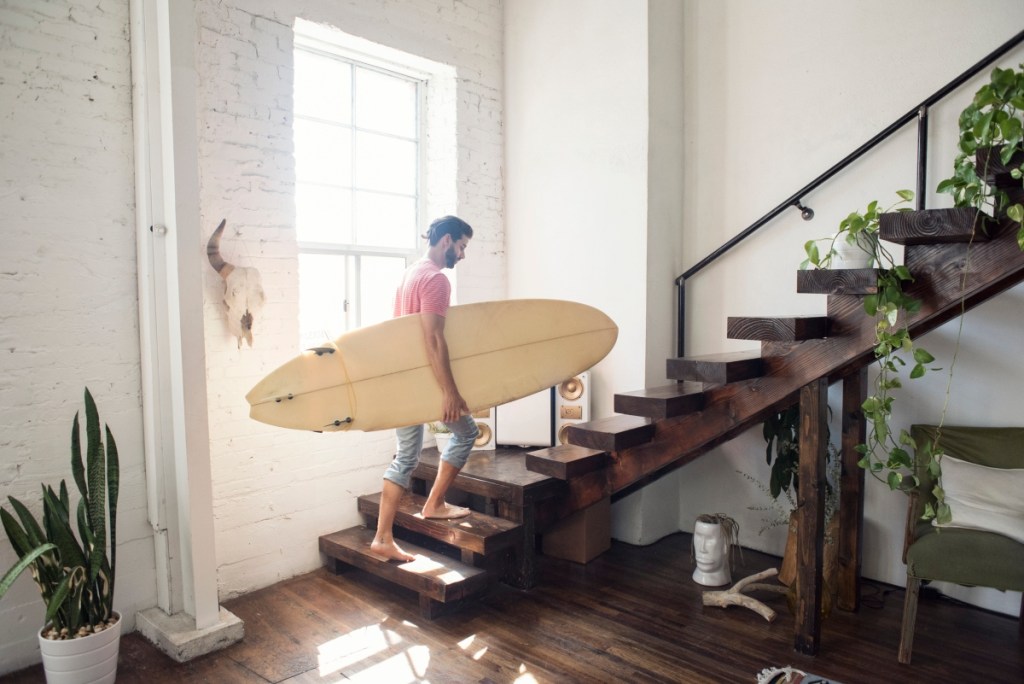 Open staircases in modern homes
One of the most unsafe design trends on our list is the use of open staircases. Open staircases often appear in modern homes where sleek finishes and an open layout are preferred. However, this trend often nixes hand railings altogether to achieve an airy design. Additionally, the stairs themselves can have open backs, making them a dangerous place in the home.
We spoke to experienced contractor Ray Brosnan, Managing Director & Contractor at Brosnan Property Solutions, to better understand why open staircases are an accident waiting to happen. Brosnan said, "Slipping is probably the largest concern with these floating or open staircases."
Brosnan also pointed out that most open staircases don't come with adequate railings. As a result, in the case of a fall, people can't catch themselves, which can cause serious injury.
Additionally, Brosnan expressed weight concerns with these designs. Many open staircases are built for style rather than function. Over time, this inability to hold up against constant pressure and usage could create a dangerous problem.
Industrial styled brick walls
Another issue expressed by the experts when it comes to interior design trends is exposed brick walls. As a key facet of industrial styles, exposed brick has made its way into many lofts and apartments. While exposed bricks look lovely in these settings, it can cause many long-term problems.
Brosnan helped illuminate the issue of exposed brick in the home by saying, "Bricks are naturally porous, meaning you're going to have a hard time heating a room […] as the warm air will simply seep out. Similarly, these bricks can also let the outside in by ensnaring excess moisture, which can lead to mold problems."
The issue with this sieve-like material is that it can't act as a solid barrier.
It's also important to note that even if your exposed brick was added to the interior of the home after construction, the space between the exterior and interior walls could still cause issues. Temperature and moisture aside, porous brickwork is a great place for spiders, centipedes, and other insects to hide.
Exposed piping in your home
Similar to the issues exposed brick can bring to your home, exposed piping is just as dangerous. Another trend with industrial design, exposed piping adds character and a rustic appeal to a home. However, exposed piping can be unsafe.
Brosnan noted, "Exposed pipes are a serious hazard, especially the on-trend copper pipes. These can get extremely hot […] if homeowners are looking to use pipes in their design, they should keep them out of reach of small children."
We would also add that homeowners interested in industrial design might find faux piping a better alternative. Using pipes that don't connect to your utilities creates a stunning look while ensuring a safe space.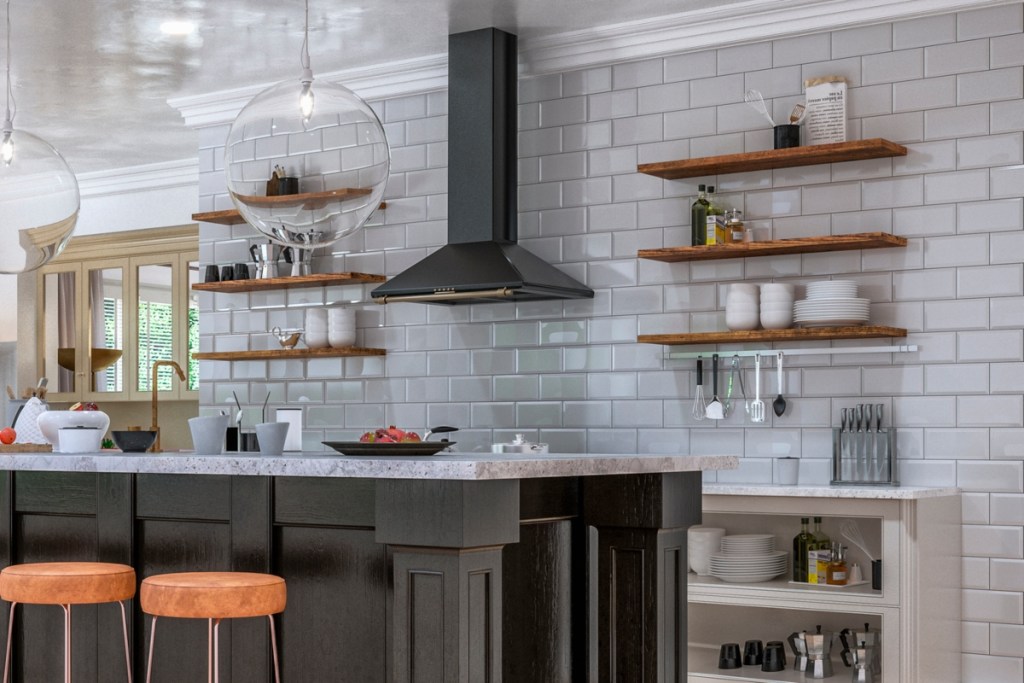 Floating shelves in the kitchen
Floating shelves have become a popular addition to many homes, allowing people storage space while also creating a stunning look. In the kitchen, floating shelves have allowed homeowners to take advantage of open-styled shelving without the use of ugly metal brackets hanging on the walls.
Unfortunately, floating shelves can be a dangerous addition to your home if you aren't careful. As with all shelving, floating shelves have a weight limit. Many homeowners forget or ignore this weight limit, often placing heavy appliances and too many ceramic or cast iron dishes on the shelf. Floating shelves can't hold the excess weight, meaning that your shelves can fall at any moment, possibly injuring you or your household.
To take more care with floating shelves, adhere to the weight limit. Additionally, try not to put anything heavy (like cast iron) or breakable (like ceramics) on your shelving. It's also best to use shelves with a shorter depth. The larger the depth of the shelf, the less sturdy it will be on the wall and the less weight it will be able to hold.
Open floor plans that don't answer client needs
Open floor plans are another cause for concern. Most homes these days offer an open floor plan. The ability to view rooms like dining, kitchen, and your living space all at once creates a more inviting and expansive feel. However, these floor plans can come with quite a few problems.
Walter Kunstmann, Strategic Real Estate Advisor at Real Estate Bees, expressed his concerns about the dangers of floor planning. "Floor plans are different, and so are consumers. […] This must be looked at from a one-on-one perspective," he said. Many floor plans don't accommodate children, the elderly, or those with disabilities, which can cause several issues.
Open flooring, in particular, can be extremely hazardous. Not having enough structural support, the ability for fires to spread more quickly, and the chance children will get hurt due to exposed kitchen appliances near living spaces are a few of the most dangerous issues associated with an open floor plan.
When redecorating or designing your home, keep in mind that not all design trends are the same. Some trends can cause additional problems down the road or can be hazardous for you and your family. Consider whether these unsafe design trends are worth it and how you might be able to resolve them to bring new styles and ideas into your space.
Editors' Recommendations