As summer comes to a close, it's time to redecorate your home to reflect the changing of the seasons. Fall is a beautiful time of year filled with vivid colors, warm baked goods, and the excitement of the holiday season right around the corner, so why not inject some of that joy into your decorations?
Prepare your home for the upcoming season with these tips and tricks to ensure you feel warm and cozy all through the chilly autumn months.
Get a fall wreath
While wreaths can adorn your front door all year long, they're especially popular around the fall and winter when they include seasonal or holiday-themed elements. A fall wreath can celebrate the harvest with mini pumpkins, apples, multicolored leaves, and pip berries. Then, once Halloween rolls around, you can always switch it out for a spookier version with dark, almost black twigs accompanied by orange and purple ribbons.
Of course, you don't have to purchase a wreath if you prefer to get crafty. Making your own fall wreath is easy to do and can be a fun activity, especially for families.
All you'll need is:
A wire hoop
Hot glue
Fall leaves, pine cones, ribbons, etc.
String or twine
You can find a wire or wooden hoop from almost any craft store, and many sell frames made specifically for wreaths. Then, using hot glue, attach fall twigs, leaves, pine cones, and ribbon to begin creating your wreath. Depending on how full you want your wreath to be, you may have to continue around the ring a few times, attaching additional foliage. Step back every so often to make sure the wreath looks balanced in terms of its thickness, color, and texture. Then, use string to hang your fall wreath on the front door.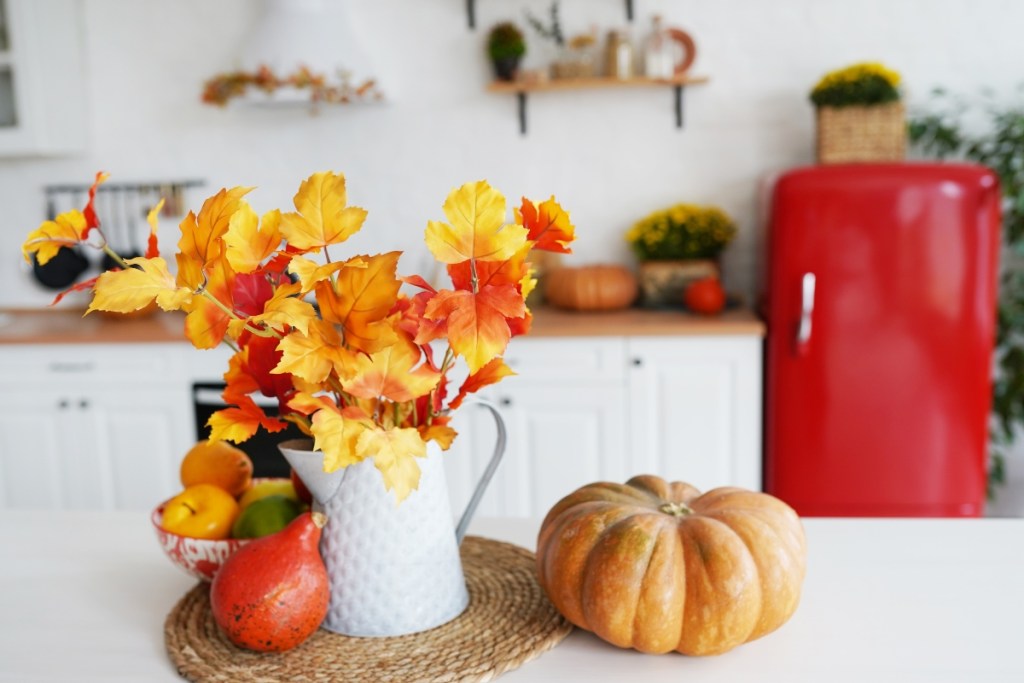 Use a fall color scheme
Fall is synonymous with brilliant colors in a wide range of earth tones from the reds and yellows of fallen leaves to the viridian hue of evergreen trees. As the seasons change, start to retire your summery yellows and baby blues in favor of browns, reds, yellows, and deep greens.
There's no need for an entire remodel, however. Work with your existing scheme and try to invite fall colors by replacing small items like accent pillows (or just the pillow covers), throw blankets, and welcome mats. When setting the table, you can use fall-themed runners or placemats and create your own centerpiece with twigs, pinecones, yellowing leaves, and mini pumpkins.
We recommend using fall foliage as a decorative touch. Purchase flowers like goldenrods, chrysanthemums, and pansies to place in jars or pots, then line them on bookshelves, coffee tables, and mantels.
Decorate with pumpkins and gourds
Perhaps the most traditional piece of fall decoration is the pumpkin. Pumpkins and gourds line the stalls at every farmer's market and grocery store as people prepare to make pumpkin and sweet potato pies, cakes, and all other sorts of tasty treats. As iconic seasonal produce, they can also make fabulous additions to your home decor.
Add some miniature pumpkins to your coffee table or pop them on your desk to use as a seasonal paperweight. If you grab a few larger ones, you can use them as decoration throughout the beginning of the season before carving them up on Halloween.
To get more creative outdoors, create a fall-inspired cornucopia centered around autumnal produce like gourds, apples, and corn. If you don't have a large front porch, stack some hay bales on your lawn to place your decorations on. Scatter some fall leaves around the pumpkins as a finishing touch, and just like that you've boosted your home's seasonal curb appeal.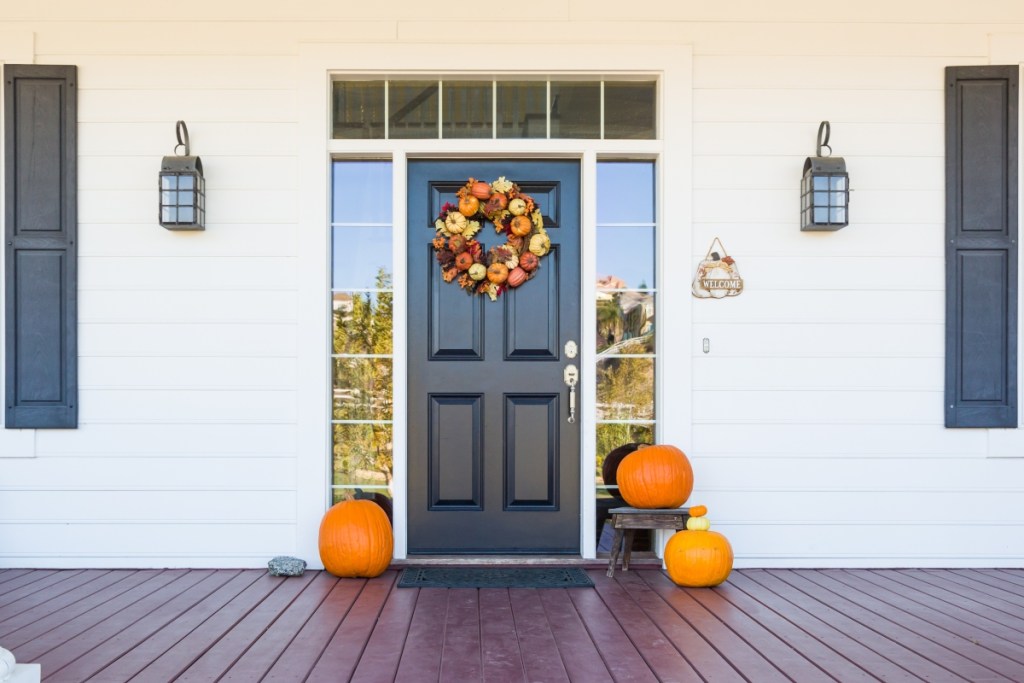 Add in some fall scents
Engage all of your senses by bringing the various comforting scents of fall, like spiced cider and pumpkin pie, right into your home. Candles, scented waxes, flowers, and treats can incorporate any of these delicious smells into your space to create an ultra-relaxing environment. If you're looking for more creative ways to incorporate these aromas around your home, use scented products like cleaning sprays, hand soap, and lotions to spread even more autumnal aromas.
With these four tips, you can bring in all the glorious smells, tastes, and colors of fall, connecting your interior with the changing seasons outside. All of these options are inexpensive, easy decorating tips, so get the whole family together for some arts and crafts as you prepare your home for all the joys fall has to offer.
Editors' Recommendations