Modern landscape is gaining more and more attention these days thanks to a resurgence of the "less is more" approach to exterior design and decor. But what elements of this exterior design style will fit well in your yard? We've broken down what we love about modern landscape architecture so you can pick and choose what's best for your yard.
Sleek lines and low upkeep
Modern landscaping ideas involve plants and plant beds, but definitely no riotous displays of bright reds, green, or yellow flowers or vegetables. This is great for folks who aren't a fan of gardening, since these minimalistic gardening styles don't lend themselves to too much upkeep.
This goes for walkways and paths too! While concrete hardscaping (in the form of benches, planters, and concrete paths) are the hallmarks of modern landscaping, there are some climates where too much moisture can cause constant cracking and repairs to slabs and pathways. If that is the case, use textured materials to mark off specific areas. White pebbles, pea gravel, lava rock, and larger rocks can create areas of interest that don't require upkeep.
Interlocking composite pavers are a great way to mark off areas, and these can be used no matter what kind of climate you are in. Be aware that they absorb and hold heat, so you will need footwear or outdoor rugs if it's an area just off the house that you will use for entertaining.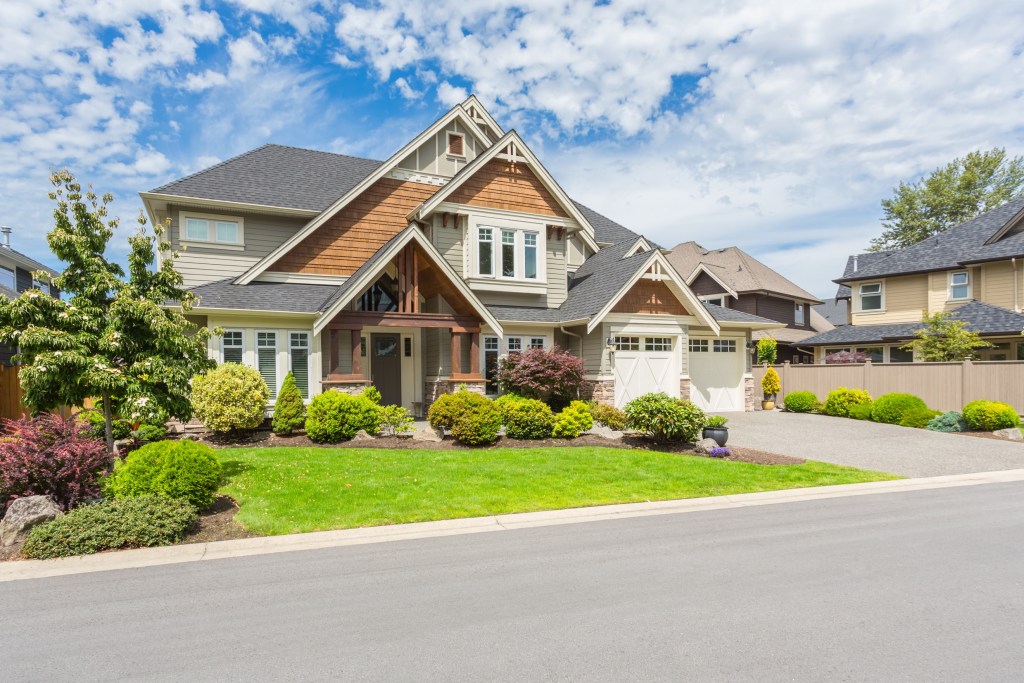 Plants and trees
So you want to add some green to your front or backyard while still maintaining that modern and minimal aesthetic? You might be wondering what types of plants to choose. The answer depends entirely on what type of climate you live in.
Moderate to temperate climates
Plants for moderate to temperate climates include:
Yucca
Cuana
Alocasia
Red hot poker
Agapanthus
New Zealand flax
Aeonium
Sedium
Swiss cheese plant
Aucuba
Fascia
Lilyturf
Trees include:
Crape myrtle
Japanese pine
Mountain laurel
Bamboo
Japanese maples
Agave
Japanese boxwood
Cast-iron plant
Berkeley sedge
Foxtail fern
Always consult a local garden center before spending your savings on plants and trees. Even if a plant is on this list above, there could be other elements that impact your plants' ability to thrive.
Arid climates
Dry climates with water issues can certainly take advantage of modern landscape trends, and rock gardens are no stranger to trends. Again, you can use textures to designate certain spaces. Use large squares of artificial turf or neutral outdoor rugs to mark off spaces for entertaining or outdoor kitchens, and don't forget to include shade elements.
Use drought-tolerant and tropical plants as organic elements. Plants that would do well include:
Golden barrel cactus
Mexican feather grass
Bottlebrush
Aloe
Flaming Katy
Elevated surfaces
Since space in your outdoor entertaining spaces is limited, elevated deck and seating spaces are a great way to add visual interest to a space and create an illusion of a lot of square footage. Installing outdoor lighting or stringing up fairy lights around a seating area is also a necessity — safety is important and the aesthetics can't be beat either.
Whether you choose to add plant beds to your front yard, plant a beautiful tree out back, or overhaul your entire yard, modern landscape architecture is a fantastic way to bring a touch of class and elegance to your outdoor areas. We can't wait to see what you create!
Editors' Recommendations