Eco-friendly furniture is crafted from sustainable materials, engineered without harmful chemicals, and is ideally recyclable. If you want to invest in some high-quality pieces that are safe around children and pets, and are good for the environment, they're totally worth buying. Here's what you need to know about eco-friendly furniture and if it's worth buying.
What makes furniture eco-friendly?
Eco-friendly furniture is the general term for tables, chairs, drawers, and other home furnishings that are environmentally friendly.
Made from new sustainable resources:

Go for bamboo or other sustainably-harvested wood furniture. If a furniture is described as "FSC Certified," this means that the USA Forest Stewardship Council (FSC) has determined it is indeed sourced from sustainably-harvested wood sources.
Made from recycled materials: Reclaimed wood furniture is also a good indicator that the company is using eco-friendly materials. Reclaimed wood often comes from old buildings or structures that are no longer in use, but have wood pieces that are still intact. This includes barnyard doors and factories. Many eco-friendly plastic furniture is also fashioned from recycled plastic which would have otherwise been burned or left at a dumpsite.
Made from natural and/or organic materials: Organic furniture includes select cotton mattresses, futons, rugs, covers, bedding, sofas, cushions, and blankets. These are usually handmade or produced without additional chemicals or treatments.
Partially or fully recyclable or biodegradable: Eco-friendly furniture should either be recyclable or biodegradable. Solid wood is typically biodegradable or compostable while some plastics can be sent to recycling centers. On the other hand, synthetic cover and multi-plastic furniture are not. Unfortunately, most old, discarded furniture sit at landfills.
Finished without harmful treatments, chemicals, or dyes: Dye-, lacquer-, flame retardant-, and stain treatments often leave chemical residues in your furniture. This is not only harmful to owners, but to the environment. Chemical run-off often makes its way into water sources and the air.

Made in small batches or made-to-order: Mass produced furniture often equals wasteful and harmful production methods. Support smaller businesses or buy from made-to-order operations.
What is the most eco-friendly furniture?
Choosing what kind of furniture is the most eco-friendly isn't objective, but for the most part, bamboo or reclaimed wood furniture is the top contender. Bamboo is a very sustainable source of wood and can be fashioned into solid bed frames, woven into bamboo wicker chairs, or transformed into a screen room divider. Reclaimed wood ensures your furniture doesn't produce additional materials, but rather repurposes old ones into something new, functional, and stylish.
Recycled materials like upcycled couch cushions and covers to plastic water bottle velvet cushions redirect waste from the landfill to your living room. Quirkier pieces like wooden pallet tables, oil barrel sofas, and upcycled car seat living room chairs are also eco friendly.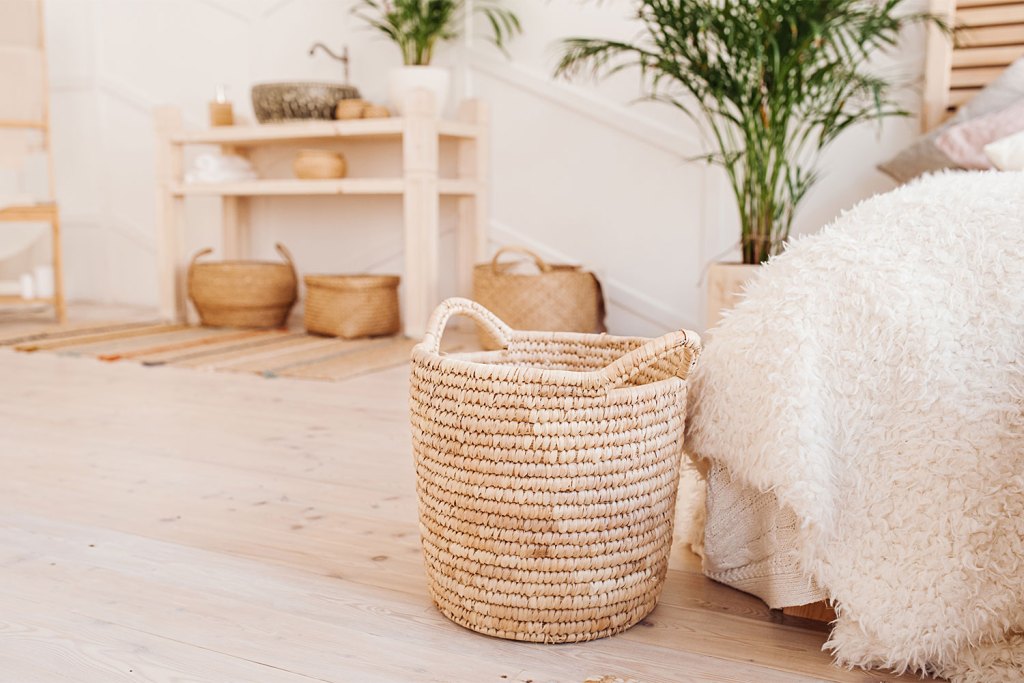 If you're ordering from online or placing a back order, also consider what type of shipping materials and methods the company uses. Recyclable or recycled packaging materials are preferred over single-use boxes. Some companies even pledge a carbon-neutral shipping agreement between couriers.
Is IKEA ethical?
IKEA is one of the most affordable, convenient, and modern furniture brands by far. Currently, the company is working towards using all sustainably sourced cotton and wood for their wood-based products by 2030. Check out more on how they explain their sustainability here. This may cause some loyal followers to breathe a sigh of relief, as so many of their furniture pieces tend to get discarded year after year, only for customers to come back for something new.
The company is also trying to create a circular economy, which essentially means they want their products to either be reused, recycled, or upcycled when they're no longer needed or functional. IKEA is working towards a better approach, but with all large companies wanting to overhaul their processes, it will take a while. For now, we suggest checking out less well-known brands for furniture that will last.
What are some eco-friendly furniture companies?
There are lots of different eco-friendly furniture companies online. Additionally, there are big companies like Crate & Barrel who offer specific collections or pieces that focus on sustainability. We've got a quick list of other companies you may want to check out:
The bottom line is that eco-friendly furniture companies put you and the planet before their own profit meaning – for example, child- and pet-safe furniture made from sustainable materials. To top it off, eco-friendly furniture is almost always durable, ensuring you get what you pay for. Luckily, there are many reasonably-priced companies and pieces for you to choose from on the list above.
Editors' Recommendations