Fall is a great time for home renovation. The weather is cooler and there's just enough time to realize your vision before hosting friends and family for the holidays. If you're looking to stay on-trend and curate a home that will wow your guests, we have some of the best tips for you.
Below are some stunning fall trends that are popping up in homes across the country. This year is all about stepping out of your comfort zone, so push the limits of your creativity and create a space you're sure to love.
Bold colors
In recent years, traditional styles and contemporary minimalism have been in vogue. Soft, muted colors were all the rage, but this demure sophistication is a little too lackluster for some. Now, designers and homeowners are beginning to use bright, bold colors in their home decor. From the re-emergence of statement accent walls to the onset of maximalism, adventurous colors are the hottest new aspect of home design.
If you want to perform a quick remodel before winter, repaint your walls. Painting is one of the more inexpensive home renovation tasks, and it makes a serious impact. In addition to the walls, you can also try your hand at painting your kitchen cabinets forest green, jewel blue, or candy apple red to invite more life to the space. Using bright area rugs and bold accent colors across the room can also make a huge difference.
Dedicated spaces
After quarantining at home for much of 2020, people realized how necessary dedicated spaces are. While multi-use rooms are great for a family on the run, having private areas is crucial for those who are more homebound. From separate bedrooms to home gyms, it's become more important than ever for people to have a space that is entirely their own.
This fall, take some time to devote a dedicated space to yourself, your spouse, or a family member. Revamp a kid's room to better reflect their personality, or renovate an area in the basement to create your own personal studio. Spare bedrooms and guest rooms also make perfect spaces for home gyms or mini-libraries.
Home offices
Similar to dedicated spaces, home offices also became a necessity for many during the COVID-19 lockdowns. Whether you work from home, are back in person, or operate somewhere in between, a home office space is certainly a boon to productivity. Home offices can also keep your family organized when it's filled with filing cabinets, computers, and supplies that everyone needs to get work done.
If you have a spare room, transform it into a productive space with a few small changes. In addition to a desk and ergonomic chair, find some unique shelving, storage solutions, and sturdy filing cabinets. Practical storage and organization are key when designing the perfect home office.
Backyard patios
The outdoors can be a great escape to get away from that "cooped-up" feeling, so balance out your life inside with a backyard oasis. Fall is the perfect time to start working on your outdoor space — because of the cooler weather, you can build big structures or work in the garden without overheating. Fire pits and patios are also popular autumn amenities, ensuring you stay warm during those cool fall nights spent with family and friends.
Handier home renovators can go the DIY route and build a patio space and fire pit themselves. Don't forget to also lay pavers to create a walkway, and opt for a lovely water feature for an extra wow factor.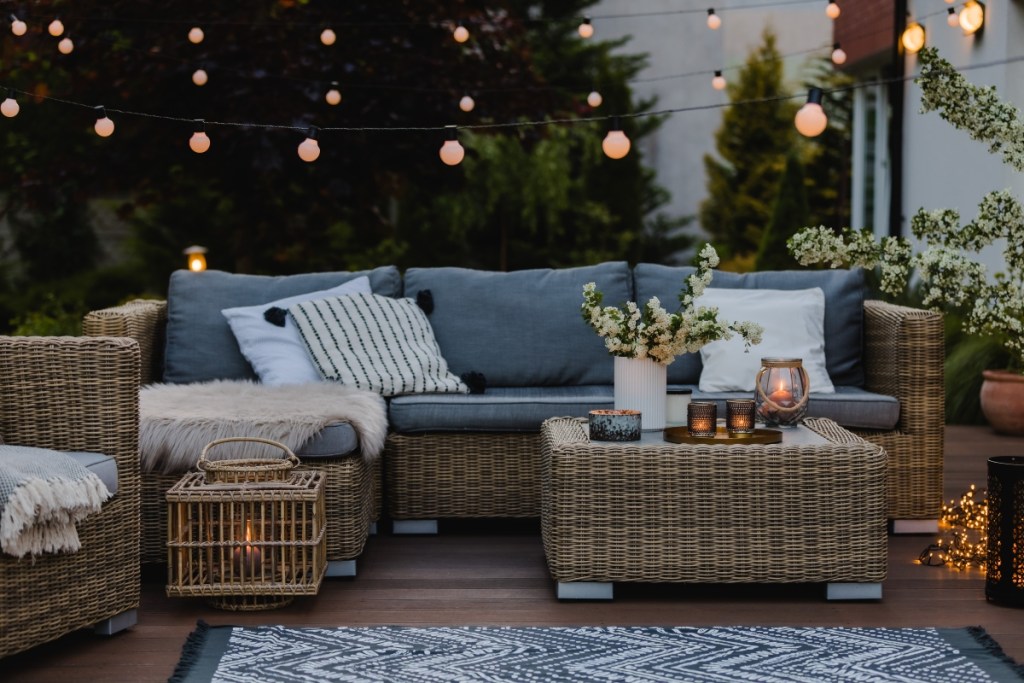 Non-traditional designs
This year, many decorators are trying to veer away from traditional styles, especially when it comes to fall home decor. Rather than using classic color palettes filled with reds, oranges, and yellows, people are opting for soft, pastel colors or leaning into winter colors early and incorporating bright greens, blues, and grays.
This holiday season, challenge yourself to decorate outside your comfort zone and add colors that are either brighter or more subdued than the classic earth tones. If you choose to break away from the status quo, be sure to decorate carefully and thoughtfully. When mixing colors and patterns or including a lot of knick-knacks or decorative trinkets, make sure everything still has a cohesive look, ensuring your home doesn't look cluttered or hastily decorated.
While the days are still long and the air much cooler, the fall brings plenty of opportunities to create a homey haven that will keep you happy and cozy. Don't be afraid to take a non-traditional approach to your design and be bold with your colors. This is the year of breaking the norm, so try something different and exciting! If you don't like it, you can always clear everything out and start again.
Editors' Recommendations