Everyone wants to remodel their bedrooms these days, especially as websites like Instagram, Pinterest, and TikTok are constantly sharing new trends and style ideas to try. People are taking their old digs and transforming them with everything from DIY upcycling to full-scale professional renovations. If you've found yourself drifting off into daydreams about your dream bedroom, you're in good company.
You can have a bedroom that looks just as Zen, cozy, and beautiful as any you might see online or in a home décor magazine, and you certainly don't need to spend a fortune to do so. No matter what budget you have or style you prefer, there's always something you can change or rearrange to make your bedroom one step closer to your desired oasis.
From dreary and dark to light and airy
We certainly understand why someone went to the trouble of remodeling this bedroom. Dark furniture combined with a deep purple comforter on the bed and a clashing gray carpet doesn't scream classic elegance. However, it's hard to believe you're looking at the same room when you see this bedroom post-makeover.
The cream colors brighten up the room, and the floor-to-ceiling curtains contribute to the illusion of higher ceilings, two factors that make this gorgeous abode appear much larger. Also, note how the variety of textures make the room more interesting, as opposed to the original design with all matte finishes. All in all, the room went from dull and drab to peaceful, elegant, and refreshing, all with a few tastefully picked and inexpensive accents.
Creating high-class modernity
This before and after goes from simple and forgettable to dramatic and memorable. This interior transformation is incredibly bold, relying heavily on dark walls and accents to make the natural wood floors shine. While the shades here are dark, they still bring out a classy, luxurious feeling to the room. In a bedroom, the eye naturally drifts to the bed as the centerpiece. By smartly keeping the bedspread light, the designer prevents the room from feeling too dull.
A larger bedroom is necessary for this design since dark colors can make a space feel closed in. Counteract these dramatic accents with modern art or photography to give your bedroom a young and vibrant feel. If you decide to take inspiration from this design, don't forget to add additional sources of light such as a chandelier, bedside lamps, or even an LED backed mirror.
Get your white lace game on
In this TikTok video, we see a bedroom transform from a mish-mash of sea-green walls and a polka-dotted bedspread to an elegant, romantic room filled with lush greenery. The iron bed frame and breezy white curtains are timeless styles that look mature without feeling boring. Additionally, the inclusion of multiple small mirrors opens up the room without requiring a large, clunky full-body mirror.
The woodland kids' room makeover
Perfect for toddlers, this TikTok takes a boring bedroom and turns it into a woodland creature-themed space that's sure to inspire C.S Lewis-style dreams. The best part is that you can tell this room is inspired by the forest, not a recreation of it. The small touches such as the white branch bookcase, wallpaper-lined drawers, and cloud fixtures on the ceiling all provide a touch of whimsy without appearing too gimmicky.
Changing up the colors
They say the devil is in the details, and if you needed any more proof, look no further than this redesign. By simply changing the bedspread, wall decor, and side tables, this bedroom instantly looks brighter and more welcoming. These simple yet profound changes illuminate just how much you can do with a few inexpensive additions. Even better, you can make all these small changes within an evening, making this a manageable project even for busier folks.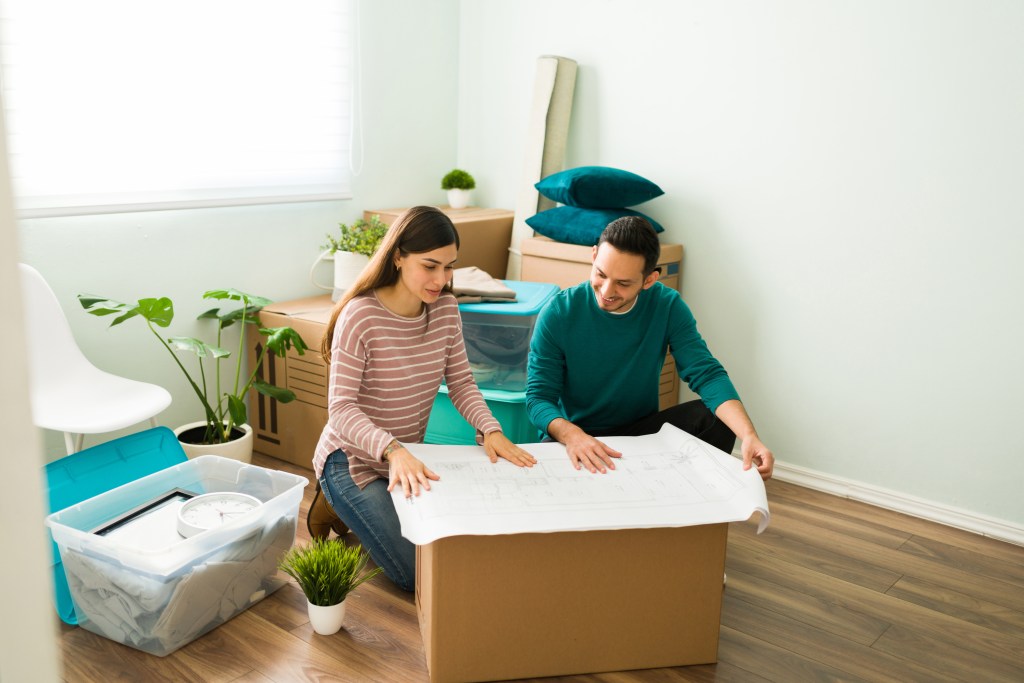 Time to remodel your own bedroom
If you've been falling asleep surrounded by the same old decorations and themes for years upon years, it's time for a change. The bedroom is a space where you spend much of your time, so it's not something to take lightly. It should be a relaxing sanctuary for you to shake off all the day's troubles. It certainly shouldn't remind you of all the home improvement projects on your list, so spend a weekend incorporating a few of these upgrades, and don't forget to post your transformation video!
Editors' Recommendations