The choices we make while renovating and decorating our houses affect more than just ourselves; they have a global environmental impact as well. Now more than ever, people are thinking about how their actions impact their homes and the world around them. With this shift toward eco-conscious thinking comes plenty of new trends and advancements in eco-friendly, green design.
To learn more about the best trends in sustainable design, we consulted a few interior design experts. Angela Higgins, a mindful home designer and the owner of Nourished Home, and interior design architect Saloni Ingle of Nitido Design told us about a few of their favorite aspects of environmentally friendly home design. Read on to discover some of the most exciting green interior design trends of 2022.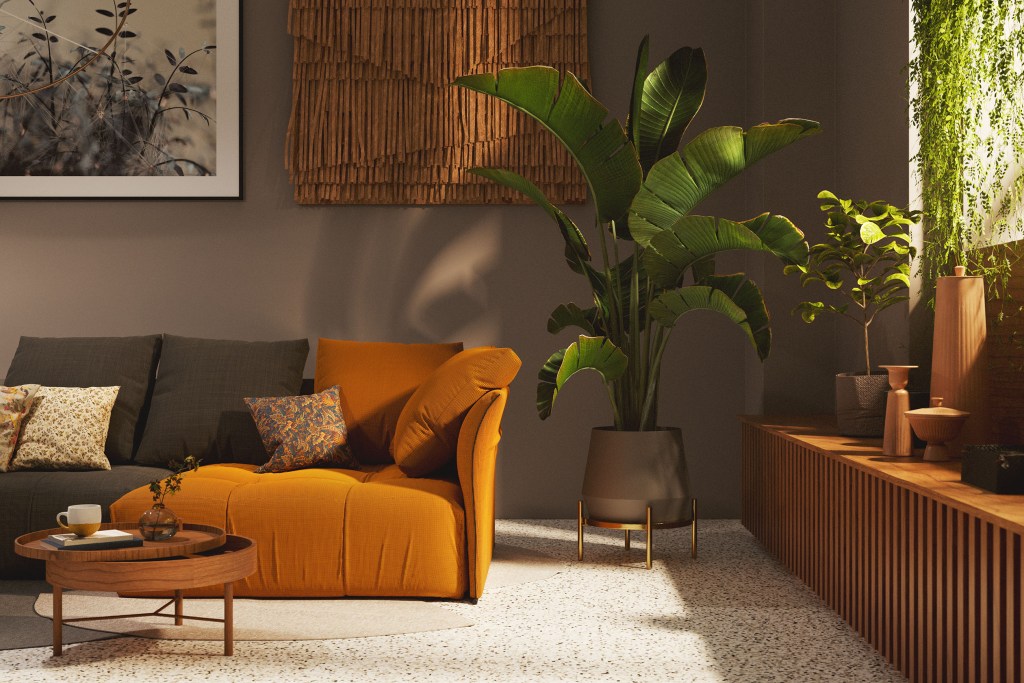 Design inspired by nature
Green design is all about minimizing environmental impact, so it's no wonder that so many designers gain inspiration from the natural world that they're trying to protect.
"A trend that I'm so happy to see is the increased use of organic elements that help keep us connected to the natural world," Higgins said. Stone, wood, linen, and more are common features of many trendy aesthetics, from laidback boho to upscale Japandi.
Nature-inspired colors are huge this year, too (ahem, sage green). Higgins is especially partial to neutral color palettes that "make the perfect backdrop to enhance any space" and "soothe us as we're reminded of nature." When shopping for wall paint, Higgins recommends looking for eco-friendly low-VOC (volatile organic compounds) paints.
Locally sourced materials and decor
Both designers appreciate the emphasis on shopping locally, buying items from artisans and secondhand shops in your neighborhood. "You may reduce your carbon footprint by using locally sourced products and decor," Ingle said. She suggests checking out local pop-up shops and marketplaces and purchasing materials for more extensive renovations from local manufacturers whenever possible.
Higgins agreed, stating, "Not only are you supporting a small business, but also reducing the environmental impact that comes with shipping from overseas or from factory emissions."
Shopping locally is a fantastic way to find unique pieces for your home, too. "I love incorporating artisan soaps, beeswax candles, hand-carved wood bowls, and one-of-a-kind artwork," Higgins shared.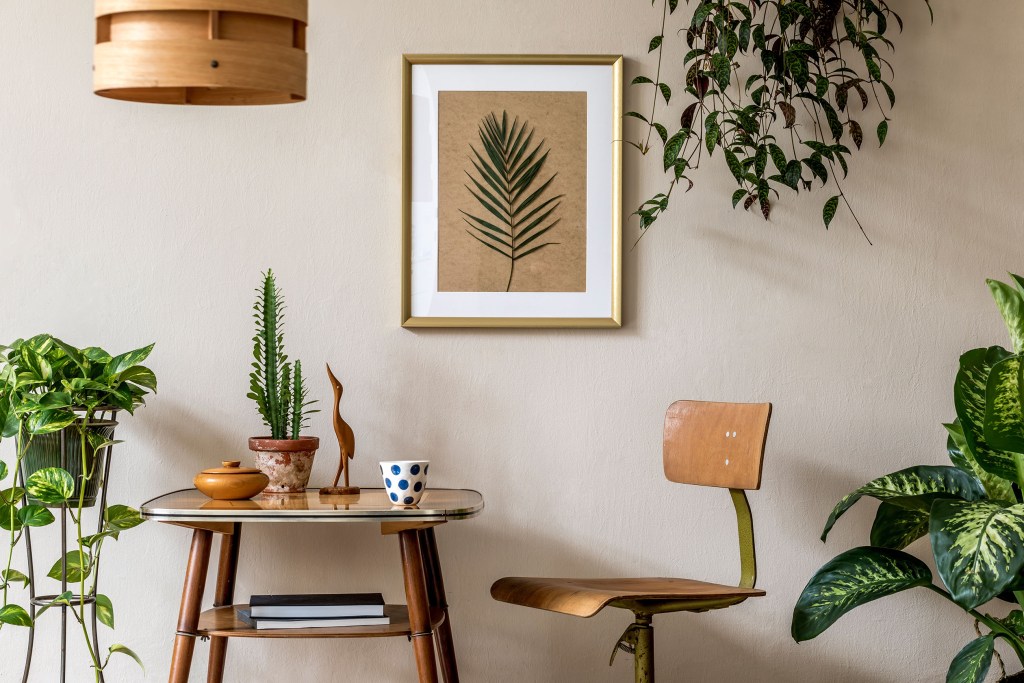 Secondhand and upcycled furniture
In addition to shopping locally, Higgins also loves furnishing homes with reclaimed and upcycled pieces. Giving new life to an old piece extends its usability, keeping it functional and out of the landfill for longer. Plus, you can reduce your carbon footprint even further by avoiding purchasing and shipping newly manufactured pieces.
Decorating with upcycled furniture and decor can add character and a one-of-a-kind touch to any home. "I love mixing the old and new together in a single space," Higgins said. "Reusing existing pieces in new and interesting ways can also keep you connected to your past while embracing the present with an eye on future functionality."
Sustainable lighting
LED lightbulbs may be better than incandescent ones for both the environment and your energy bill. However, there's an even better light source that's freely available in your home and completely sustainable: natural light. "Think of enormous picture windows and skylights," Ingle said.
Sunlight doesn't cost a thing, and it's already readily available in your home! Embracing sunlight in your home design can make your space feel bigger and brighter and may even improve your mood and energy levels. Take Ingle's advice: "Throw open the drapes and shutters and let the sun do its thing."
Live greenery
One of the best ways to use sustainable design is to literally "go green." Fill your house with live plants for an easy and effective environmentally friendly touch. "Incorporating plants to our homes adds life, vibrancy, color, and texture while providing a soothing connection to the great outdoors," Higgins said. Some plants even purify the air in your home, ensuring you and your family can breathe a little easier.
Ingle agreed, stating that adding greenery is "a terrific way to exercise your green thumb while also improving the air quality of your home."
But don't think you have to be a master gardener to take advantage of all the benefits of lush greenery. "Try simple solutions like moss compositions and even dried plants and flowers if you're not up to the chore of keeping plants alive," Ingle recommended.
Sustainable interior design will never go out of style. Bring the beauty of the great outdoors into your home with nature-inspired materials and colors, live plant life, and natural sunlight. When shopping, prioritize goods from local artisans and manufacturers. Don't overlook the benefits of buying secondhand either! Upcycled pieces can add natural character to your home without creating a huge environmental impact. With these designer-approved green interior design trends of 2022, you can transform your home into a stunningly stylish and eco-friendly space.
Editors' Recommendations