If you live in a tan, grey, beige, or otherwise neutral-colored house, it likely needs a little more color on the exterior. However, changing the color of your home is easier said than done. Renters may find themselves in a dwelling that they aren't allowed to paint extensively, and some homeowners just don't want to take on an entire exterior remodel, as it can be extraordinarily costly and time-intensive.
If you're in either position, there is hope for your house's uninspiring facade. By painting the door, you can inject a little bit of life onto your home's front entrance without spending too much money or time doing it. Keep reading to find out more about adding curb appeal with this surprisingly simple DIY project.
Classic red
Red is classic. With this hue, you can add some brightness without going overboard, as it gives warmth while also attracting attention. Whether you choose a candy apple red or a deeper burgundy, a red door nestled within a tan house certainly makes a statement. When picking out the exact shade, try to coordinate it with your house's overall design. If it follows a more rustic aesthetic, opt for burgundy or other deep, muted reds for a cozier feel. For those contemporary homes, feel free to go for a bright red that feels youthful and fresh.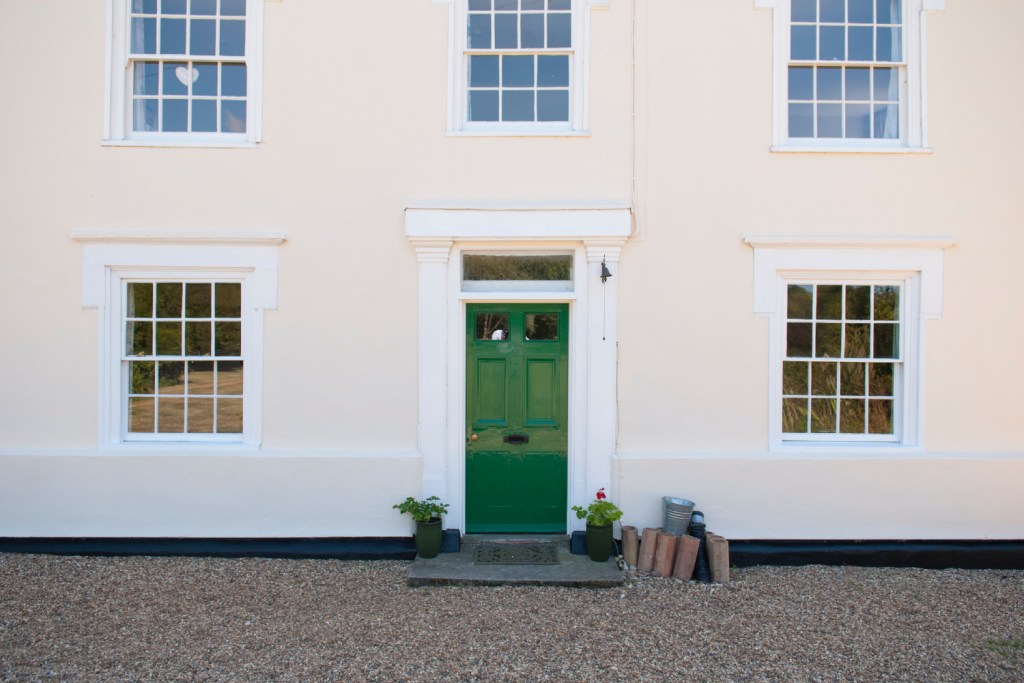 Shades of blue
Blue is cool, calm, and collected. Regardless of the shade, be it bright blue, teal, baby blue, turquoise, or navy, this hue perfectly balances modernity and maturity. Bright blues work best with any shades of tan, as it injects a little energy into an otherwise muted palette. However, the paleness of the color still complements the neutral tones to provide a pop of color that isn't distracting or out of place. A dark blue door can give your home a look of sophistication and class, adding visual interest without detracting from the rest of the home's streamlined exterior.
Yellow hues
Yellows can be intense, but they are also warm, bright, and inviting. It also complements tan and grey houses and pairs well with all types of building materials. Keep in mind, however, that yellow reflects a lot of light, so consider how much sunlight your front entrance gets before settling on a color. If in doubt, pick a shade that's slightly darker, as it won't blind any passersby.
This hue isn't one-note, and though it's fun and energetic, there are also darker, matte options that can add a touch of drama. For example, with Western-looking facades, a dark yellow door rounds out the look nicely. Remember to keep your landscaping in mind when picking your perfect shade. Purple and yellow are complementary colors, so adorning your front yard with lilac blossoms is sure to draw the eye.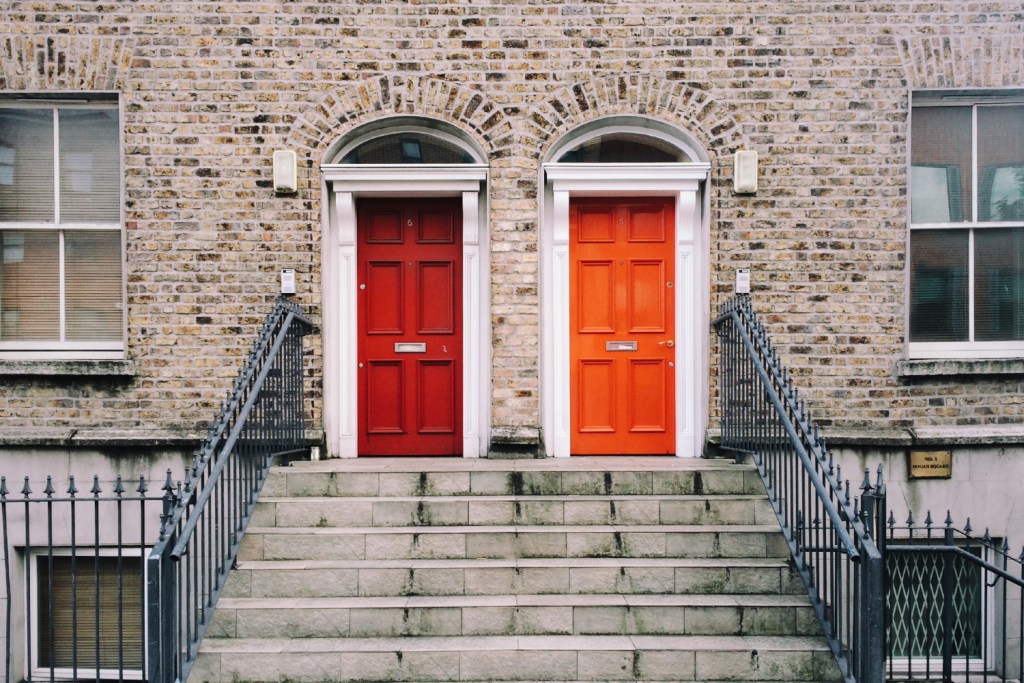 Orange, like yellow, is a bold choice that can immediately brighten up a neutral tan or grey house. A tangerine-colored orange door will give off a rustic feel when paired with cool greys or warm tans, delivering a look that's reminiscent of the coziness of autumn.
Though similar in color, orange pairs much more nicely with tan brick than yellow does. The inclusion of red undertones adds enough contrast with the neutral brick so the two features don't blend into one another. If you want to get really bold, match your exterior window treatments to the door's color. A facade with orange accents door immediately informs guests that both you and your home are fun and full of personality.
If your house's exterior needs a facelift, changing the look of the front door is one of the quickest and cheapest ways to add curb appeal. Especially if you have a grey or tan home, it's time to have a little more fun with your home's entryway by including a little bit of color.
Whatever shade you decide to go with, be sure it adds to the look of your home rather than distracts from it. Don't hesitate to reach out to a landscaper, contractor, or artist to gain more insight into which colors will work best with your home. All in all, by taking on this project yourself, you can transform the exterior of your home without the headache of a remodel.
Editors' Recommendations