Decorating your kitchen for winter is a great way to boost your mood during the colder months. When you spend much of your time inside, it can be easy to feel overcome by winter-weather blues. To combat the darker days of the year, decorate your kitchen to inspire joy and winter enthusiasm. Below are some of our favorite winter kitchen decor ideas that are perfect for lovers of rustic design.
Inexpensive winter decor ideas for your kitchen
If you want some affordable options for adorning your space, we have a few ideas that are sure to excite your rustic-loving heart.
Swap out your potholders and towels
One of the best ways to decorate your kitchen this winter is to swap out your regular potholders and hand towels for some winter-inspired alternatives. Potholders with blue and white winter scenes of snowmen or hand towels with plaid patterns are wonderful ideas. You could also opt for a wintery kitchen runner, some pale blue or snowflake-designed curtains, or even opt for fun winter canvas bags to store your goods. By using winter-themed linens in your kitchen this season, you can use small touches that add an extra bit of detail to your overall design without emptying your wallet.
Use hand-painted signs
Rustic design enthusiasts know that painted signs are a staple in their homes. Therefore, your kitchen should be no exception! Find some old picture frames or framed chalkboards from thrift stores or your local craft shop to begin your homemade design. Use paint or chalk paint to create fancy lettering and write a quote that feels right. You could also purchase a ready-made sign at your local home goods store if you prefer.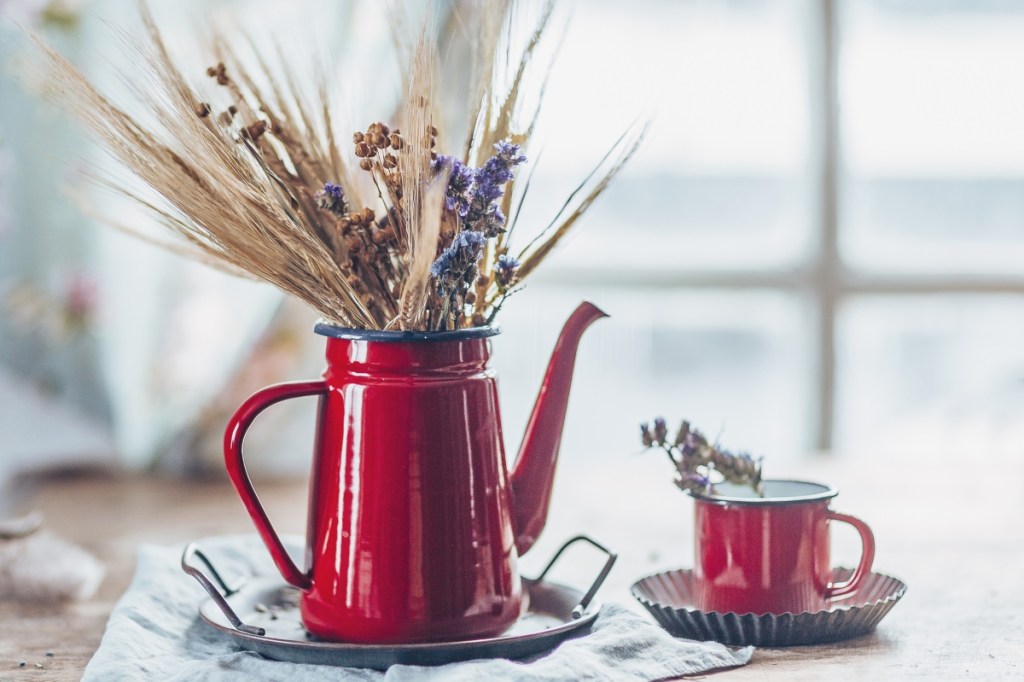 Winter kitchen table decor
If you have a kitchen table or want to decorate your dining table this winter, there are plenty of fantastic rustic design ideas to choose from.
Glass vases with candles
Glass vases on the center of the table are the perfect way to add elegance and sophistication to your design. Put some candles or tea lights inside them for a soft look that blends modernity with your rustic-styled home. These decor pieces make beautiful centerpieces on your table and can be stacked on raw wood, draped by evergreen garlands, and partnered with pine cones or miniature winter signs.
Layer winter fabrics
Whether you use a tablecloth or not, you can't go wrong with adding a bit of fabric to your kitchen table design. Use fabric placemats colored green, white, or blue to reflect the winter landscape outdoors. Layer them with other patterned placemats for a curated look. Be sure to use winter-themed napkin holders for any family gatherings you host, and don't neglect table runners for a stunning look.
Use raw wood slices
Raw wood slices are a beautiful rustic element to add to your wintery design. Use raw wood slabs on your kitchen counters in place of ordinary pot holders or place them atop dining placemats for a natural look. Wood slices can also be added to the center of your table as a base for your decor. These pieces add an element of authenticity and outdoorsy intrigue that will blend seamlessly with your current rustic design.
Winter decor for your kitchen counter
If you want to go all out with your winter kitchen decor, don't leave your counter feeling empty. If you have any winter-themed bowls or platters, now is the time to bring them out. Even if they're not in use, displaying them can be a great way to enhance your winter design scheme. Plates and dishes with winter themes, painted snowflakes, or winter landscapes are perfect additions to your decor. Place them on kitchen islands, counters, or tables so all who enter your kitchen can witness their beauty.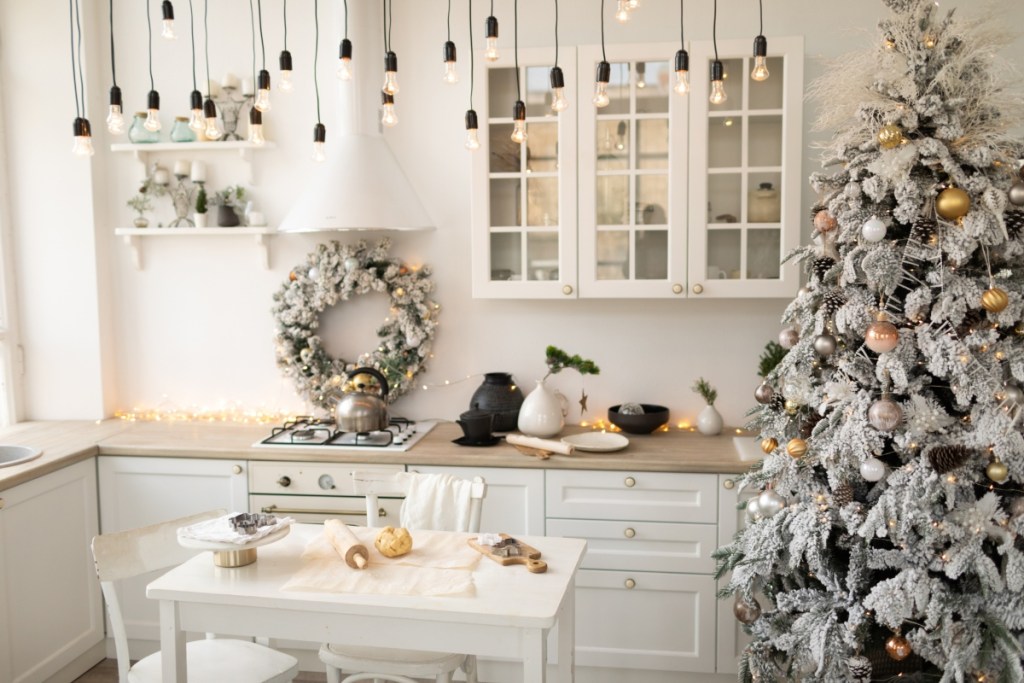 Natural winter decor for kitchen
Rustic design is well known for its use of natural materials as part of its decor. This winter, take advantage of natural elements to enhance your overall scheme when it comes to your kitchen.
Decorate with evergreens
Evergreens are an excellent natural addition to your home. Use sprigs in jars, evergreen potted plants, or garlands to add some greenery to your home. For example, an evergreen garland across your kitchen or dining table can make an incredible and timely centerpiece. Whether live or faux, this stunning addition can bring a bit of the outdoors in, highlighting rustic decor's authentic and natural appeal.
Use twigs, logs, and pine cones in your design
Twigs, logs, and pine cones add natural detail to your design. As beautiful brown hues, they can be a wonderful and warm addition to your color palette. Additionally, these materials are perfect for centerpiece decor. Tuck your twigs in some glass vases and scatter pine cones around an evergreen garland or nearby candles in their glass vases. For an added touch, stack wooden logs in your kitchen or dining room to resemble firewood, making it a great aspect fit for rustic design.
Winter decor and rustic design were practically made for each other. Marry these aspects to create a stunning wintery kitchen scheme that brings joy to all who enter. Be sure to use plenty of natural elements in your design, and remember to blend in some modern pieces like glass vases and candles to create more elegance this winter season.
Editors' Recommendations