The farmhouse style has evolved since 2014 and 2015. Home design shows and magazines boasting shiplap, rustic pieces, and DIY art inspired many homeowners to redecorate their spaces with the farmhouse aesthetic. However, this trendy style is shifting, and new elements are paving the way for the future of the farmhouse style.
So, we spoke to the experts to better understand what lovely farmhouse trends they absolutely covet. With a shift in how we view this cozy aesthetic, homeowners might find their design is ready for a revamp. This is how to choose farmhouse-style wall decor that will look gorgeous and modern.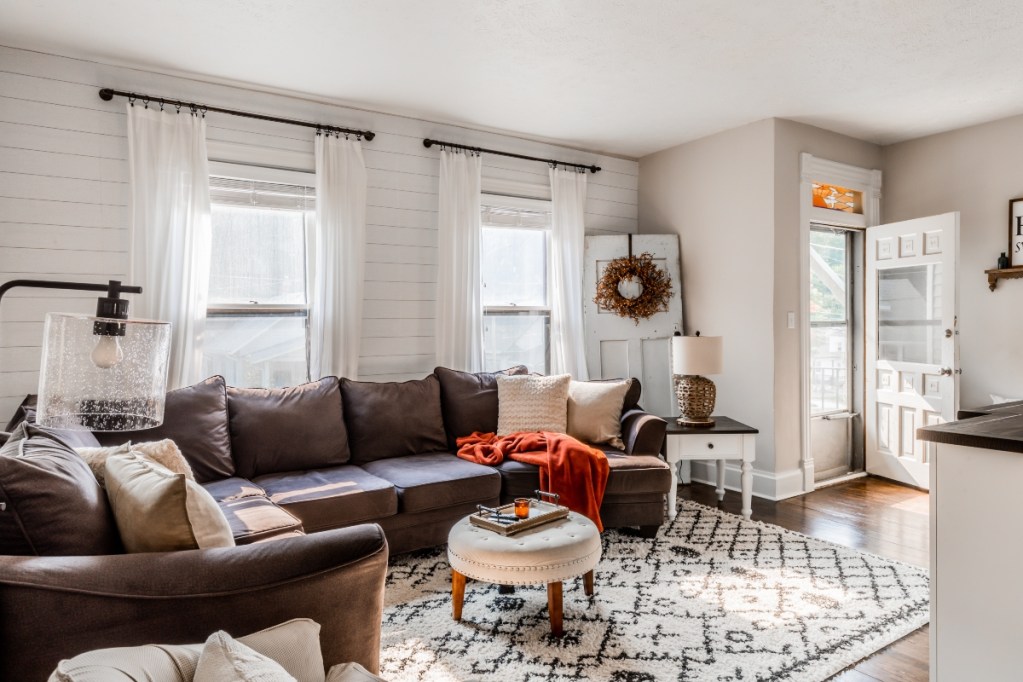 What to avoid
As home styles change, some trends can quickly become outdated. Thanks to the popularity amassed for the farmhouse home style, there are a few trends that can feel kitsch and cliche today. Of these trends, many designers are urging homeowners to refrain from using DIY art on their walls. We spoke to Anna Franklin, interior designer and founder of Stone House Collective, to better understand what homeowners should avoid when looking to redecorate their farmhouse aesthetic. Franklin says, "Avoid pieces that look DIYed (such as mason jars, burlap, and chicken wire), and typography signs that read mantras such as 'Live laugh love,' etc."
Calligraphy signs, mason jars, and other DIY art projects that flourished during the late 2010s when the farmhouse style was at its peak are slowly coming to an end. Today, these trends can look tacky and unprofessional in the home and make a space feel dated. What's needed is a modern touch, so we've gathered some fantastic tips from the experts on how to refresh this look in your space.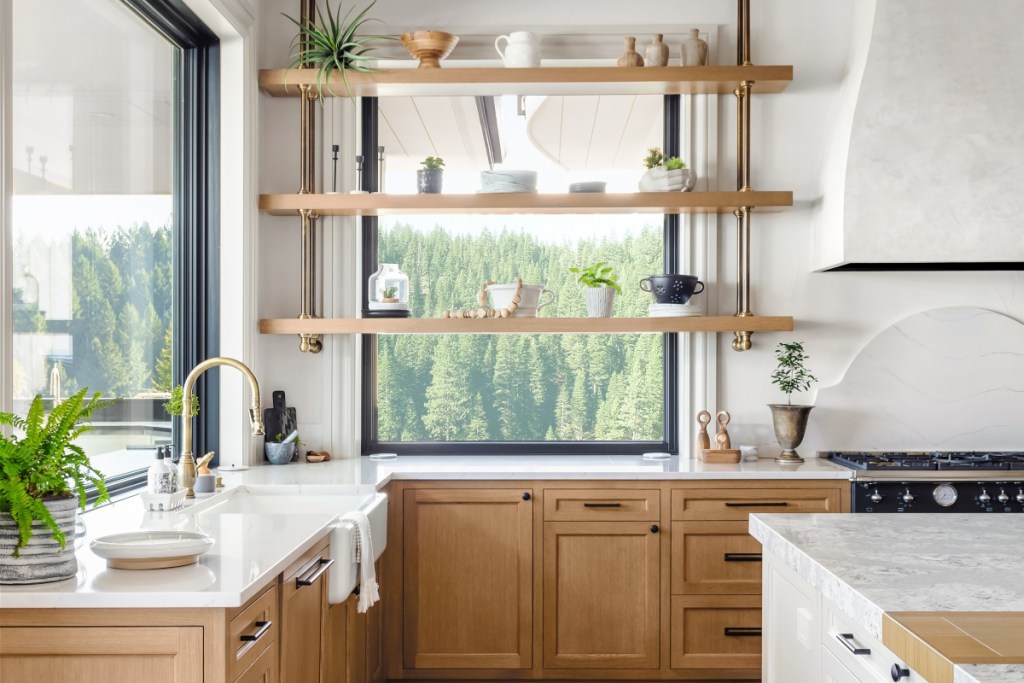 Try using vintage items
Homeowners can update their farmhouse-style homes by using vintage items in their designs. As ironic as it sounds, authentic vintage materials create a more modern look. Today, designers are craving authenticity and originality. Thrifting and purchasing second-hand materials to include in your home is an environmentally friendly alternative to the cliche hand-painted signs of years past.
When looking for vintage pieces, you could head to your local thrift store, flea market, or occasional estate sale. Additionally, online resources also provide plenty of vintage home decor options. Franklin says that when looking for pieces to fit into your farmhouse aesthetic, homeowners should strive for "paintings and prints that depict rural scenes, such as a country landscape." This is because vintage country scenes and landscape paintings are a stylish alternative to the cheap store-bought wall art of years past.
Opt for a variety of wood finishes
As you choose farmhouse-style wall decor to adorn your spaces, many experts urge you to consider the variety of wood finishes used in your design. Lisa Rickert, the CEO and Creative Director of Jolie Home, a non-toxic boutique paint brand, provided us with an explanation as to how to achieve this and why it's so important in a farmhouse-styled home. Rickert emphasized that "farmhouse interiors should feel like they have been collected over time." Homeowners can achieve this by varying finishes to create an aged and rustic look.
While it is important to opt for antique pieces when you can, there will be times when you need to purchase something new to best style your space. When updating the finish of a new piece, Rickert recommends "varying your finishes so that no two pieces look the same. Apply a Washed Finish to highlight natural wood grains and give pieces a weathered feel." She also encourages using "a Basic Finish for a soft, hand-painted look, or a Smooth Finish on more modern pieces."
Varying your finishes will create the collected look of a farmhouse style. This can be a fantastic alternative for homeowners struggling to thrift the perfect vintage piece.
Pair your wall decor with antique furniture
As you begin to hang your wall decor and create the perfect look in your space, it's important to consider how cohesive the design will look overall. One way to achieve cohesiveness in the space is to pair your wall decor with similar antiques. This means pairing texture, tone, color, and finish throughout your entire design while maintaining a varied look. Franklin says that antique furniture featuring "exposed, sealed wood" works best because "the beautiful natural tones will add to the farmhouse style, and the marks from years of aging will add to the farmhouse feel."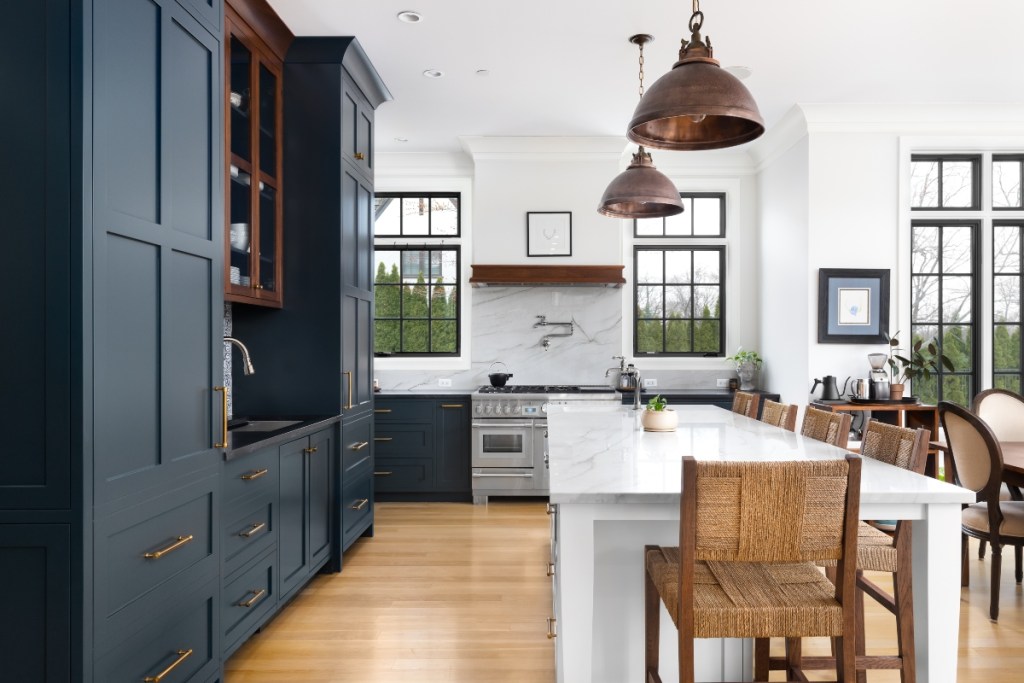 Use pops of color in your design
As you curate a suitable design, it's important to keep things fresh and modern. In the past, the farmhouse style was well renowned for its neutrals and sparse color palettes. While the style still relies heavily on neutrals, recent trends have entered the space to provide an updated look. Rickert states, "Pops of black and navy add contrast and keep things feeling modern." So as you design your space, consider using these darker tones to create juxtaposition and help add a modern touch. Additionally, colors like reds, browns, and metallic tones have made their way into the farmhouse aesthetic, adding a fresh and inviting look to the design.
The farmhouse aesthetic has evolved to welcome modern elements like pops of color, sustainable materials, and simplistic decor that impact the space. If you adore the farmhouse style and want to update the look of your space, these ideas can be refreshing and exciting. Of course, don't skip out on the typical rustic elements of the farm home look, but be sure to incorporate vintage pieces that feel more luxe and refined.
Editors' Recommendations