If you want to ensure that you can accomplish any project, you need to make sure that you have the drill and the proper drill bits to accompany your tool kit. Sometimes, choosing the right drill bit can become a difficult task, but when you can choose between multiple styles and sizes, it can give you ease of mind that you are making the correct choice for your project.
When purchasing drill bits, there are many factors to take into account. Make sure to look at the materials and finishes of the drill bits to make sure that the construction fits what you need to do. Each drill bit is made not just to differ in size but in what job it can accomplish on different surfaces. If you want to ensure that your drill does not lie around useless, get the proper bits to get the job done.
Black & Decker Drill Bit Set
Best overall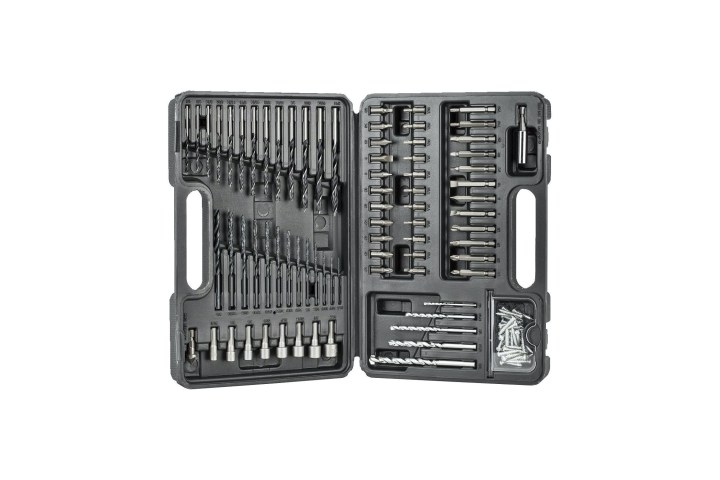 These drill bits are incredibly useful for any job. Different drill bits can be used on all types of surfaces including plastic, wood, metal, and masonry. You can be rest assured that you will have the correct drill bits for the job. The Black & Decker Drill Bit Set is perfect from an average Joe to an experienced handyman.
The drill bits also come in a portable storage case. Its hard plastic construction with the proper compartmentalization inside makes travel, storage, and organization a breeze.
DeWalt Drill Bit Set
Best titanium drill bit set
The DeWalt Drill Bit Set's Titanium Pilot Point prevents drills from walking. It creates a secure contact point, so you can be ensured that your drilling is right on the mark. These bits are ideally used for metal and wood, and the no-spin shanks make working with those materials a breeze. A tapered web increases the longevity and durability of these bits. The long-lasting drill bits keep down the cost of replacements, so you can be sure to use these for home projects for years to come. Work faster and better with these quality titanium drill bits.
Bosch 91-Piece Drilling and Driving Set
Most versatile drill bit set
Anticipate any problem that may come from your construction or DIY projects with the Bosch 91-Piece Drilling and Driving Set. The drill bit collection also comes with other accessories for your drill to aid you in other functions like fastening. The bits include design functions like split points that provide a stable start and reduce bit walking. The convenience of this all-in-one drill bit set makes it a perfect fit for your home or as a gift to a new DIYer.
The durable, hard plastic case makes this easy to bring around anywhere. When you carry around this compact carrying case, you can be ready for anything.
Don't skimp out on getting yourself the best drill bits that the market has to offer. Having the right tools for the job gives you a peace of mind as you work, since you know they will not break on you easily, and you can use the drill bits on the surfaces you are working on. Getting the right drill bits for the job is not only a good thing to do, but it is necessary to completing your job with little hassle.
Editors' Recommendations