Outdoor furniture tolerates heat, wetness, cold, and anything else the weather might have in store. Most companies use waterproof – or at the very least water-resistant – materials that make them ultra-durable. Nevertheless, there are some things you can do to make them last longer: applying the appropriate sealants and waterproof sprays, cleaning them with the right materials, and washing them regularly. We'll go over some of the best treatments here.
Waterproof wood and upholstery
Moisture is the number-one concern for homeowners when it comes to outdoor furniture. Vulnerable to rain, dew, and snow, fabric cushions, wooden tables and chairs, metal tables, and lounge covers should hold up well against moisture. Grab a can or two of waterproof spray from your local hardware store, and spray onto wooden furniture and fabrics. For metal furniture, you'll need a rust-proof spray or primer to keep corrosion at bay.
There may be different products that work best for fabric or wood, so always double-check the product directions. For extra protection, you can go in for a second coat, but wait a few minutes for the surfaces to dry. Bob Vila suggests using a stain-sealant combo. We recommend washing all surfaces and drying them before applying any product.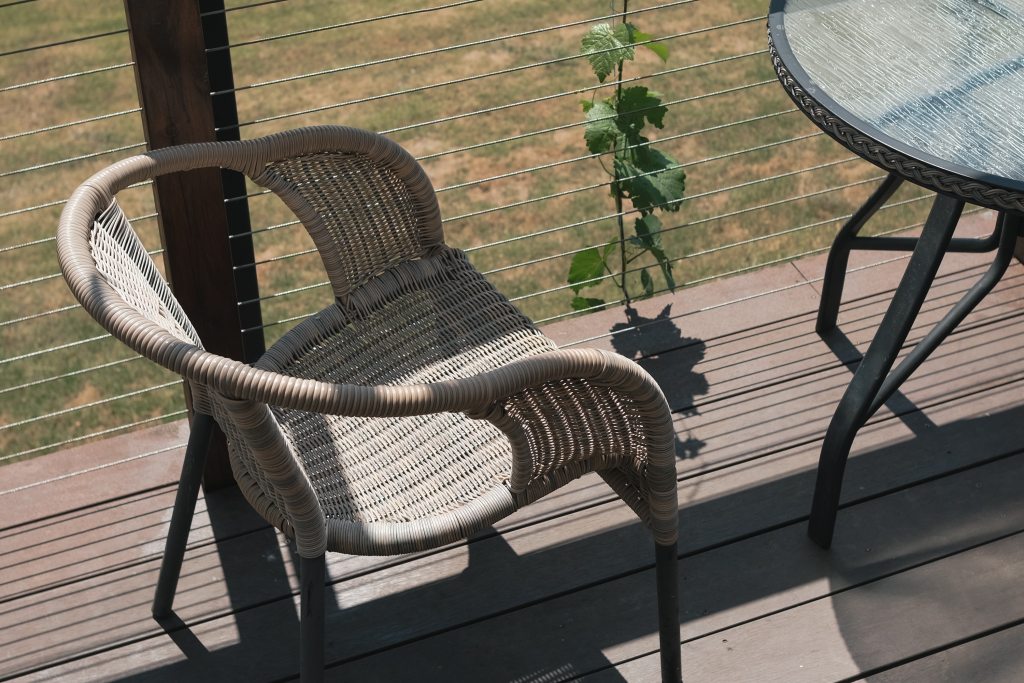 Clean furniture regularly
One easy way to ensure a longer life for your furniture is by cleaning them regularly. Wipe off wood, metal, and glass with a damp cloth and let dry. This gentle cleaning should remove dirt, debris, stray food, and even bird droppings.
If needed, use additional material-appropriate cleaners like oils for wood, cleaning sprays for glass, soap and water for wicker, and non-corrosive multipurpose sprays for metal. Clean at the beginning and end of every season if your furniture stays out year-round.
Sand and stain drab wooden and wicker furniture
If your existing wood stain or varnish is thinning out or cracking in certain places, it might be time to apply a fresh coat. You might have to use a chemical product to remove existing stains on wood, but with wicker furniture, just sanding will suffice. SFGate gives a detailed description of how to and what supplies you'll need to achieve this.
Use a low grit sandpaper to avoid scrubbing off too much, and then go back in with a medium grit paper to ensure evenness. Then apply a stain in a new or similar color. A darker color might hide imperfections, so apply a few coats if you want a deeper shade. Most paints made for exteriors are already weather-resistant, but you can apply a coat of polyurethane for added protection. Let the furniture dry overnight before coating your furniture, however.
Apply tung oil to wicker
Tung oil is a popular water-resistant wood finish that also looks great on wicker. It's sourced from a tung tree and gives your wicker a glossy, rich, dark finish. Wash wicker furniture with water and soap, and let dry.
Then apply the oil using a cloth, brush, or a spray bottle (a glass spray bottle or a plastic one). Use another cloth to evenly coat your furniture. Let it dry fully before using. For maximum water-resistant properties, apply tung oil again at the end of every season. This helps keep damp out of the wicker, preventing mildew growth and wear.
Wash cushions and covers every season
Wash off cushions and other fabric covers at least twice during each season to keep them fresh and mildew-free. Let the cushions dry out in full sun if they're made of a delicate fabric. If they're not made of waterproof fabric or haven't been treated with waterproof spray, they will likely have absorbed moisture, dirt, and pollen. Barbecues and outdoor dinners might have also exposed them to food and drink spills.
They might be waterproof, but if your area gets a lot of stormy days and heavy snow, consider placing a waterproof furniture cover over your seating area or taking the cushions indoors.
By now you'll have realized that taking outdoor furniture inside during extreme weather is probably one of the best ways to help outdoor furniture last longer besides treating them with waterproof sprays or cleaning them regularly. If there's no room indoors for storage, keep outdoor furniture in a sheltered or shaded area. Other than that, follow our tips for furniture treatments to keep your favorite loungers and daybeds around for much longer.
Editors' Recommendations