If you love all things fall, you already know that one of the best parts of the autumn season has to be the pumpkins — they're everywhere, both in the decor and the cuisine. After all, pumpkins are the star ingredient in one of the choice beverages of the season: the pumpkin spice latte. But, in addition to pumpkin pies, pumpkin soups, pumpkin cake, and everything else pumpkin, the most delicious byproduct of cooking with fresh pumpkins is sometimes overlooked — the seeds.
Whether you're carving up a pumpkin for food prep or decorating your home with a hand-cut jack-o'-lantern, you'll have a bevy of yummy, nutritious seeds that can become the ultimate fall snack. Roasting pumpkin seeds in the oven can be a time-consuming task and a bit unpredictable, but with an air fryer, you can make the best pumpkin seeds ever, all in a matter of minutes.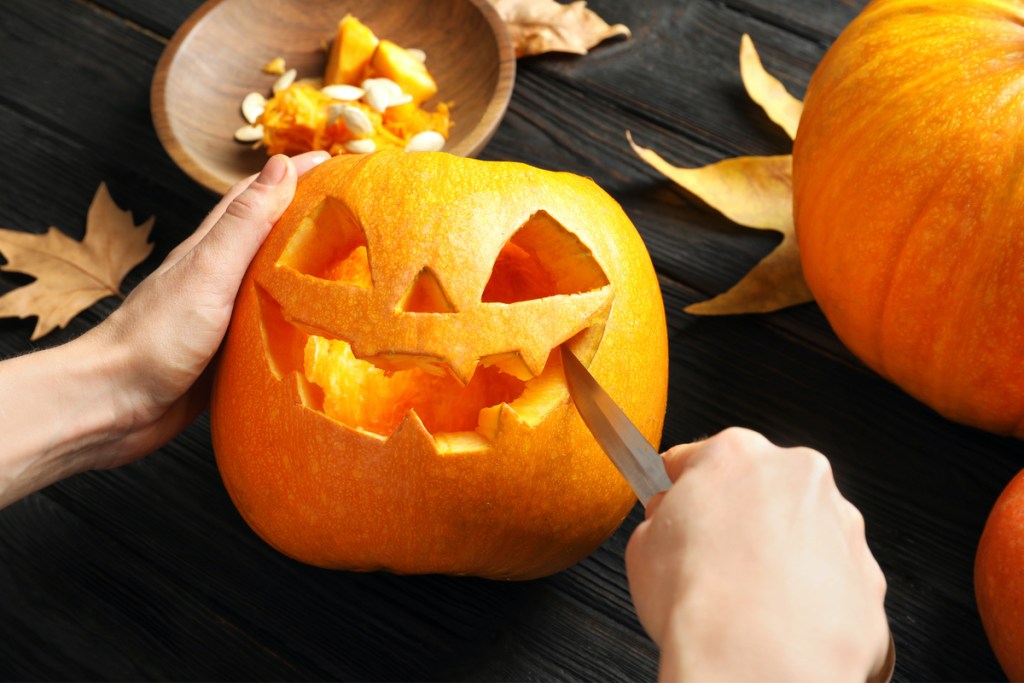 Pumpkin seeds… yet another reason to love pumpkins
Pumpkin seeds are nutritious, calorie-rich, and high in healthy fats, protein, dietary fiber, and other beneficial nutrients. While pumpkin seeds include both the hulled kernels and the un-hulled whole seeds, the latter is most often the kind that you roast and snack on. In addition to snacking, pumpkin seeds are also a common ingredient in Mexican cuisine.
Health benefits of pumpkin seeds
Pumpkin seeds are packed with nutrition; eating just a small amount can positively impact your overall health.
Pumpkin seeds can increase bone and heart health by being a good source of magnesium, potassium, polyunsaturated fatty acids, and calcium.
Pumpkin seeds contain vitamins and fatty acids that can help manage Type II diabetes.
This snack is a good source of zinc, contributing to liver health and improved overall health during pregnancy.
High in fiber, pumpkin seeds can aid in weight loss and digestion.
Pumpkin seeds are high in vitamin E, which strengthens the immune system.
A natural source of tryptophan, eating pumpkin seeds is a natural method to prevent insomnia.
Pumpkin seeds are a good source of beta-carotene, promoting better skin and eye health.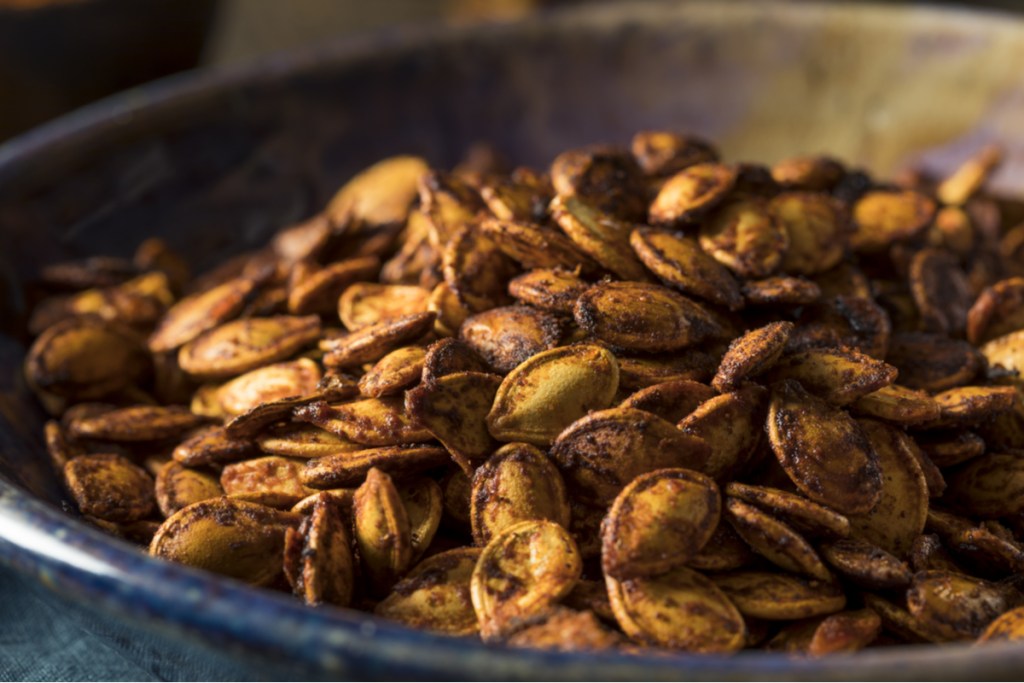 How to cook pumpkin seeds in an air fryer
The traditional method for roasting pumpkin seeds involves a cookie sheet, an oven, and a whole lot of hoping that the seeds will become crunchy enough before becoming burnt to a crisp. With the advent of the miracle small appliance that is the air fryer, that struggle is now a thing of the past — this culinary gadget can create perfectly toasted seeds in about 10 minutes.
Don't have an air fryer yet? You should get one ASAP! With an air fryer, you can give frozen foods a crispy crunch, make healthier fried foods (with barely any fattening oil), and reheat leftovers in a manner that puts your microwave to shame. And, of course, you can also cook your pumpkin seeds in it.
This basic recipe for air fryer roasted pumpkin seeds takes minutes to make and is a healthier alternative to chips and other crave-worthy but not-so-healthy, crunchy snacks. With just a few basic ingredients and 20 to 25 minutes of time, you'll be munching on a healthy, homemade snack.
Ingredients
2-3 cups fresh pumpkin seeds, rinsed and dried Note: Rinsing pumpkin seeds is important as it ensures crunchier results. For the best outcome, rinse with water in a colander and remove any lingering pieces of pumpkin. Lay the clean pumpkin seeds on a towel to dry for about 10 minutes.
2 teaspoons of vegetable oil
Kosher flake salt or sea salt and fresh ground pepper to taste
Directions
Step 1: Toss the rinsed and dried pumpkin seeds in a bowl with vegetable oil.
Step 2: Season liberally with salt and pepper.
Step 3: Place the seeds into your air fryer basket and cook for 10 minutes at 350 degrees. If you'd like the seeds crunchier, cook for a minute or two longer, being careful to monitor the seeds to prevent burning.
Feel free to personalize the recipe by adding the spices of your choice, in addition to or in place of the salt and pepper, such as paprika, Old Bay seasoning, ranch dressing seasoning, cinnamon and sugar, garlic salt, and any other of your favorite spices and flavors.
Sure you can buy pumpkin seeds in your grocery store all year long, but there's nothing like making them yourself and snacking on them while they're warm and crunchy! Now that pumpkin season is in full swing, make sure you don't waste one single seed. Simply wash, dry, and season them to taste, then pop them in your air fryer for a salty or sweet snack that's just as nutritious as it is delicious.
Editors' Recommendations