Chili is one of the best meals to have during the winter season. When nights are long and the cold air outdoors is keeping everyone inside, chili is just what you need to get warm and have a hearty meal. So if you're looking for the perfect healthy chili recipe this season, we've got just what you need. This is our favorite recipe for the perfect pot of chili, with a few tips and tricks to help you make this meal your own.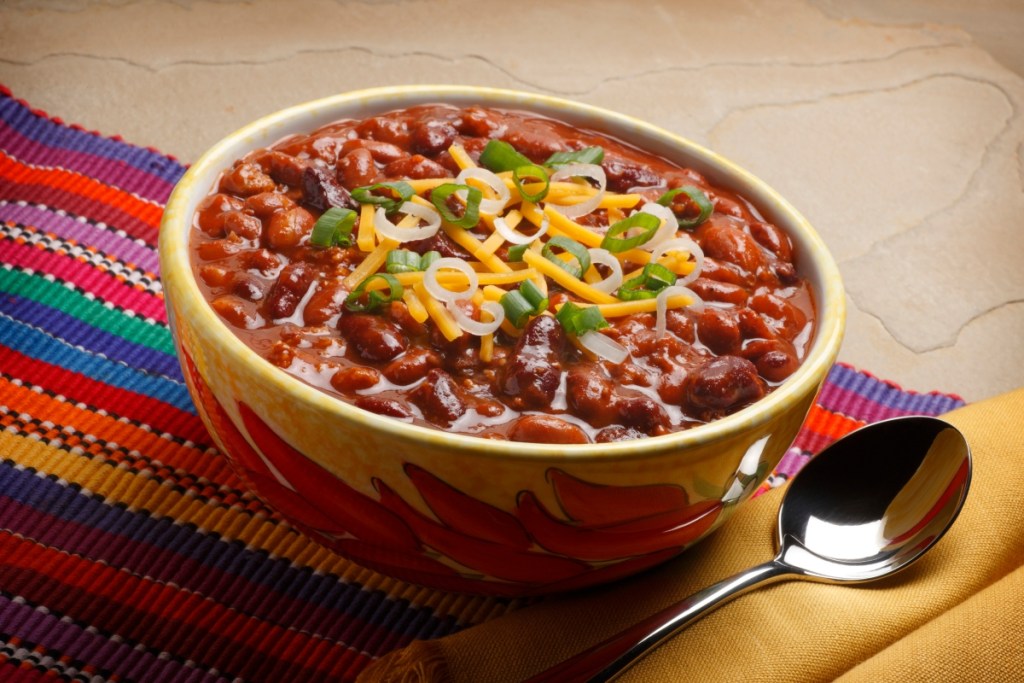 How to make the best pot of chili
Below are the steps for creating one of the best pots of chili we've come across. This unique spin on a classic dish is flavorful, fun, and super simple to make!
What you'll need:
2 lbs ground beef
2 cloves garlic, minced
One 8-ounce can of tomato sauce
2 tbsp chili powder
1 tsp ground cumin
1 tsp ground oregano
1 tsp salt
1/4 tsp cayenne pepper
1/4 cup masa harina
One 15-ounce can of kidney beans, drained and rinsed
One 15-ounce can of pinto beans, drained and rinsed
Shredded cheddar, for serving
Chopped onions, for serving
Tortilla chips, for serving
Lime wedges, for serving
How to make the chili
First, add the ground beef and mixed garlic to a large pan and cook over medium heat until browned.
Next, drain the excess fat and pour the beef/garlic mixture into a large chili pot.
Then, pour in the tomato sauce and add the spices: chili powder, cumin, oregano, salt, and cayenne. Stir well, cover, and then set the heat to low. Allow the chili to simmer for one hour.
Be sure to stir the chili occasionally to ensure everything is cooked through. The tomato sauce should provide enough liquid for a good simmer, but if you notice your chili getting dry, add water to your pot one tablespoon at a time until you reach your desired consistency.
Once the hour has passed, add the masa harina to a small bowl. Mix in one-half cup of water and use a fork to stir. Add it to your chili once your masa harina has been fully mixed. Stir well and add spices to taste.
Once you've achieved the desired consistency using your masa harina, add the beans (both pinto and kidney) to your chili. Simmer for 10 minutes, then serve with your preferred toppings.
Why we love this recipe
One of the reasons we adore this recipe is that it's an excellent option for those seeking healthier meal ideas. During the holiday season, it's easy to get caught up in sugary snacks or fried foods that aren't good for your body. This recipe includes natural, fresh ingredients with plenty of beans and legumes to keep you satisfied on a chilly winter night.
We also love how simple this dish is to make. While it takes a bit more than an hour to cook, there is little prep work and the stovetop does everything for you. Additionally, we love the use of masa harina in place of chili noodles or other thickening ingredients. This addition is flavorful and authentic, making this chili recipe stand out among the crowd.
Tips and tricks for personalizing your pot
If you want to take this chili recipe up a notch, we have a few additional tips and tricks to help you personalize your pot.
Use ground turkey
Create an easy turkey chili recipe that's also healthy by replacing the ground beef. Ground turkey has a unique flavor and a softer consistency than ground beef. While both can be cooked similarly, ground turkey is a fantastic option for those looking to cut out red meat from their diet.
Make it in a slow cooker
If you want a healthy chili recipe that needs little to no oversight, try using a slow cooker. If you have a large enough slow cooker, add the ingredients to your dish a few hours before dinner; then sit back and allow your pot to cook the chili for you. Of course, you'll have to make a few adjustments to your recipe when it comes to timing, but we've found some fun slow cooker chili recipe ideas that may inspire you.
Branch out this winter by creating the perfect pot of chili that is sure to warm you up from the inside out. Get creative with your spices, and feel free to make this delicious recipe your own.
Editors' Recommendations