We've all been there — when trying to eat healthily, we quickly run out of ways to make those nutritious meals more interesting. Well, if cutting down on calories while satisfying your tastebuds is your goal, try a new soup recipe.
Yes, soup. And not just the broth — all the food groups. Soup with noodles? Sure. Veggies? Of course. Meatballs and tortilla chips? Go for it. What about cheese? Cheese, too. There is a soup for every palate on this list of five insanely delicious soups. Plus, they're all 360 calories or less.
These recipes are chef-tested, home cook-approved, and easy to whip up on a dime. There's no reason not to dive right in and make one tonight because you deserve the best of both worlds: heartwarming meals that are as delicious as they are nutritious.
For the days you don't want to spend a fortune at the local Vietnamese restaurant, making your pho at home is a great option.
This low-cal meal calls for Progresso's unsalted chicken broth, which you add after cooking the noodles, chicken, and mixture of sauces, including soy sauce, hoisin sauce, fish sauce, and Sriacha. Once combined, the recipe calls for garnish with green onions, cilantro, mint, and jalapeño chile slices. This explosion of flavors is complex and spicy, making for a much more luxurious chicken noodle soup.
Betty Crocker's Easy Chicken Pho is 360 calories per serving and yields four servings.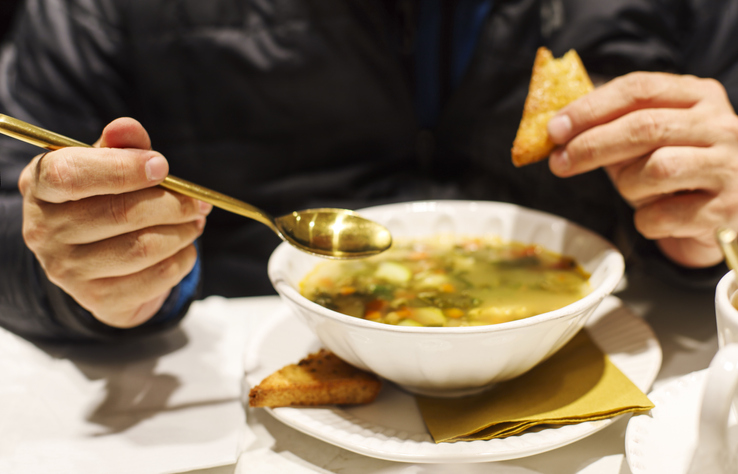 Vegetarians will love this garden vegetable soup recipe, as it's hearty, bright, and perfect for a chilly night in.
The variety — and pairing — of veggies is simple enough: chopped leeks, chopped carrot rounds, fresh green bean pieces, chopped tomatoes, and corn, plus garlic, parsley, lemon juice, and black pepper for more taste. The recipe gives you the option of vegetable or chicken broth. For vegetarians, the choice is obvious, but if you like having that savory meat flavor in your soups, then opt for chicken broth to balance out the starchiness of the veggies.
Food Network's Garden Vegetable Soup recipe is 255 calories per serving and yields 6 to 8 servings.
Sometimes the simple soups are the ones we need most. They're there for comfort, and comfort food doesn't always have to be high in cholesterol or fat.
This recipe takes much less time to make compared to some of the others because lentils are fast-cooking. It also gives the option of chicken or vegetable broth, but we recommend using vegetable broth to bind the flavors of the tomatoes and lentils. And don't worry if the lentils fall apart and get mushy — that's just how they work in soup!
Serious Eats' Red Lentil and Tomato Soup recipe serves four. One serving is approximately 250 calories or less, but check the nutrition facts of your ingredients for a more accurate number.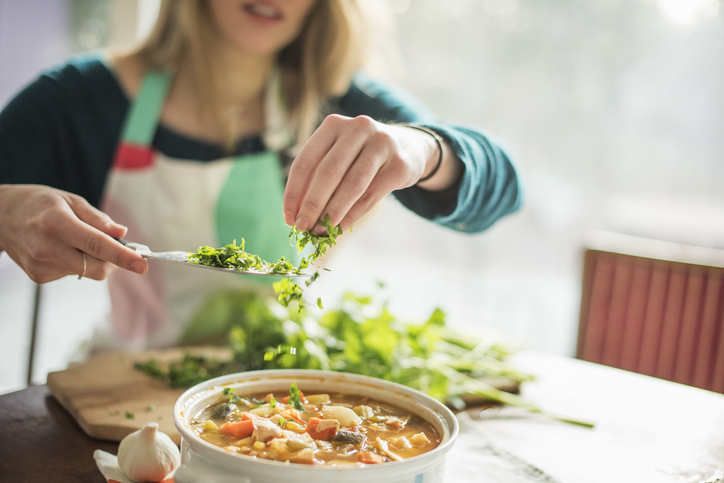 "Hearty" isn't always synonymous with "low-calorie" but this hunger-banishing meal is only 299 calories per serving.
This meal mixes pasta with leeks, potatoes, beans, zucchini, spinach, and orzo, then tops it off with Parmesan cheese (the recipe recommends freshly grated Parmigiano-Reggiano) for so much Italian flavor all in one bowl. To make it vegetarian, just use vegetable broth instead of chicken broth.
Eating Well's Hearty Minestrone recipe serves four and delivers a punch of fiber and protein to keep you fuller for longer.
Eating healthy can feel all too easy — until the cravings hit. Next time you start craving that burrito, consider an alternative. This meatball soup recipe has you covered, so you can close out of the Taco Bell to-go app.
Make your broth by pureeing your favorite salsa in a blender, then heating it on the stove until it reaches that soupy consistency. Avocado, ground cumin, and cilantro give the ground beef meatballs an extra kick, but make sure not to overcook them or you'll be left with dry, flavorless meat.
As long as you don't go overboard with the addition of crushed-up tortilla chips, Real Simple's Mexican Meatball Soup is only about 339 calories.
Soup is such a versatile dish, so feel free to tweak any of these recipes to better suit your taste. Plus, there are so many ways to personalize these dishes without piling on the calories, so experiment with different veggies, meats, and low-calorie sauces to create a meal that's uniquely you. Calorie counting can be hard, especially when your diet consists of bland, starchy vegetables and flavorless broths. However, by adding these flavorful and easy-to-make soups to your cookbook, you can eat healthier and keep your taste buds happy too.
Editors' Recommendations