Home security cameras help prevent burglaries and other crimes. They also allow you to monitor your pets if you choose both an indoor and outdoor camera. While there are certain factors to consider like cost, viewing angles, door sensors, and coverage areas, there is a system out there that's just right for your home. You must learn how to do your research on home security systems, their services, the customer reviews, and the company that owns them. It's also worth studying home security camera laws in your area. Let's review the important deciding factors you must consider before you green-light your security camera purchase.
What's the cost of the main equipment?
A home security camera will run anywhere from $50 to $300 and up. Typically, expect to pay at least $100, especially if you're considering both an indoor and outdoor camera. Higher-resolution cameras will cost more, as well as products with features like weatherproof bodies, night vision, sensor-activated lights, and wider viewing angles.
Note that some cameras offer infrared night vision and others color night vision — the choice is up to you. The main difference is that infrared night vision cameras don't use a white light to produce color images, so color night-vision cameras are a little more noticeable to you and passersby.
More high-tech cameras with smartphone capabilities and control cost more, averaging about $160 dollars per camera. These often feature cloud storage at a separate cost.
Another thing to consider is if someone will be installing the camera for you. If so, Angie's List suggests that the installation job on average costs a bit over $1,000.
How much does it cost to monitor?
Your average security camera will have a built-in storage system like an SD card, though most cameras today offer a cloud-storage option, too. As of late 2020, Safety.com says a monthly monitoring service subscription will cost about $15 to $35 a month. However, most companies only store video clips for up to a certain amount of time, from a few days to a month.
Also note that some cameras only record motion-activated footage, while others offer live, continuous coverage. Motion-activated footage might be best if you're only concerned about trespassers and suspicious characters. Whether you choose a built-in storage system or cloud-based system is completely up to you, but cloud storage may be more convenient for busy households.
What are the best camera-viewing angles?
Home-security cameras offer a field of view of up to 360 degrees, though most fall between 110 to 180 degrees. Wide-angle lenses are best for large, wide spaces such as the entryway, garage, and side entrance. They're also useful for large rooms and areas in the house.
On the other hand, narrow lenses are best for monitoring over long distances such as an expansive hallway or driveway. When shopping for security cameras, you might come across the term field of view, and the wider it is, the wider your lens is, which means you'll be able to monitor a larger area. To sum up: Generally, wide-angle lenses are best for home use, as they give you a better view of your space with the least amount of cameras.
What door sensors are best for home security?
Door sensors are a good alternative or extra accessory to security cameras. Using motion-detecting technology, door sensors either let you know when there is someone moving within a certain feet of the door or if the door itself has been opened without your knowledge. If you have pets at home and worry about them tripping the alarm throughout the day, choose a door sensor that disregards pet movement.
Most devices are smartphone-enabled and notify you when there are possible intruders in your home. Others have a built-in sound system that chimes or rings when triggered. For installation, some door sensors have an adhesive back side, while others have a magnetic backing for seamless mounting.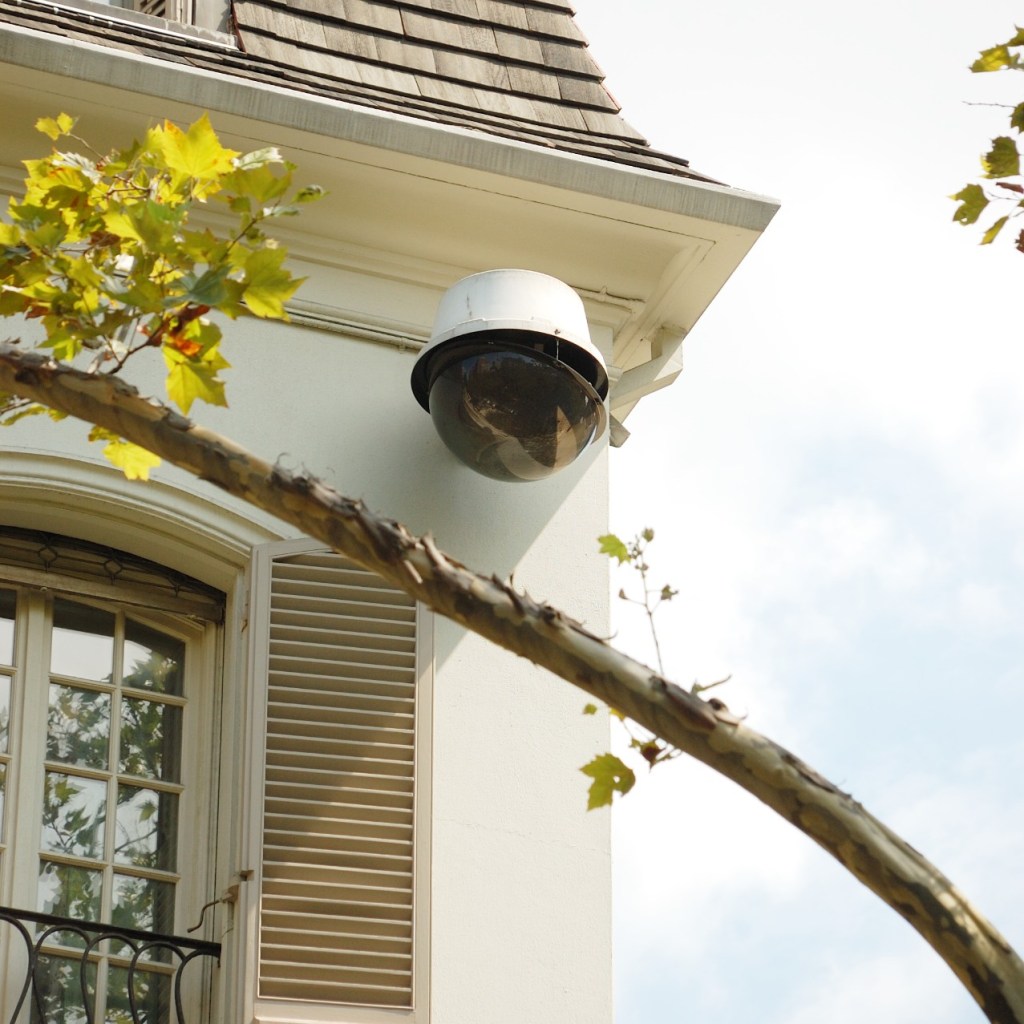 What coverage areas are the most important?
For starters, your home's entryway is an important area to monitor. When installing your security camera or sensors, make sure the front door and walkway are covered. Additionally, consider securing side entrances and other entryways that might be easier to walk into than the front door. For security cameras, cover as much ground as possible including the driveway and even the sidewalk.
Next, you might consider placing security devices in your backyard. This means placing door sensors on the back or side doors and windows. Placing your camera where you can see anybody entering from the side yard and through any point of entry is strategic. Also, before you purchase or install your new home security system, you need to know about outdoor surveillance laws pertaining to you and your property.
Home security is easier now more than ever even if you only have door sensors or a single security camera. With smart cameras that connect to your phone via an app, instant notifications and live coverage will give you peace of mind when you're away. Similarly, door and window sensors with app-enabled notifications will keep your home safer and your worries low.
For more, check out the most affordable DIY home security systems.
Editors' Recommendations