There's nothing quite like that delicious, grill-kissed meal on a hot summer day. July is national grilling month, and Americans will be flocking to their charcoal to barbeque meats, veggies, and even to toast up buns and other bready complements. You can truly make an entire meal on the grill if you want — including your side of fruit. That's right, fruit. Grilled pineapple and peaches are summer staples, but have you tried grilling watermelon? This grilled watermelon recipe is sure to be a crowd-pleaser at your next backyard cookout.
Why grill your watermelon?
We all want a little variety in our meals, and while summer is the season of fresh watermelon, it can get a bit boring serving the traditional bowls of fruit salad or fresh watermelon wedges. If you grill your watermelon properly, the slight char will accentuate the fruit's natural sweetness and add a slight smoky splash that makes it pair perfectly with your other grilled meats and veggies. Grilled watermelon also has a slightly chewier texture which is certainly an interesting deviation from the standard fresh watermelon dish.
Best simple fruit grilling recipe: watermelon
Ingredients:
1 4lb seedless watermelon
3 tbsp white granulated sugar
1/2 tsp table salt
Instructions:
Oil and preheat your grill to between 450 and 500 degrees F
Cut off about a half-inch of both ends of the watermelon
Stand the watermelon on one of the cut sides and quarter it
Slice each quarter into triangles that are about 1 inch thick
Divide the salt and sugar into two even parts
Sprinkle the salt and sugar over both sides of each 1-inch slice
Add the watermelon slices to the oiled grill and cook for roughly 3 minutes per side (or until you can see grill marks on the fruit)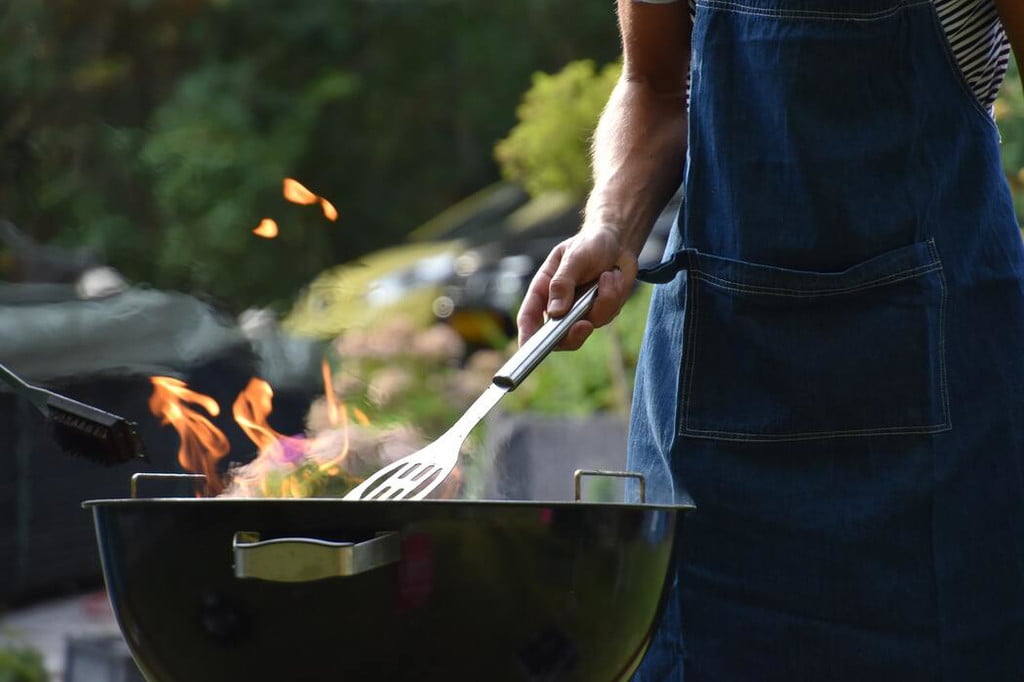 How to serve grilled watermelon
Once you've grilled your watermelon, there are several different ways to serve it, depending on your flavor preferences. You could certainly just serve the grilled wedges plain, consider jazzing it up by pairing it with one of these flavors that complement the grill-kissed fruit.
Cilantro and lime
Pairing your grilled watermelon with cilantro and lime juice is simply mouthwatering. The sweetness of the watermelon blends so well with the sour punch of lime juice and the flavorful bite of cilantro. Simply follow the recipe above, but add the juice of one lime to either side of the watermelon slices before grilling. Once grilled, add more lime juice and then sprinkle about 1/2 cup of cilantro over the slices. We also recommend adding large grain salt to bring out even more of these intense flavors.
Mint leaves and lime
Mint is another flavor that truly compliments the sweet and smoky taste of grilled watermelon. For this serving option, mix one part olive oil, two parts lime juice, and some salt in a small bowl. Coat the watermelon slices with the mixture before throwing it on the grill. After a few minutes on the grill, drizzle some more of the mixture on the slices before sprinkling with shredded fresh mint leaves.
Prosciutto, blue cheese, and fresh basil
With the savory taste of prosciutto, the pungent flavor of blue cheese, and the freshness of basil, your taste buds are sure to enjoy this sensory overload. To make this dish, top the grilled watermelon with the sliced prosciutto, basil, and blue cheese, then drizzle some balsamic vinegar for some added sweetness.
Arugula and crumble cheese salad
Using grilled watermelon in a salad is a good way to get several food groups into one filling but healthy meal. We recommend preparing an arugula salad with crumbly cheese like goat cheese, feta cheese, or even blue cheese for a more intense cheese flavor. Simply layer the arugula in a salad bowl and top with your grilled watermelon and crumbles of cheese. Then, lightly drizzle a reduced balsamic vinegar or vinaigrette over the salad for a sweet and tangy addition. We also love adding chopped, toasted walnuts to this salad for some added texture, flavor, and protein.
As the grilling season approaches, try out some new flavors and textures on the barbecue to impress your family and friends. A great cookout certainly includes expertly grilled meats and beautifully charred veggies, but don't forget to try your hand at grilling fruit. Grilled watermelon is a tried and true favorite among summer grillers, and your taste buds will surely agree.
Editors' Recommendations