Hosting Christmas dinner for family doesn't mean you have to spend the whole day in the kitchen and be overwhelmed by stress. It just means you need a few simple (yet delicious) recipes that won't add too much to your to-do list. These easy recipes will do just that; some of them can be put in the oven or slow cooker and require little or no additional work on your part, while others can be made in advance and only need to be cooked or served on Christmas Day.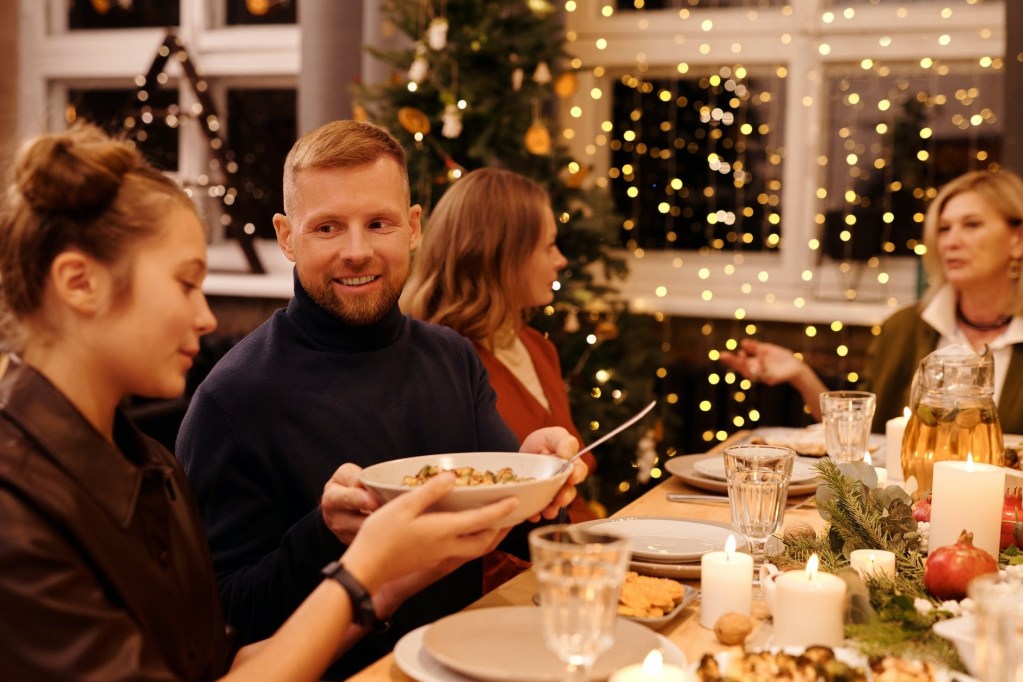 The main course
Maple-glazed ham
Nothing says Christmas like a juicy ham. This classic dish is a centerpiece of the meal for many families, and the best part is, glazed ham is remarkably easy to make. This sweet glaze contains a handful of ingredients you probably have at home: maple syrup, brown sugar, Dijon mustard, cinnamon, allspice, oranges, and cloves (optional). You can whip up the glaze in a couple of minutes. Then, once you've prepared the maple-glazed ham and put it in the oven, all you'll have to do is baste it every 20 to 30 minutes.
Roast turkey with bacon and tarragon stuffing
This juicy roast turkey will impress your Christmas guests, and it's simple to prepare. You can put the stuffing together in a matter of minutes. Once you've stuffed the bird and put it in the oven, you'll be able to focus your attention on other preparations or take a breather before your guests arrive.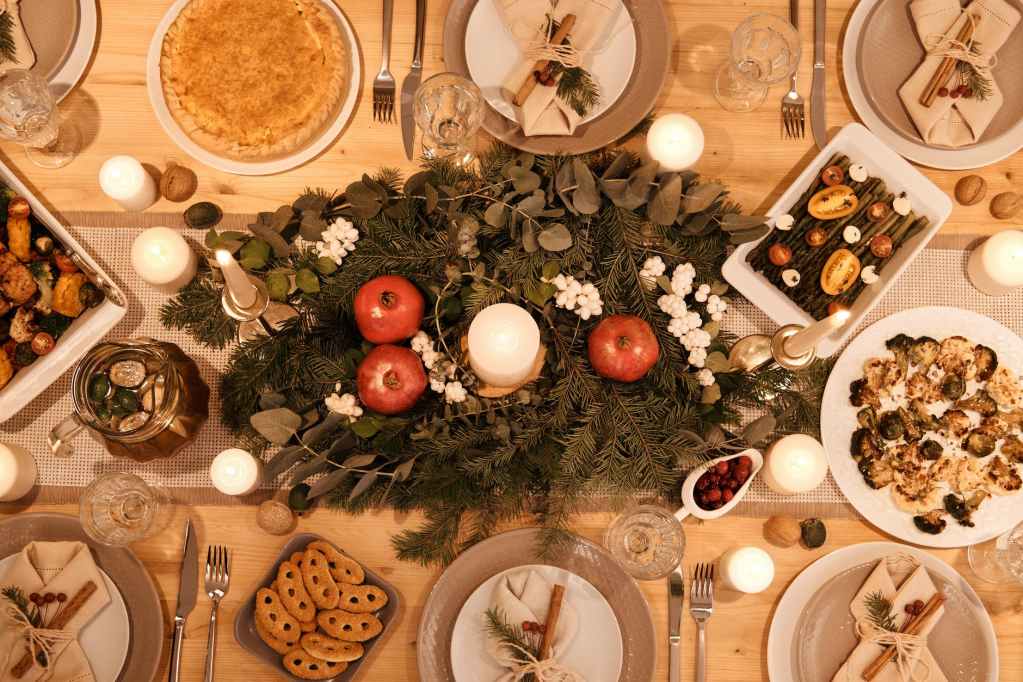 The sides
Baked macaroni and cheese
Macaroni and cheese is a crowd-pleaser at any type of celebration. This recipe is creamy and delicious, and it's versatile. You can easily incorporate meat and vegetables into the dish or keep it simple and let the cheese shine. The best part is, you can make this baked macaroni and cheese ahead of time, store it in the refrigerator or freezer, then bake it on Christmas Day. That can help you lighten your load on the holiday so you can relax and enjoy the festivities.
Roasted red potatoes
These roasted red potatoes are a delicious side dish, and they're incredibly easy to make. All you do is cut red potatoes in half, toss them with a mixture of oil, garlic, thyme, salt, and pepper, arrange them on a baking sheet, and roast them in the oven.
Applesauce sweet potatoes
This recipe uses applesauce, brown sugar, butter, cinnamon, and pecans to create sweet potatoes that will make your guests' eyes light up. The best part about this recipe is that the applesauce sweet potatoes are prepared in a slow cooker. That means they won't take up space in your oven, and once you start the slow cooker, you won't have to do anything else.
Green beans with bacon
Green beans are an excellent side dish for any dinner, and the addition of bacon gives them some extra flavor to make them worthy of a Christmas meal. These green beans with bacon will impress your guests, and the recipe is about as easy as they come.
Maple-ginger glazed carrots
These carrots with a maple-ginger glaze are perfect for a festive holiday meal. You can whip them up in about 15 minutes, and they taste delicious and add some bright color to the table.
Brussels sprouts with cashews
These Brussels sprouts are tasty, and they're also healthy and easy to prepare. Simply cook the Brussels sprouts in oil, then add onion, cashews, garlic, salt, and pepper, and voila, a delicious side that will add a burst of green to your holiday table.
Spiced cranberry sauce
Christmas dinner wouldn't be complete without cranberry sauce. This recipe can be made with fresh or frozen cranberries, and your home will be filled with the fragrant aroma of the berries and spices while the cranberry sauce is cooking.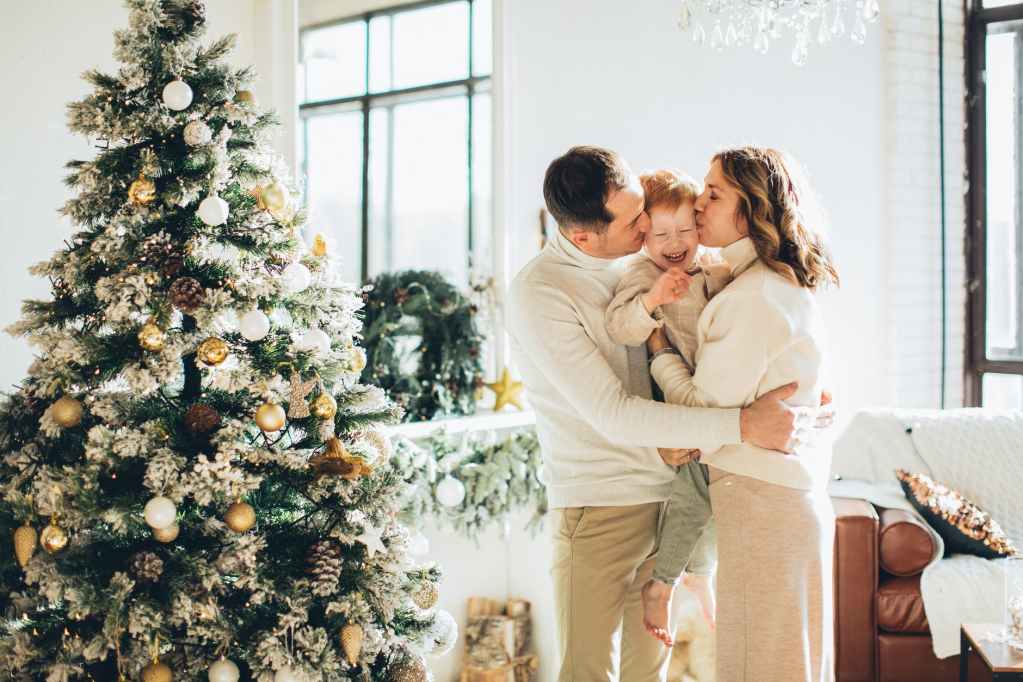 The dessert
Gingerbread cookies
Serving gingerbread cookies for dessert on Christmas will delight guests of any age. Making gingerbread cookies is easy, and this recipe calls for ingredients that you probably have in your kitchen. You can prepare a batch of cookies in advance and then focus your attention on other details.
Strawberry shortcake
This scrumptious strawberry shortcake with mascarpone cream will be sure to impress your guests. It's not nearly as hard to make as you might expect. All you do is beat together the ingredients to make the cream, layer it with biscuits and strawberries, refrigerate the cake to let the cream set, then pull it out when you're ready to serve dessert.
Making a holiday meal shouldn't consume your entire day and leave you feeling exhausted. If you include some of these easy Christmas cooking ideas on your menu this year, your guests will be impressed, and you'll have time to relax and enjoy the holiday with them.
Editors' Recommendations