There are so many kitchen innovations designed to make cooking faster or easier or healthier. From slow cookers to Instant Pots, air fryers to smokers, there is definitely no shortage of kitchen appliances made to make mealtime less of a burden. But one of the most versatile and effective items any home cook could have on hand doesn't come with a plug. It's the Dutch oven.
Heavy and wide, shallow, and usually made of enameled cast iron, a Dutch oven is an essential cooking pot, with a tight-fitting lid designed to keep the heat inside. A Dutch oven can do many things, and it does them all so well. And one of the very best things about a Dutch oven is that it's a one-pot wonder, so cleanup after meals is a snap.

Thinking about buying a Dutch oven? Here's why you should!
It's versatile: Dutch ovens are ovenproof, so you can start your meal by searing on the stovetop and then move it straight into the oven to finish. Plus, because so many Dutch ovens are colorful and attractive, you can put them directly on the table to serve (using a potholder and trivet, of course).
A Dutch oven can cook just about anything: a fry pan is for frying and a soup pot is for boiling or simmering, but your Dutch oven can perform so many tasks:
Make a one-pot meal
Boil pasta
Roast meats
Simmer sauces
Slow cook soups
Bake bread
Cook a casserole
Deep-fry chicken or potatoes
Transport food for a potluck dinner at a friend's house
Now that you know you need one, which Dutch oven should you get? There are so many on the market, but our favorites come from Le Creuset. They're a bit pricey but worth every single penny (not to mention that they come in a veritable rainbow of beautiful colors).
If a Le Creuset isn't in your budget, Amazon sells an affordable enameled cast iron Dutch oven that has more than 20,000 five-star ratings and is available in a dozen fun colors.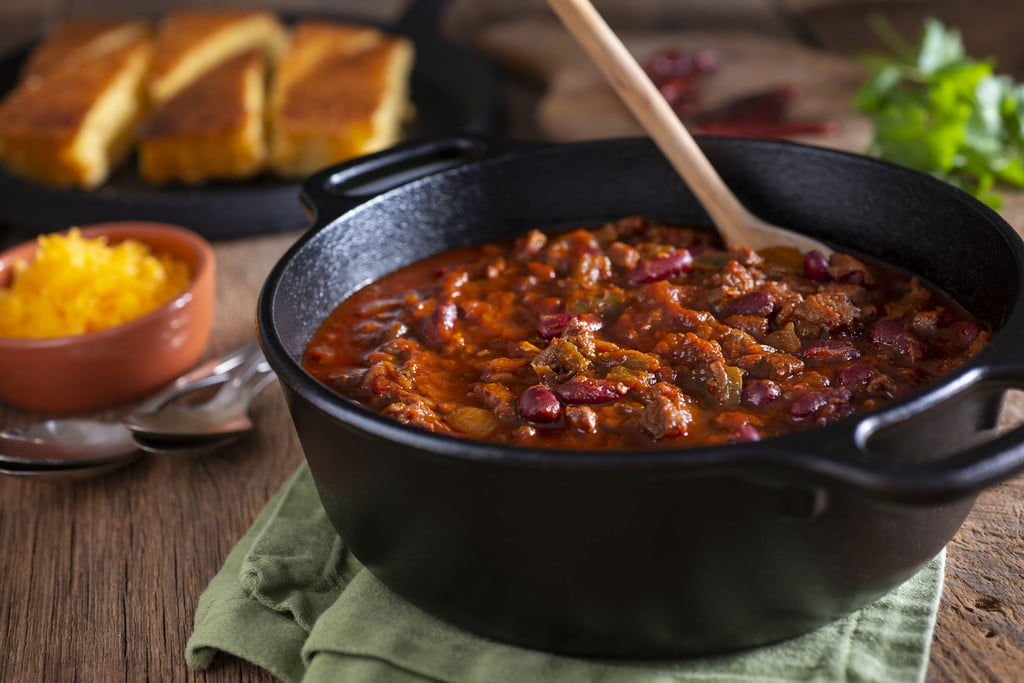 5 of our favorite Dutch oven recipes
Make the most of your Dutch oven with these incredible 30-minute recipes.
Packed with flavor but not with calories, this meat-free chili has just 238 calories per cup, and unlike its meaty counterparts, it only needs to simmer for about 10 minutes. Plus, the vegetarian meat crumbles really help to up the protein levels, too.
Needing just 10 minutes of prep time and around 30 minutes in your Dutch oven, this soup is one that the entire family is going to go wild for. It's hands down the tastiest creamy tortellini soup you've ever made, and when all is said and done, there's just one pot to clean! Soup is such a satisfying comfort food, and since this one has plump three-cheese tortellini pasta in the broth, it's super-filling, too. Loaded with fresh herbs and diced tomatoes, it can be topped with some freshly grated parmesan and a slice or two of crusty French bread. You'll have all the makings of an incredible meal with practically zero effort required.
This Dutch oven pasta meal is bright with spring colors and flavors. And it's so easy to make — everything goes into the pot together: asparagus, garlic, lemon, parsley, onion, shrimp, and pasta. Switch up from regular orzo noodles to whole wheat noodles for more fiber and nutrients than white pasta. Fresh or frozen shrimp will do, and you'll love how the orzo clings to the shrimp for almost risotto-like results (minus the constant stirring). Just put everything in your Dutch oven, and in 30 minutes, dinner is served!
Thirty minutes is all the time you'll need to get this cheeseburger casserole on the table. Beefy, cheesy, saucy, and yummy, it's like eating a cheeseburger in pasta form. The kids will love it, and you will, too. It's a tastier and heather version of one of your childhood favorites from a box: Hamburger Helper.
The problem with most stew recipes is that they take a long time to cook. That's just one reason why we love this spicy Dutch oven stew. You can get home from work and have dinner on the table in about 30 minutes. And it's so easy: chop and simmer boneless chicken thighs and garlic in your Dutch oven for about five minutes. Then add beans, tomatoes, salsa, and cumin, and let them simmer for another 15 minutes until the chicken is done. Top with a dollop of sour cream and some chopped cilantro, and get ready to be wowed!
We've given you a few recipes to try in your Dutch oven, but the web is filled with thousands of other delicious ideas. Once you start cooking meals in your Dutch oven, you won't want to use any of your other pots or pans.
Editors' Recommendations