Your couch is the centerpiece of your living room. The spot where you kick back, entertain friends and snuggle in to watch a movie. So when it comes time to pick out a new one, how do you find the right one for you? We scoured Wayfair to find the best couches for every use, design style, and taste. Here are our picks.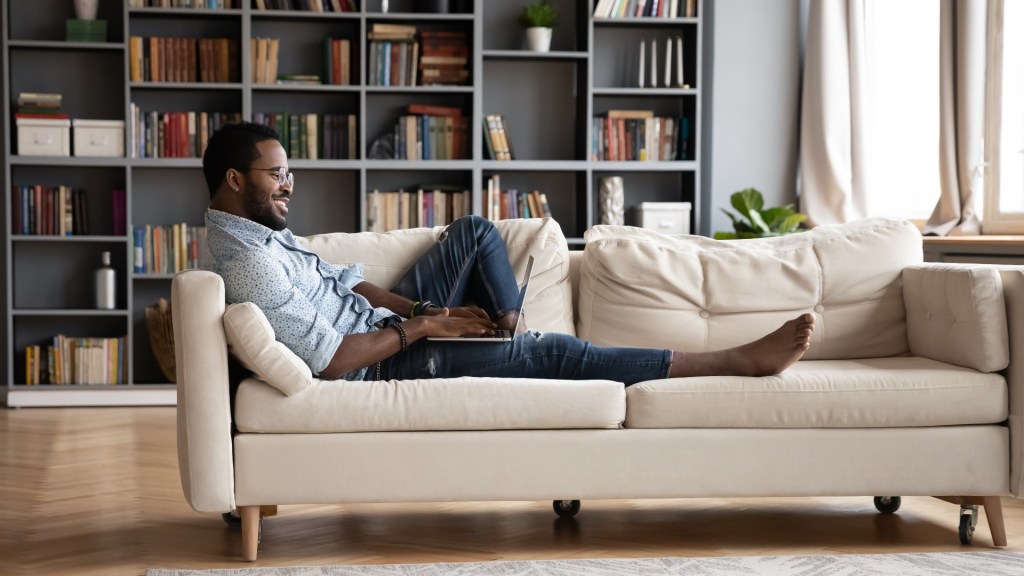 For game nights and gatherings
If you want to go big, the Samual Sectional from Latitude Run is your couch. The neutral blue-gray fabric and classic lines allow it to fit well in any design. The accompanying ottoman can be used as a footrest or add a tray for a coffee table.
What we love
The modular design and accompanying ottoman make this couch adaptable to almost every design and room. Plus, you can take the sections apart and put them back together to fully customize your space.
What we don't love
Reviewers say the seven boxes this couch comes in can be a tad cumbersome to navigate, even if the end result is totally worth it. Additionally, some reviewers also reported the couch slid around on hardwood floors until they placed a rug underneath.
For traditional elegance
This Birch Lane couch, with its distinctive silhouette, is not only a piece of furniture, but also a piece of art that will make a statement. Its rolled arms, button tufting details, and turned legs make it an instant winner for any traditionally-decorated space.
What we love
The couch's foam cushioning and premium top-grade leather finishes are designed to last, ensuring that the investment you made in your couch pays off. The couch is also amazingly easy to assemble and comes in three beautiful colors, one of which is sure to fit perfectly in your home.
What we don't love
If you're looking for a couch you can sink into, this isn't the one for you. The durable, reversible foam cushions are definitely a bit on the hard side, so keep that in mind when you purchase.
For simple quality
This contemporary sofa from George Oliver is a steal. Its squared, clean design and linen-inspired fabric would seamlessly blend in with any modern room. Designed to work into compact spaces, it features chic buttonless tufting, sturdy wooden legs, and comes in three colors.
What we love
This couch's boxy silhouette ensures it will fit well in almost any large or small space, regardless of size constraints or design style. It's also incredibly easy to put together even if you've never put a couch together before, which is a bonus!
What we don't love
While the couch's cushions are comfortable, the armrests are a little hard, so if you make a habit of leaning on your couch, you may want to drape a throw blanket for extra comfort. Some reviewers also mentioned that the couch colors pictured online were inaccurate compared to the item they received.
For leather lovers
Looking for an easy-to-clean leather option? The West Point Sofa Bed from Omnia has buttery leather cushions that feel oh-so-luxurious. This couch comes in dozens of color options, so you're sure to find an option that will easily complement whatever decor is already in place.
What we love
Aside from the color versatility, this couch also folds out into a sleeping space perfect for overnight guests…or when you're too invested in your latest binge-watch to leave the couch.
What we don't love
While the plethora of color options are impressive, it can be overwhelming to sift through multiple shades of black, brown, or blue to find the perfect shade, especially when you can't see the couch in person.
For eye-catching details
When it comes to the Garren Sofa, details are everything. From its clean square lines to its tapered wooden feet, this couch will add a stylish touch to any space. Two bolster pillows accent each side, and a center cushion features tufted detailing.
What we love
According to Wayfair, this couch was designed with sustainability in mind, which is a huge selling point in our eyes. According to Wayfair's Green Living promise, this couch is certified to have fewer negative impacts on people and the planet than the manufacture of similar items.
What we don't love
This couch, as beautiful as it is, only comes in two shades of grey, meaning that if you want a bit of color variety in your space, this isn't the couch for you.
For a retro pop of color
Have a tiny room? Just because you are short on space doesn't mean you need to sacrifice style. We love the mid-century lines on the Cavillo Loveseat. Its retro-style includes flared legs and button tufting detail, and it comes in four fun colors that will add visual interest to any room.
What we love
This couch sits right at the intersection of a couch and a loveseat, making it the perfect size for a small apartment living room or a reading nook. And, while we love a pop of color as much as the next person, the grey version is a welcome addition to rooms with more muted decor.
What we don't love
Reviewers say this couch is lightcompared to other couches on the market, which makes it easy to move but could pose a danger to children who pull themselves up onto surfaces regularly.
Whether you regularly entertain or spend most nights lounging solo in your living room, the right couch is essential to your home's comfort and design. When it comes time to elevate your home's seating, you're sure to find your new favorite couch among our top Wayfair picks.
Editors' Recommendations