Cozying up by an outdoor fire pit or grilling food for friends and family can be the height of outdoor get-togethers. And if you've been dying to get a fire pit of your own to amp up the look and entertainment in your backyard, Black Friday will have some of the best fire pit deals of the year. So, if you're wondering which fire pits for sale will benefit you and your home, we've gathered some of our favorites to help ease your decision-making process.
Should you buy a fire pit this Black Friday?
With the holidays just around the corner, taking advantage of fire pit Black Friday deals can save you money on revamping your outdoor spaces, meaning there's no time like the present to prepare for your next outdoor party.
If you're on the fence about whether you should get a fire pit this Black Friday, we recommend considering what will best benefit you and your space long-term. For homeowners in warmer regions, this is the perfect time of year to get a fire pit! The weather isn't too hot or too cold, making it an ideal time for backyard get-togethers. Alternatively, homeowners in colder climates will find that these Black Friday deals mean saving money in the long run. While you may not be able to use your new fire pit until spring, you're guaranteed to save money if you use these holiday deals.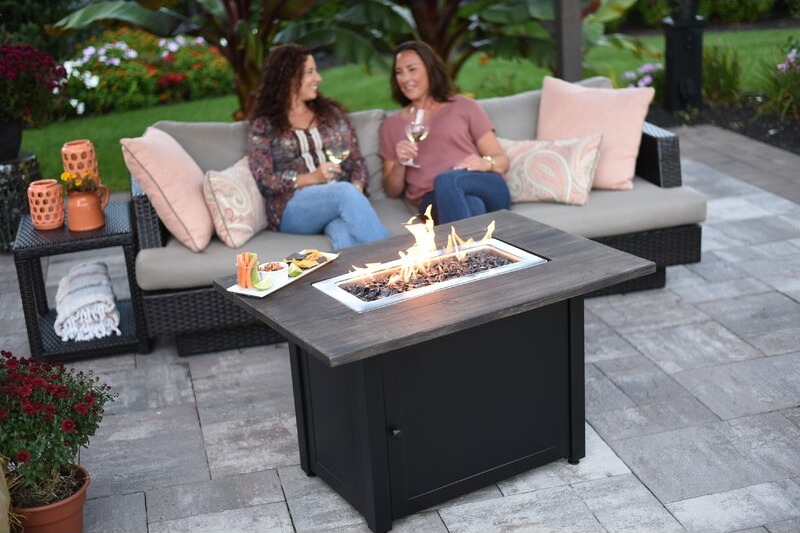 Get a fire pit table
Fire pit tables are sophisticated and elegant additions to any outdoor patio space. If you're interested in an ultramodern fire pit this season, we recommend the Uniflame fire table from Wayfair. This fire table comes in a sleek black design with a faux wood mantel and a hidden compartment for a propane tank. It makes for a beautiful centerpiece to an outdoor patio that provides warmth and additional table space to set aside drinks and dishes.
What we like about it:
The fuel tank is hidden from view
Comes with an adjustable flame setting
Has a wide table rim perfect for setting down plates or drinks

Try out a gas fire pit
Natural gas and propane fire pits are a favorite for many homeowners. They decrease the amount of cleaning necessary and are quite affordable for many summer nights filled with fun. This Lowe's fire pit filled with lava rocks is one of our favorite propane fire pits. With a hidden tank and hassle-free nature, we understand why this Endless Summer fire pit lives up to its name. But, of course, our favorite aspect of this gas-powered fire pit is the stunning blue lava rocks in the center. Paired with the orange glow of flames, this fire table is a beauty to behold.
What we like about it:
Keeps the propane tank hidden from view
Comes with stunning blue lava rocks
No hassle or mess with wood or ashes

See if a dual-purpose solution is better for you
For many people, dual-purpose outdoor furniture is essential. And when it comes to your fire pit, it should be no exception. The Fordham fire pit coffee table from Hampton Bay is one of our favorite multipurpose solutions for outdoor entertainment. With plenty of table space for setting out food and drinks, this fire pit provides more than just a cozy fire. One of the best features of this fire pit coffee table combo is the lower shelf that adds additional storage.
What we like about it:
Comes with plenty of table space for setting aside food or drinks
Includes lower shelf storage space
Hidden propane tank with easy access

Go authentic with a wood-burning fire pit
Authentic wood-burning fire pits appeal to many homeowners who love rustic design. If you want your outdoor space to look and feel more natural, you can't go wrong with this round cast stone fire pit from Sun Joe. With an authentic, cast stone look, this fire pit is not only natural but stunning in a backyard setting. It includes a removable iron grate for grilling food over the flames and a mesh screen to protect from sparks. If you have small kids running around or want to have family-friendly fun around a cozy fire, this wood-burning fire pit is a great choice.
What we like about it:
Has an authentic stone look
Comes with a mesh screen to protect against sparks
Includes an iron grate for grilling food

Opt for a fire pit with a lid for additional safety
The Aditya Star and Moon lidded fire pit blends style with functionality. The moon and star cutouts on the sides add a fun detail to the overall design. Additionally, this fire pit comes with a spark screen, iron grate, and poker to make your wood-burning experience a breeze. Our favorite aspect about this lovely fire pit is that it also comes with a protective, weather-resistant cover so homeowners in colder regions are capable of protecting their fire pit from the elements.
What we like about it:
A spark screen is included to protect you and your family
Comes with a protective, weather-resistant cover
Includes iron grate for grilling food
These are some of our favorite fire pits to get this Black Friday. With so many styles and options to choose from, we're sure that no matter who you are or which region you're located in, you'll be able to find something that suits your needs. And whether you can use your fire pit immediately or you have to wait until this spring, we believe you'll save lots of money on outdoor family fun this year.
Editors' Recommendations