While summertime is perfect for spending nights under stars or gathered around your patio's fire pit, the chillier fall weather doesn't mean outdoor entertaining is past its prime. There are plenty of ways to extend the best parts of summer well into fall with just a few tweaks to your outdoor entertainment area. In fact, the fall season is the perfect time to invite friends and family over, watch some football, fire up the grill, and embrace the beauty of the season.
If your outdoor patio or deck isn't ready for fall, here are four easy ways to prepare it for outdoor entertaining.
Bring on the fire
If you don't have a mobile fire pit that you could move from your backyard onto your deck, it's time to invest in one. There's nothing better than huddling around a warm, crackling flame in cold weather. Depending on whether you want a wood-burning or electric fire pit, there are still plenty of deals you can find so you aren't breaking the bank to turn your back patio into a fall haven. Target has this 26-in. wood burner selling for just under $89, or, if you prefer propane, you can purchase this 28-in. tabletop version for just under $150.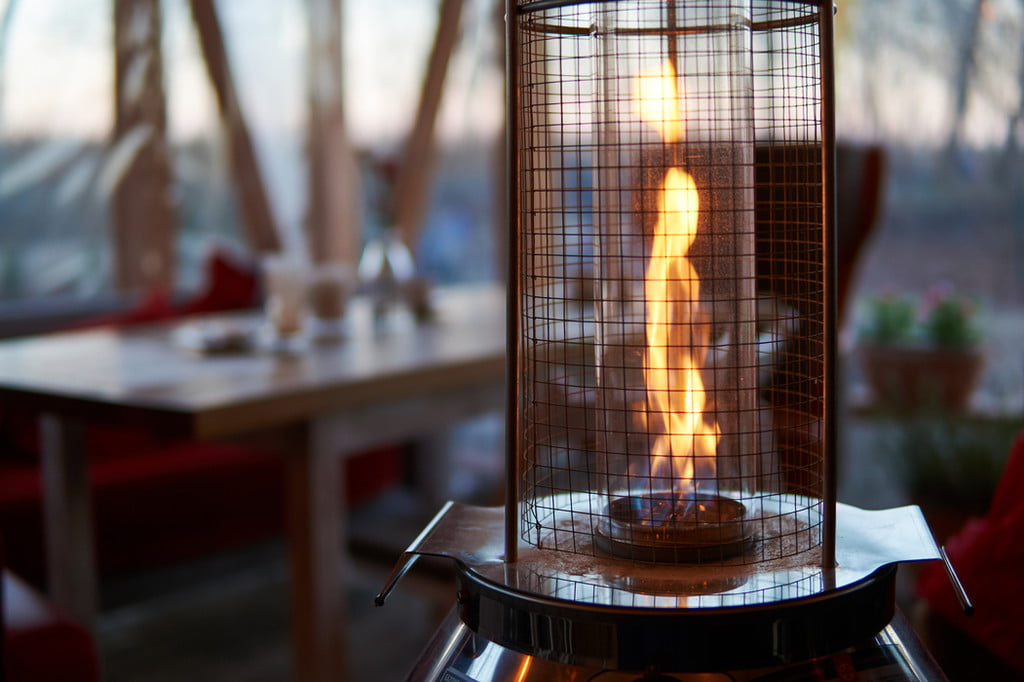 Heat lamps
If you don't have room or the desire for a fire pit, why not consider a heat lamp? They put out tons of heat for friends and family gathered outdoors and don't take up nearly the amount of room as a fire pit. They also take much less effort to set up. There's this fairly basic model from Home Depot for $149 that will get the job done in colder weather, or you can opt for this larger, more stylish unit from Wayfair for just under $325. If you have a very large deck, you may want to consider adding more than one throughout the space to ensure all your guests stay toasty warm on cold nights.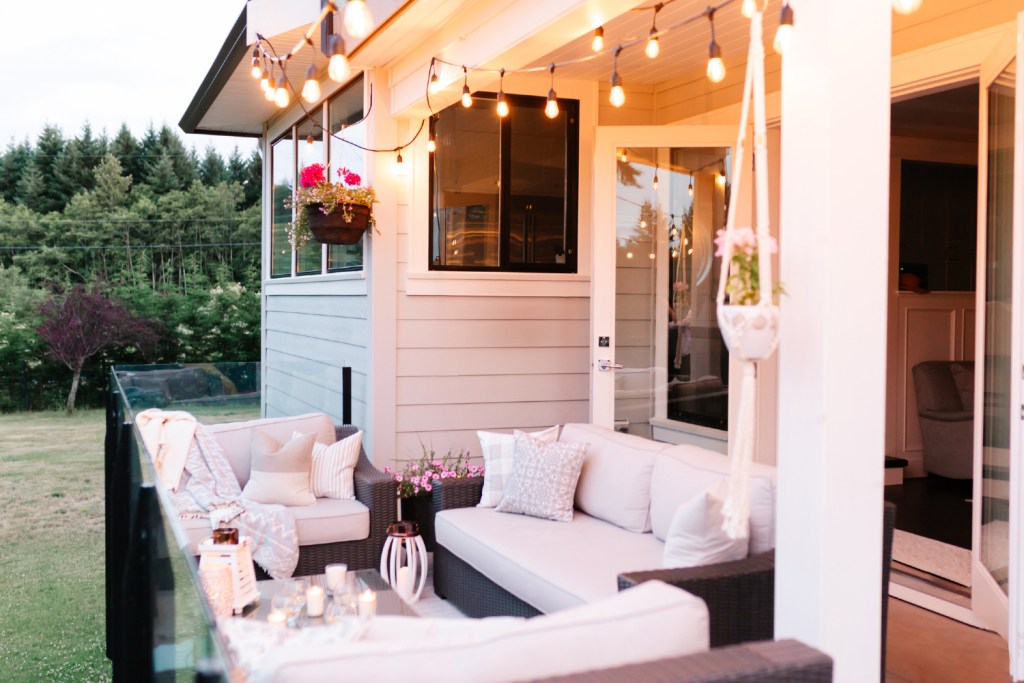 Make warmth part of your design
Another way to extend your outdoor entertainment space is to provide guests with everything they'll need when the temperature drops. Your outdoor space may be aesthetically pleasing, but no one will want to spend time out there if it's too cold.
Set out a basket with fleece throw blankets they can snuggle up in.
Place a jar with sets of cotton gloves on a side table.
Light big pillar candles around to give off some heat.
Put down outdoor rugs to keep the chill off your guests' feet.
Not only will this give off a unique and fun fall vibe to the space, but it will also let your guests know you're thinking of them and their comfort.
Make a hot beverage station
If you're entertaining a large group, do something a little different from a traditional outdoor bar cart by setting up a hot beverage station. You can serve both kid-friendly and adult drinks with some hot chocolate, hot apple cider, and other warm liquids and offer spirits to create a little something special this fall (hello hot toddy). The possibilities are endless when it comes to the fixings, so bring on the marshmallows, lemons, cloves, chocolate chips, cinnamon sticks, placing them in Ball jars for a little extra design element.
These are just a few ways you can easily extend your outdoor entertainment space for the fall. With the winter quickly approaching, you want to spend as much time as possible taking advantage of everything the season has to offer. It's a time of football Sundays, colorful foliage, pumpkin carving, and outdoor grilling, so make it a space where everyone feels comfortable, regardless of the temperature. The options above also take into consideration everyone's body temperatures. We all have that one friend who is cold no matter how hot it is outside and another that doesn't even wear a jacket on the coldest winter days. These ideas give guests the option to layer up, sit closer to the fire, or turn off a heat lamp if they get too hot or cold.
While the pools may be closed and the beaches more sparse, entertaining outside in the fall can be just as fun as your summer gatherings. The bugs are gone, the fall leaves are changing, and the chill in the air is just right for a night under the stars.
Editors' Recommendations