One of the easiest ways to expand your living space is move into the outdoors. Using the patio for entertainment and relaxing is a great use of space and there are lots of ways to improve on that space. Having an outdoor covered patio means protection from the elements and you won't have to worry about changing your outdoor plans if the weather doesn't cooperate.
Some outdoor patio plans are elaborate and expensive. But with a little creativity and selective purchases, you can design a fabulous outdoor space.

Decide on a purpose
Do you plan on doing a lot of evening entertaining? Is the space going to be for sipping a cup of coffee in the morning or having a glass of wine with a friend after work? Do you want an area for lazy lounging? Is the space going to be an extension of the family room with a couple of multi-purpose areas?
Thinking about the purpose will help you have some insight into the type of furniture, hanging chairs, swings, hammocks, and shade you might need.
It will also help if you review immovable objects like trees, shrubbery, or walls that you will have to either work around or incorporate into your design.
Shade and cover options
A pergola is an option with a lot of versatility. Shade can be generated by greenery and draped fabric or tarps. Outdoor tarps usually come with grommets so they can be secured either on the top of the pergola or on the side. Go for colors to compliment the color of the house or patio block or go for bright colors to really bring the fun in.
Using partial coverings on the pergola means shade and shelter, but you'll also still be letting the light in and experiencing the outdoors.
You want the best view possible, so position your "shade" to block out the least attractive areas. Outdoor lights draped on the pergola add drama if they are softer lights or some night-time sparkle if you are using brighter, bigger lights.
Large umbrellas provide shade and cover and some can be angled so they are useful to ward off the hot sun no matter what time of day. There are free-standing choices, and if you are looking for an outdoor table, have it do double duty by getting one with an umbrella in the center.
Perhaps your area is too small or you only want to shade a portion, then use a square frame that can be constructed of treated lumber or PVC pipes and drape it with fabric or a tarp. Even chic shower curtains can be used to provide shade. If you are using patterned fabric or shower curtains, use them like a piece of art. For example, use them with a plain fence or wall in the background.
Remember, large leafy plants can generate shade as well as privacy.
Awnings and shade sails
There are retractable awnings that can be anchored to the side of a house to provide a covered patio. Smaller awnings can be used on windows and will shade the patio.
When you are reviewing your covered patio plans, don't forget about shade sails.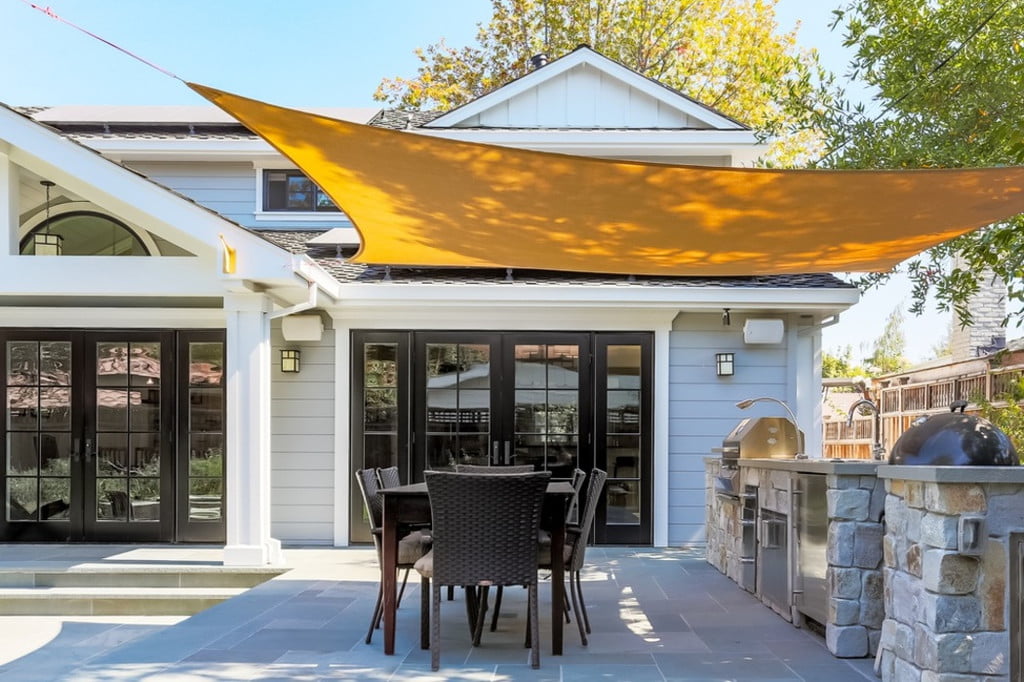 They come in thin lengths, square, triangular, or square and they can be secured to the house or to the framing. Using framing means they can be moved around your patio to shade specific areas.
In neutrals or bright colors, they provide awesome design options as well as versatility. They can easily be moved to shade an area you want to lounge in or highlight a conversation/dining area while entertaining.
If an attached awning isn't practical, a shade sail can be used to provide patio shade in an area you know is going to be too hot to use when the area is in full sun. For example, if the patio gets too hot near the patio door, position the sun shade over the area by the door.
An inviting outdoor space can extend your overall living space — and spending more time in the fresh air is never a bad idea. The variety of shade options allows you a chance to use your space the way you want with some stylish options.
Changing out throw pillows as well as outdoor cushions will also help refresh your space.
Editors' Recommendations