When the weather gets warmer, it's time to break out the patio furniture and start thinking about the season's outdoor activities and events. While many of us pick a neutral set that's on sale, paying attention to the patio color scheme can make or break the aesthetics of your yard.
Don't worry — you don't have to go out and buy all new patio furniture. You can quickly update your patio's look with a few new accents and a little bit of creativity. Check out these five patio color schemes that will create a space that's colorful, fun, and reminiscent of the summer sun.
Grey and yellow
Grey is a popular neutral color that adds a touch of luxury to any space. A sunny, bright yellow pairs perfectly with the cooler, calming tones of greys. Grey as a base color intensifies the hues of any accents, so picking a bright color makes for an even bolder statement. If you already have grey furniture or walls, add some yellow throw pillows or end tables for a pop of color. If you have a green thumb, consider planting bright yellow flowers like roses or sunflowers to round out the look.
Warm colors
While grey is a classic, warm colors are especially popular in 2021. Earthy tones like brown, golden yellow, taupe, and olive green are on trend right now for good reason. These warm, neutral tones make any space feel more inviting, and these tones make a great backdrop for busier statement pieces. This theme doesn't need to shine through in the furniture. If you have a wooden or concrete deck, staining it with an earthy color will update the whole patio. This easy project makes a huge impact: you can stain the whole patio in a weekend with just a few, inexpensive tools.
Black and white
Black and white is a classic color scheme that never really goes out of style. Understandably, you may be hesitant to invest in anything white. It's prone to staining, which is commonplace in homes with children and pets, and it shows imperfections more easily than darker shades. This doesn't mean you have to avoid white for good, though. You can still work plenty of brightness into your patio using white tapestries or candles to add pops of brightness to your black furniture. We also recommend buying white pillowcases or cushions made of stain-resistant materials or ones that can be thrown in the washing machine for a quick clean.
Natural materials
Natural materials such as wicker, bamboo, and cotton can constitute a color scheme all their own. If you choose these materials, you will likely end up with lots of browns, whites, and greens, which is a great theme in and of itself and will blend nicely with the other natural elements of the yard. Like the earthy tones, these materials are warm and inviting, but also have the added bonus of bringing cool textural elements to the patio. For years, plastic and metal dominated the outdoor furniture market because those materials last a long time and withstand the elements well. Lately, however, natural materials are making a comeback as the rustic, farmhouse look continues to gain popularity.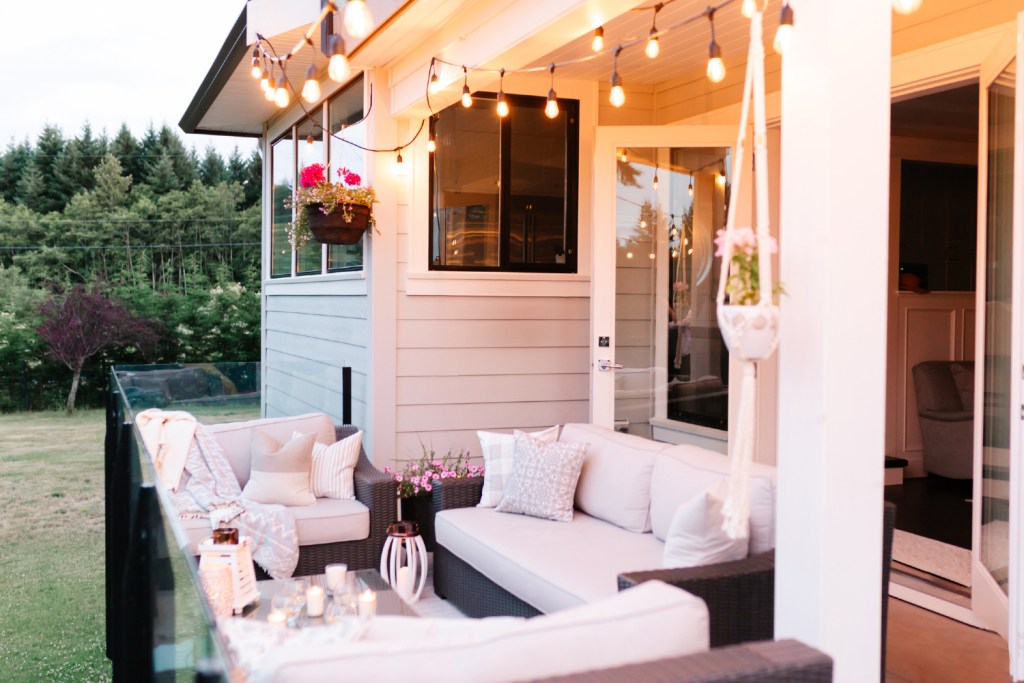 Red and brown
Deep red pairs well with the brown tones of wood and other natural materials, and this dramatic color scheme is making a significant impression on outdoor design trends this year. Red couch cushions, throw pillows, roses, candles, and more will stand out yet simultaneously act as a complement to any wooden furniture or accents. Be sure to add a few pops of greenery to soften the dark tones and add a little brightness. Further, hanging some string lights will also increase the warmth and functionality of the patio, especially if you plan on spending time outside after dark.
The color scheme of your patio or deck is crucial in setting the tone for your gatherings and cookouts, as well as your much-needed self-care days. If you've been dying to get outside and freshen up that patio, you've come to the right place. There's no need to stress about undertaking a full-scale renovation, though. A few carefully chosen accents and a tasteful color scheme will create an upscale-looking pace that still promotes relaxation and ease.
Editors' Recommendations