You may think linoleum kitchen flooring is a thing of the past. While it's true that it lost a bit of its popularity in the mid-1900s when the cheaper vinyl flooring hit the scene, linoleum kitchen flooring is actually making a comeback. This emerging generation of homeowners has discovered the excellent benefits of linoleum, combined with the fact that it's more affordable compared to other expensive flooring options like natural wood, natural stone, or ceramic tiles. We'll talk about the benefits of linoleum flooring here and why it's rapidly regaining popularity.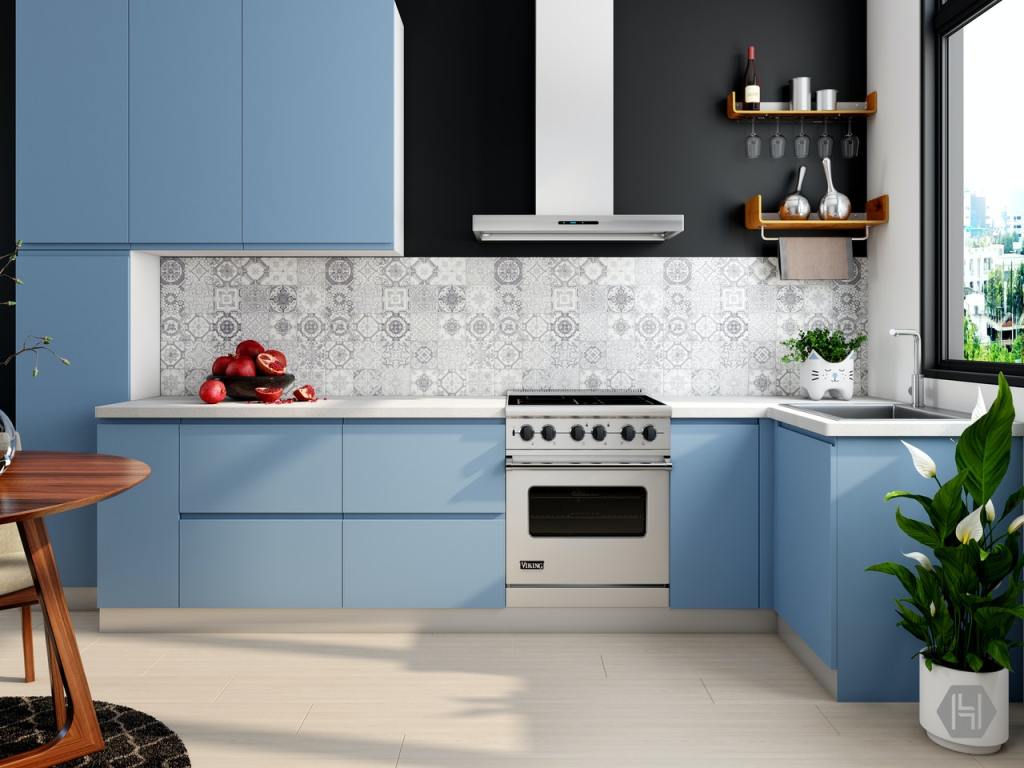 What's so great about linoleum flooring?
Aside from its affordability and aesthetic appeal, linoleum flooring has a wealth of great benefits for homeowners to consider when deciding on a flooring material. These benefits contribute greatly to linoleum's recent reemergence among popular kitchen flooring options.
Durable and shows less visible damage
With other flooring materials, the coloring is only applied to the surface layer. This means any scratches on the floor will expose the material under the colored surface and show the damage more distinctly. However, the coloring in linoleum flooring runs throughout the material, so any damage is less visible, even in high-traffic areas like hallways and communal rooms. Linoleum is also a sturdy material; it will last for decades before needing any major repairs or replacement.
Environmentally friendly
The materials used to make linoleum are renewable as well as recyclable. These materials include things like linseed oil, wood flour, and tree resins. Not only is it free of toxins for your family's health and safety, but you can also rest easy knowing that whenever you decide to pull out the floors and replace them, the linoleum won't end up sitting in a landfill since it's biodegradable.
Hypoallergenic and anti-bacterial
Linoleum is naturally anti-bacterial, which is ideal for families with small children or pets. In addition, it also repels dust and dirt due to its static resistance. The dirt doesn't stick well to the floor, so it doesn't build up or cake on. This makes linoleum hypoallergenic since dust becomes less of a problem.
Comfortable and quiet
Since linoleum is naturally soft, it's gentle on your feet and comfy for pets and kids to play and lounge on. Its softness also lends to decreased noise when walking on it or moving items on its surface. This is also a great plus for families with small children who sleep often.
Benefits of linoleum kitchen flooring
Particularly in the kitchen, linoleum flooring is becoming more popular, and for good reason. Its antibacterial properties are a big draw, but it's also highly resistant to water and staining. Spills happen often in the kitchen, whether it's due to a dropped sippy cup or a leaking refrigerator, so it's good to know that your linoleum floor won't suffer as much damage as a wood floor might incur.
Installation options
Linoleum is extremely versatile, and its benefits make it suitable for any room in your home. Its versatility is taken to the next level in the number of options available for installation. With three different installation possibilities, you can pick the best one for your space, your DIY abilities, and your budget.
Click-lock floating linoleum
This installation method is perfect for homeowners who want to DIY their new kitchen flooring and save a bundle on labor. The click and lock system comes in small and manageable linoleum pieces that literally click and lock together without needing any adhesive. It floats over the underlaid subflooring, so you'll need to be sure the subflooring is level, dry, and in good condition before installing the floating linoleum.
Tiled linoleum
A good alternative to ceramic or natural stone, linoleum tiling comes in a variety of colors and patterns, and it looks beautiful in any room. It's also considerably less expensive than ceramic or stone, and it has all the beneficial properties of linoleum.
Sheet linoleum
Sheet linoleum is the most common type of linoleum flooring installation. It has the most selection when it comes to colors and styles, and it is more appropriate for larger areas than tiles or click and lock linoleum since it comes in such large pieces. Since the linoleum sheets are large, extremely heavy, and difficult to handle, we recommend hiring a professional flooring service to install them.
Caring for linoleum kitchen flooring
Sweep up dirt and debris right away to avoid small scratches or having to scrub vigorously to clean it.
Use mild, non-abrasive cleaners as linoleum is super sensitive to cleaners with bleach or ammonia.
Use soft, damp mops and cleaning tools to prevent scratches and excessive moisture.
Re-finish once or twice a year to keep your floors looking sleek and beautiful.
Sunlight benefits linoleum, especially if you notice a yellow haziness on your floor from oxidation. This can happen naturally in linseed oil over time, but it is accelerated if harsh cleaners or hot water are used too often on the flooring.
If you're looking at all of your flooring options for your kitchen remodel, linoleum should be one of your top considerations. Its natural material components, eco-friendly construction, and affordable price point are all great benefits, and with so many styles and color options available, it looks stunning in the kitchen. Linoleum may not sound like the most glamorous option for your kitchen floor, but it's gained popularity for a reason.
Editors' Recommendations