If you're lucky enough to have livable outdoor space, you're probably wondering how you can make the most of it. One way to create a cohesive, inviting area is to blend your indoor and outdoor spaces for a seamless living environment. Not only does this double your living and entertaining space, but you get to enjoy the best of both worlds with your indoor/outdoor experience. One easy way to achieve this harmony is by pairing your indoor/outdoor decor. This helps any adjoining rooms—whether that's your living room, kitchen, office, or dining room—look balanced and open.
Here are ten creative and fun ways to blend your indoor and outdoor home decor, no matter how large or small the area.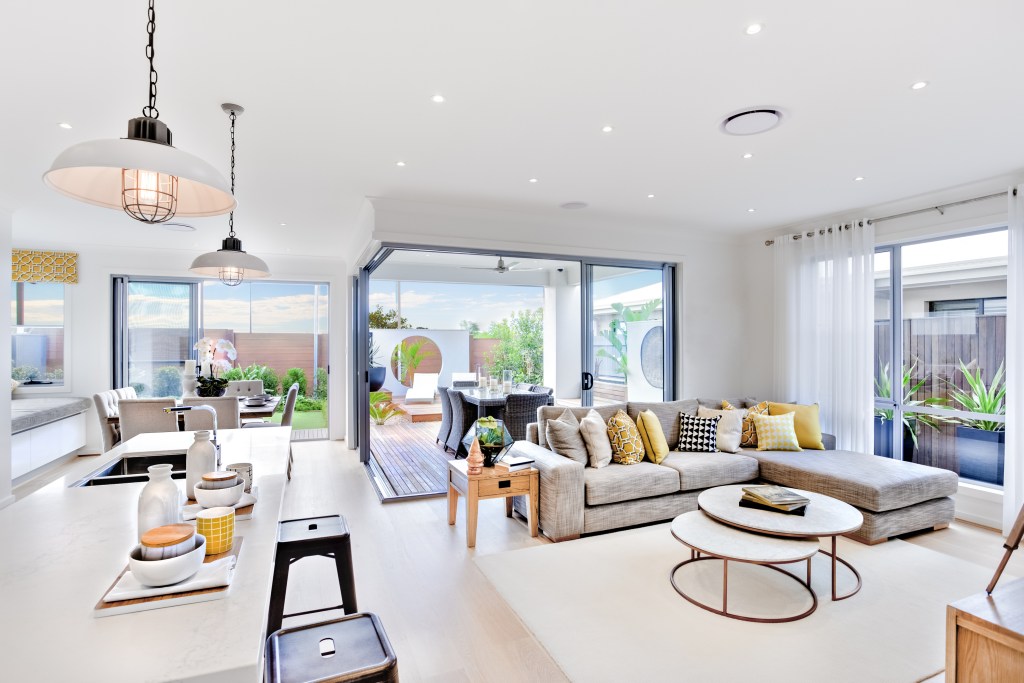 Use furniture and materials to create a linear space
Keep TVs on one wall
If you have a living room that opens up onto the patio, keep your entertaining areas side by side. This creates the impression of one long space and extends the room you have to host friends and family. If possible, place a weather-resistant TV on your patio or screened-in porch on the same wall as your living room TV to extend viewing space from the same vantage point.
Use similar design elements
If possible, use the same type of furniture in both spaces. If you've gone mid-century modern for your living room, expand that to your deck or patio to create a cohesive look. Similarly, if you have a more minimalist approach indoors, don't clutter the outside with a bunch of stuff. Keep your design choices consistent to help the environments blend more cleanly.
The spaces don't have to match exactly
While you want the spaces to coexist, you don't have to match them exactly. One way to create interest is by choosing different shapes. For instance, if you have a square dining room table, you could find a round outdoor table in a similar color and made of the same material to add a bit of personality and uniqueness without clashing.
Think about the materials
If you have granite countertops indoors, using that same material for your outdoor kitchen will benefit both spaces. If you have a white or off-white dining room table, choose a stone or similar-colored material for your outdoor table to blend the two together.
Sweat the small stuff
Little pieces of decor can go a long way toward blending the two areas. Here's how.
Don't forget the lighting
If you have big, bold light fixtures inside your kitchen, extend that same design outdoors. The fixtures don't have to be identical, but using similar sizes and shapes can help blend the two areas together.
Choose complementary colors
If you have indoor throw pillows in muted colors like sage green, gray, and cream, use those same colors (or complementary ones) in your outdoor decor. You can select different patterns and styles, but the colors will help connect the indoor and outdoor spaces unlike anything else.
Invest in plants
If you want to extend your indoor space with some greenery, do it with plants that will thrive outdoors as well. We love the idea of creating harmony using plants. Choose plants that can live in either space, keeping in mind how much light the plants will need to stay healthy. Using the same or similar plants outside will draw the eye outdoors, leaving you and your visitors with a feeling of connectedness between the indoor and outdoor living areas.
Use indoor/outdoor textiles
Textiles come in this variety for a reason! Using indoor/outdoor rugs, throws, and other textiles will blend the spaces together perfectly. If you have open doors that lead to your outdoor space, place a rug in the doorway to blur the line between the indoor and outdoor living areas.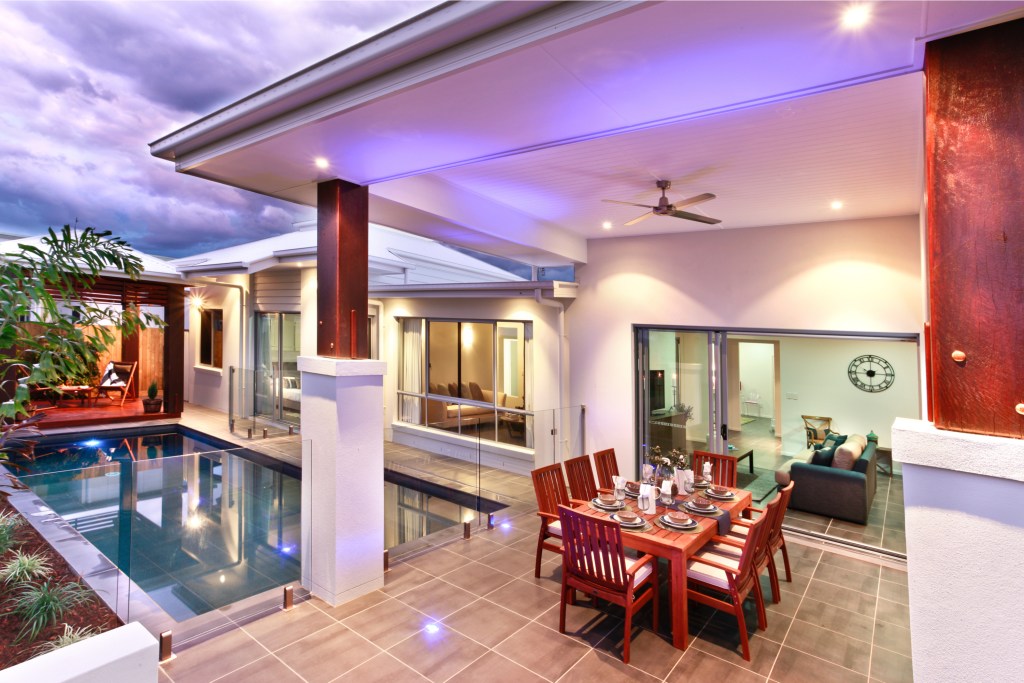 Don't forget about the structure
It's all in the flooring
If you have the choice, pick flooring like concrete that will work both indoors and out. Not only will it create a feeling of one big, open space, but the color and design will also match, leaving guests free to roam in both spaces without feeling closed off and isolated.
The same goes for height
Pick ceiling styles and materials that either match or complement each other, and that don't dramatically change in height or style. Keep the same paint color for the ceilings in both spaces so it doesn't feel broken or like your outdoor space was an afterthought.
Creating a sense of flow happens on many levels, and decor can go a long way to achieving the seamless indoor/outdoor space you desire. Colors, patterns, and textiles can add character while also offering a blended space that you can enjoy all year round. Add large windows, screens, and sliding doors that bring the indoors outside, and you and your guests will feel comfortable and cozy no matter where you spend time in your home.
Editors' Recommendations