If you love all things midcentury, you may have concentrated your energy on making the inside of your home full of simple, sleek furniture, teak wood, and glass and metal decor. While those ideas are ideal for the inside of your home, that midcentury aesthetic should extend to the outside as well. You're welcoming people into your own personal style from the moment they pull up to your house. Don't let your front yard, landscaping, and backyard entertaining space lack that style. Midcentury modern backyards should be equally inspiring, and there are plenty of ways to showcase that functionality and simplicity.
From gardens to furniture to plants and trees, here are some of the easiest and most stunning ways to create the midcentury modern yard you've always dreamed of.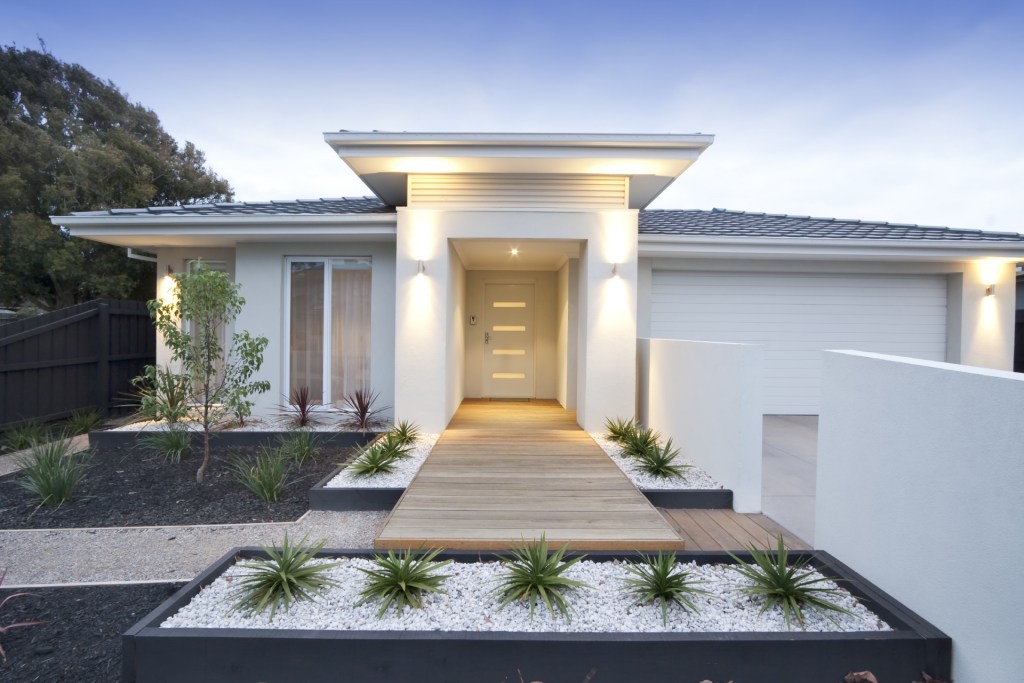 Midcentury modern landscaping
Midcentury modern design was meant to blend the outdoors and indoors, so choosing plants and flowers that can be used in either space is key. The design should feel similar whether you are inside or out, so choose minimal, clean lines for landscaping the same way you would for your indoor furniture.
The goal is to create a space that is calming and minimalist, and doesn't require a ton of upkeep or fussing. This could be accomplished in several ways:
Create an outdoor atrium as you enter the home or walk out onto the back patio.
Use boulders and other rocks, a pond, and a paver patio to complete the look.
Plants like Japanese maples, star jasmine, and conifers work really well for a midcentury modern design. If you are ever in doubt, ask your local garden center what plants hold up the best in your climate that also complement a midcentury design.
You can create sharp angles using hedges around the front of the home and raised beds for a garden.
Using shades of blue and green helps create that serene atmosphere that connects you to the earth.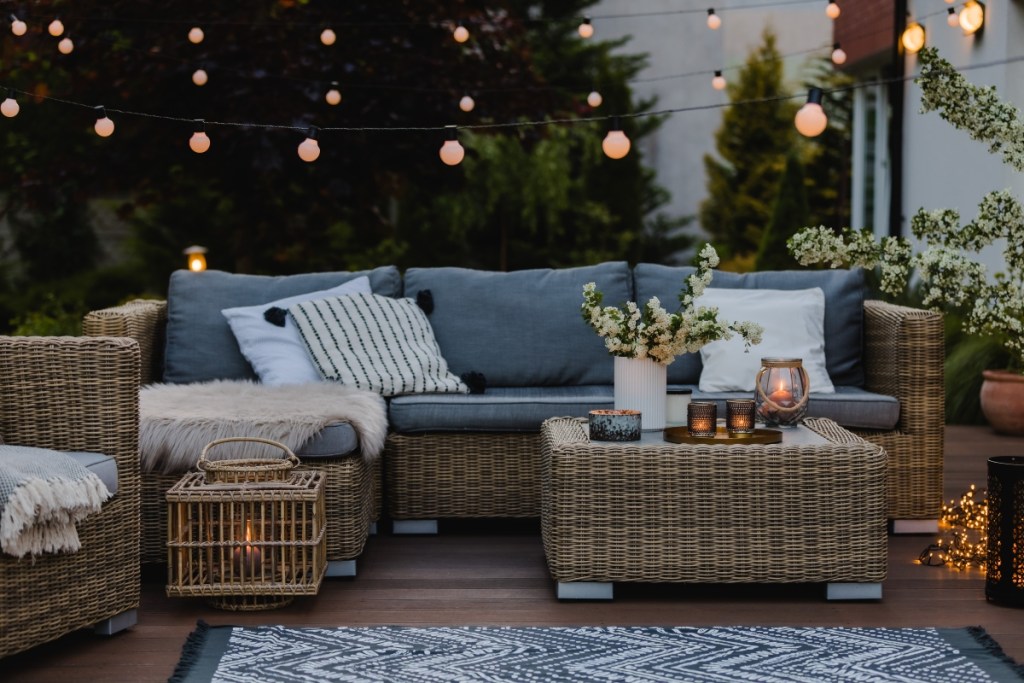 Midcentury modern patio furniture
The backyard is the perfect space to highlight your love of midcentury modern style, and the furniture should be a near copy of what you use indoors. Every piece should serve a purpose, so think about how you entertain and plan backward from there.
If you host large groups, make sure there is plenty of seating with low, square sectionals, tables, and fire pits. If you keep things small and typically have family-only gatherings, a smaller loveseat and table, like this one from All Modern, would be perfect.
You don't need much furniture or decor; keeping it simple and clean is the way to go.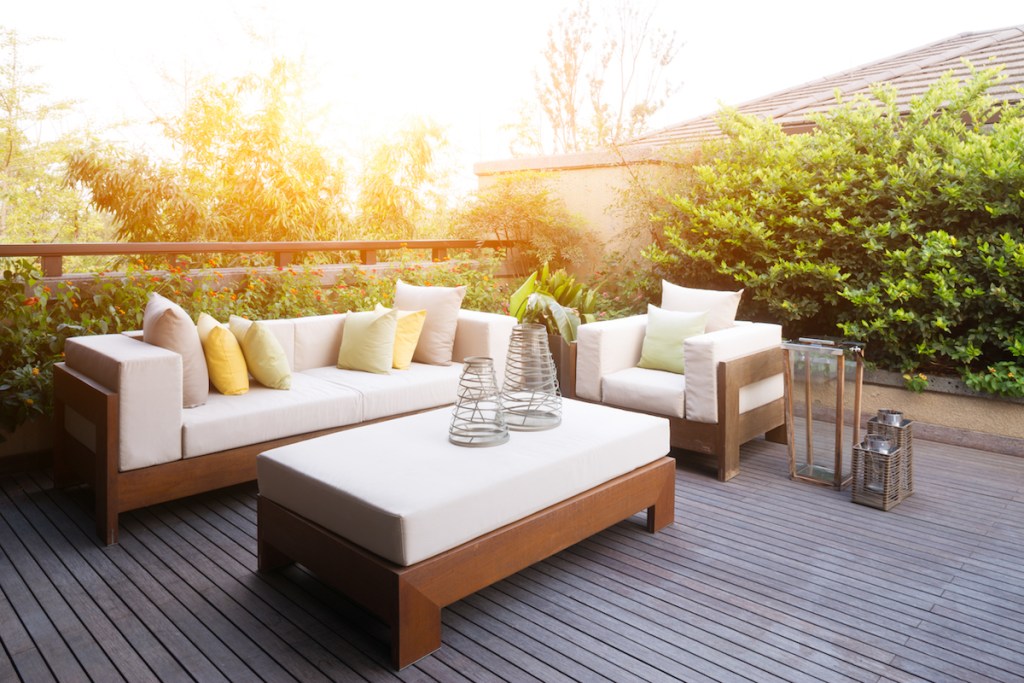 Midcentury modern outdoor decor
Use wood and natural elements to section off a dedicated part of a back or front yard. You can do this with fencing if you are able, or you can create a patio space using pavers or a deck.
Add other features like stone, a waterfall, or a pergola, creating horizontal lines. From there, you can place landscaping in a line to secure the space from the rest of the yard.
For height, you could add in stone planters or a fire table in the center of the space, or line any steps with lanterns for light and safety. The more natural elements you can bring into the design, the better.
How to blend midcentury modern with other styles
While midcentury modern design rose in popularity from the 1940s through the 1960s, you don't want your outdoor space to feel stuck there.
Be sure to incorporate other designs into the space, like a glass-top table, chrome or brass metal, or an outdoor jute rug to break up the wood and concrete elements.
You can also add wrought iron pieces and metal clamshell chairs to provide a bit of character.
Also, don't be afraid of color. Add in pops of blue, orange, and yellow in pillows, rugs, and other textiles as well as your plants and other landscaping. This will only add to the overall aesthetic.
Don't forget your front yard
In the front yard, if you have a home that requires privacy from a road or close neighbor, you can incorporate design to make it more appealing to the eye.
You could pour a concrete block wall with geometric designs or a privacy fence with wrought iron details to add dimension.
Plant beds with ornamental grasses, succulents, small shrubs, and other flowers can also be planted in a geometric pattern to complement the space.
The good news is that so many designers have incorporated midcentury modern designs into their furniture and decor, it won't cost you a small fortune to decorate the outside of your home like the true fan you are.
Editors' Recommendations