Living rooms are a place to relax at the end of a long week or entertain guests on the weekend. You want it to look inviting while remaining clutter-free and functional. If your space doesn't fit this bill, you may be looking for ideas on how to update your living room furniture and decor.
Pinterest and magazines can feel daunting. The photos and ideas look and sound great but often cost more than a pretty penny. However, there are plenty of stylish, functional living room upgrade ideas that can fit any budget. These three pieces are some of our favorites. Here's why.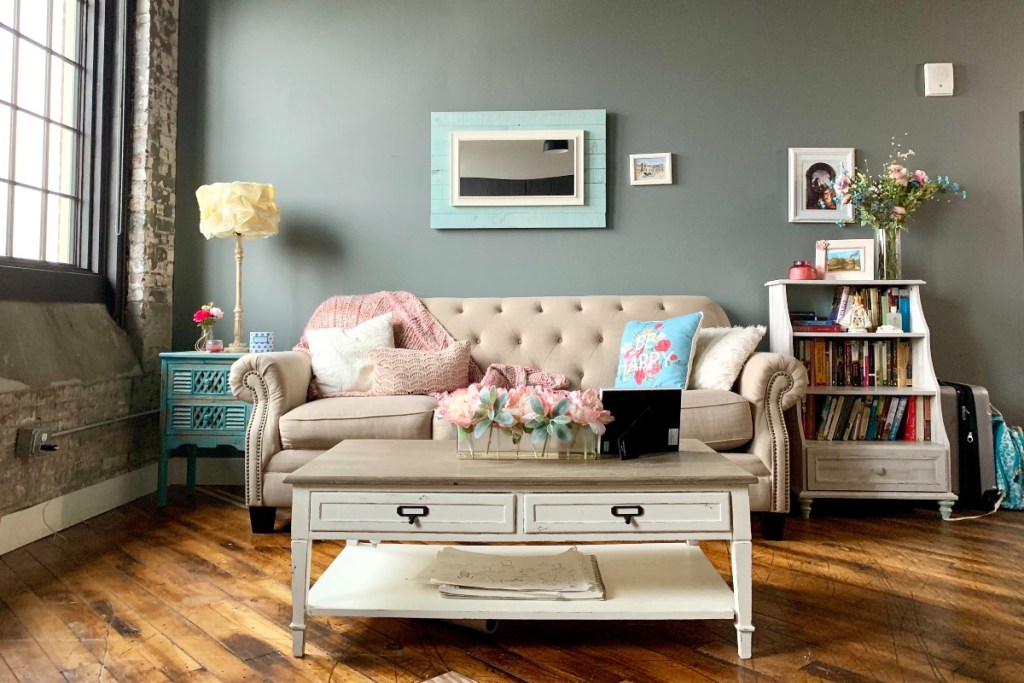 Affordable
Reflects natural light, creating a beautiful and bright space in your living room
A fun alternative to gallery walls that lets you sneak a peek at your hair and makeup
Ditch the gallery wall and opt for a trend that's been sweeping homes of late: Decorative mirrors. Often used to widen or spice up entryways, decorative mirrors also add interest to a living room wall. As a bonus, you can use them to check your hair before heading out for the evening or into the dining room for dinner with guests. This Esa Mirror set is a total steal. It's a five-piece set, with one large sunburst mirror and four identical smaller ones made for mounting together for a display that looks effortlessly chic. Reviewers, who gave the set 4.2 stars on Wayfair, love how lightweight the mirrors are, raving that it makes them easy to hang. They also noted that they reflect natural light well, brightening the space.
Fashionable and functional. Allows you to stylishly hide items like magazines that don't fit your room's vibe
A comfortable item that provides additional seating or lets you rest weary legs
Comes in 11 colors, including navy velvet, mint fabric, and oatmeal fabric
Ottomans are incredibly versatile by themselves. They're a place to sit or put your feet up. Some also come with a removable lid so you can use them as a storage space. These genius clutter-banishers allow people to hide away anything from books and magazines to toys. This Madison Park Frances Ottoman is a favorite. It comes in multiple colors and styles, from chic faux leather and velvet to cozy fabric options. It's easy to find one that fits seamlessly with your living room's design. More than 300 buyers gave this ottoman 4.6 stars, saying it's durable, functional, and beautiful. They also say it's stable and easy to assemble.
Easily hides away knick-knacks and books
Neutral color works with a variety of themes and spaces
Durable and easy to assemble
Coffee tables already have their obvious purposes: They're a spot to place food and beverages while entertaining at home. People also love using them to display photo albums and the appropriately-named coffee table books. However, some coffee tables take it a step further and double as a spot to store items. Similar to the ottoman, you can add odds and ends like magazines, photos, and even a wine opener, so you're prepared for in-person cocktail hours. Martin Svensson Home, a well-regarded brand from Home Depot, makes a 50-inch wooden coffee table with drawers and a bottom shelf that fits this bill while looking chic. The antique white color is neutral, making it versatile. Buyers said it was easy to put together and loved that they could open the drawers from both sides of the table.
Not all living room upgrade ideas are created equal, and not all of them will set you back money-wise. You can find stylish items for under $300 and some for even less than $100. When thinking about how to elevate living room areas, consider things that not only look nice but also serve a purpose. Mirrors can brighten a space and give you a subtle way to check your hair and makeup during a house party. Some furniture pieces double as storage areas, helping you banish unfashionable clutter and create a more organized space. Many retailers have options that fit any style of home, from urban farmhouse to mid-century modern, so you'll be able to create a cohesive but updated look.
Editors' Recommendations