"Be faithful to your own taste, because nothing you really like is ever out of style." That's a wonderful and completely relevant quote from the great Billy Baldwin. It's time to decorate your home, hearth, and table for the holidays, and while it's always a welcome event, it can be disheartening when you don't have the budget to properly prepare. Maybe you have the living room covered already? But if you're entertaining guests this Thanksgiving then an empty table just won't do, and if you're not, well, you'll still need something vibrant to look at! How can you shoot for a high-brow set up with a tight budget?
Easy! You just need to know where to look! To assist you in this endeavor, we gobbled up some of the best high style, low budget decorations for Thanksgiving season, harvest, and beyond! There's something here for everyone and every budget. Of course, if you don't agree with what we've chosen you can always peruse the wares yourself below! There are so many great options you're bound to find something you love!
Best for Snacks – Gracious Dining 3-Tier Serving Plate Set with Metal Stand
Keep everyone fed while they wait for the main course, or just offer a little extra entertainment with this 3-tier serving set. The plates rest on top of the metal stand, offering a verticality that's elegant, yet simple. The 12-inch rectangular plates are dishwasher, oven, and microwave safe. The complete set is just $27 at Walmart.
Best Dishware – The Pioneer Woman Toni Linen Dinnerware Set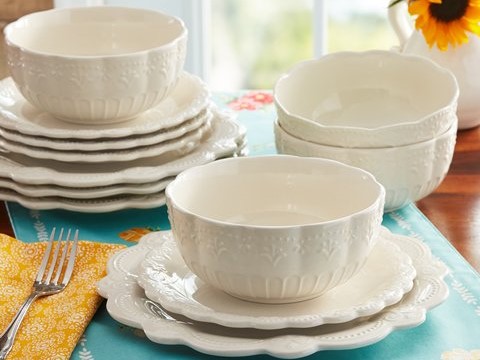 If you don't have dinnerware already, or you just don't want to use the antiques you have stashed away, this set is an excellent alternative. It includes 12 pieces in total: 4 11-inch dinner plates, 4 8.5-inch salad plates, and 4 6.5-inch bowls. They all have gorgeously scalloped rims with intricate detail, and they're made of durable stoneware. It adds a splash of vintage to any serving setup, and you can choose between 3 colors, including linen white, light blue, and red. The collection is $50 at Walmart with free shipping.
Best Drinkware – Libbey 15-Ounce Brew Master Beer Bugs
Mead, ale, or beer, whatever you fill them up with, these mugs are sure to make everyone merry! You don't even have to fill them up with anything scandalous, you can add juice, water, or whatever wets your whistle! The set includes 6 mugs in all, each with a 15-ounce capacity. They're dishwasher-safe, and plenty durable for frequent — or infrequent — use! You can grab the whole set for $13 at Walmart!
Alternative: Not into beer or mugs? No problem. Libbey's 17-ounce Stemless Wine Glasses are a great choice too.
Best Anywhere Item – Lantern with Floral Arrangement Table Top Decoration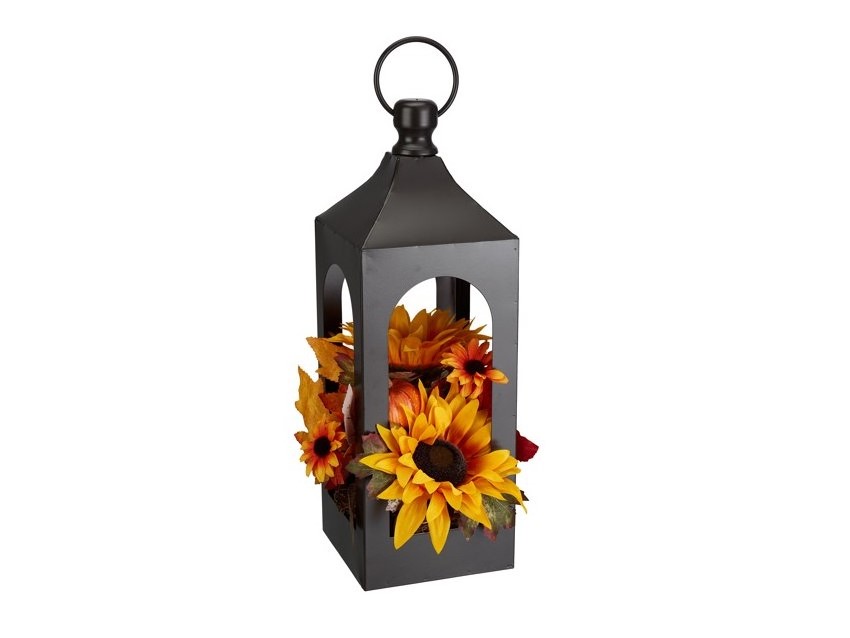 The best part about this beautiful vintage lantern is that it's incredibly versatile. You can hang it, set it on a table or surface, and customize it to your liking. Don't like the floral arrangement inside? No problem. Swap it out, or replace it with a candle. It stands 17.75-inches tall, has a sleek appearance, and has a metal frame! Tall, dark, and handsome. Just $15 out the door for this at Walmart.
Best Wall Decor – Harvest Windmill Hanging Decoration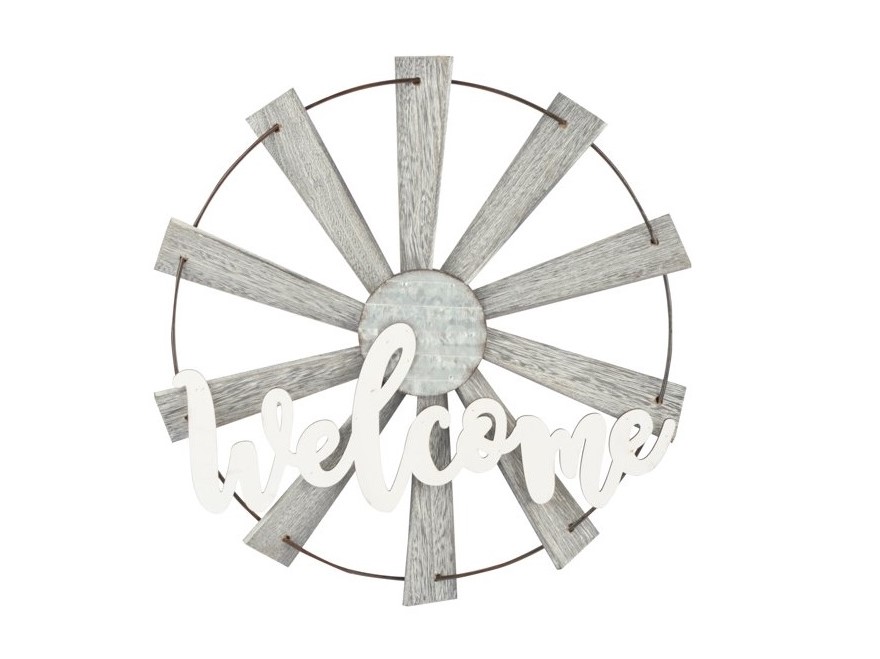 This fabulously rustic windmill and welcome message decoration can be mounted on the wall, in an entrance, in your dining room, or wherever it looks best! It's going to complete any classic or farmhouse look you've got going on while adding a warm and cozy feel. The fan blades are rustic wood, the "Welcome" letters are wood, and the frame is galvanized steel, and dimensions are 17-inches by 17-inches, with a thickness of 2-inches. It's best placed indoors, even though most windmills are out! It's yours for $12 at Walmart.
Best Candle Holder – Natural Wood 6.5-inch Pillar Holder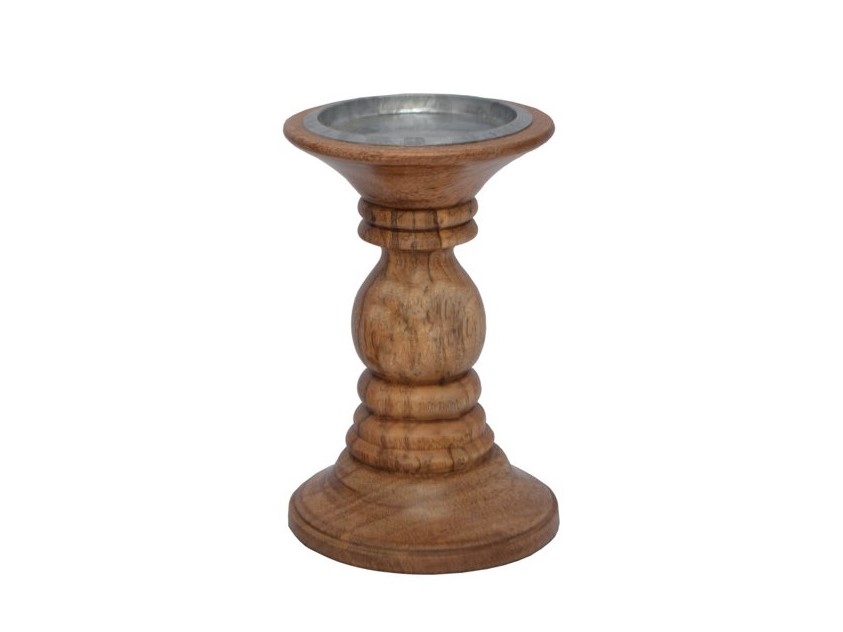 Need a place to show off your charming candles? This 6.5-inch tall pillar holder is made of beautiful hand-crafted mango wood. It's perfect for both natural candles and LED candles, and throwing a collection of these on your table or hearth will definitely brighten the place up! Just one holder is $7 at Walmart.
Best Functional – Sorbus Buffet Caddy Stackable Set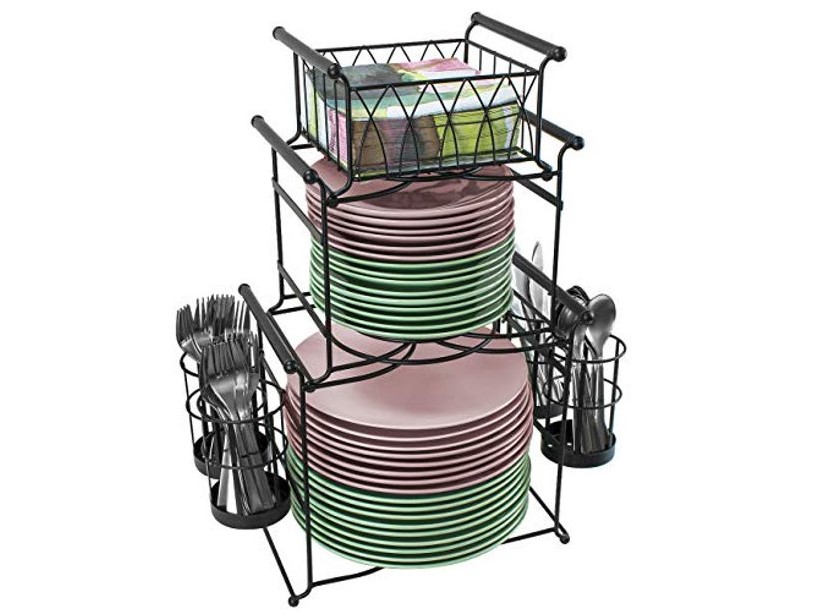 Don't throw your dinnerware out on the table all willy nilly, arrange them neatly with this multi-piece stackable caddy. It keeps everything organized but within reach and will delight your guests at the same time. It features a 3-tier design with the bottom for large plates, the middle for small, and the top for napkins or linens. The silverware hangs out on the side. You can either place it right on the end of a dinner table or somewhere nearby. If you don't want to stack the holders, you can arrange them separately, as well. It's available for $50 at Walmart with free shipping.
Best Covering – Meidong Rectangular Cotton and Linen Tablecloth
Simple. Dignified. Delicate. This anti-wrinkle and anti-shrink tablecloth is made of high-quality linen and cotton. It has a tasseled edge with stitching throughout. It covers 55-inches by 71-inches of space. It's yours, from Walmart, for $25 — normally $40.
Editors' Recommendations