Your teen's bedroom should be a place where their personality and style shine. After all, their bedroom serves as their space to entertain friends, relax, and enjoy a late-night snack, and (we hope) also get their homework done. So when it's time to transform their bedroom from a kid-friendly space to a versatile teen retreat, there's no doubt your teen will have plenty of opinions on what they want in their upgraded room.
If you and your teen are looking to give their room a major overhaul, get inspired with these cozy details that are teen-approved.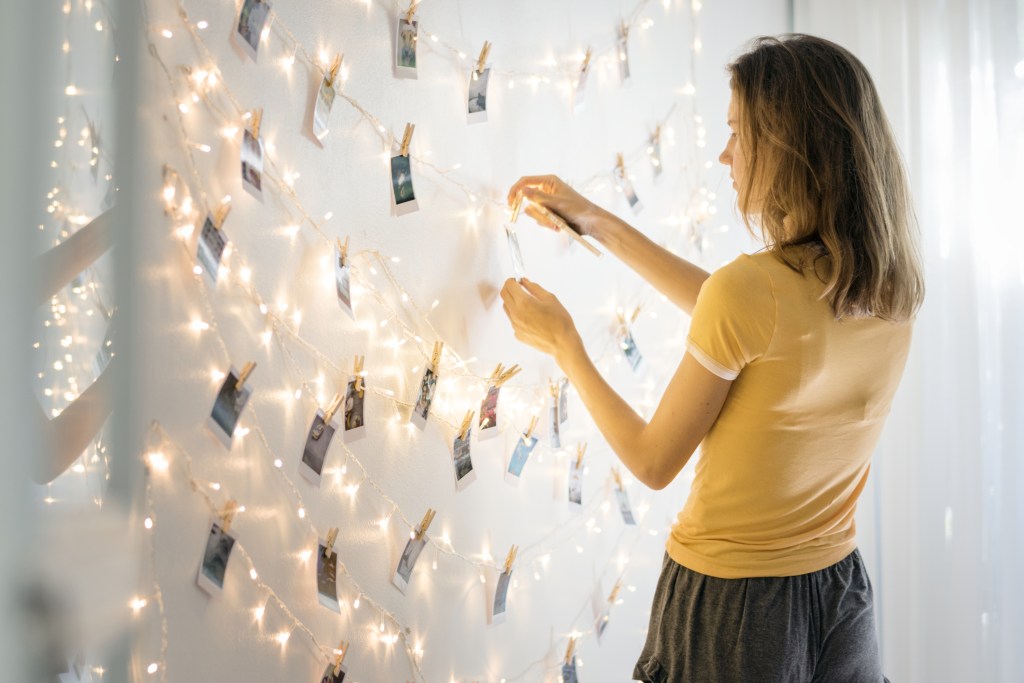 Picture perfect display
If your teen has roughly a million pictures on their phone, turn their favorite pics into works of art. Start by having your teen choose their favorite photos, and help print them out. Next, hang twinkle or fairy lights on their wall. Use removable hooks so that the wall isn't damaged, and you can create an entire accent wall of soft glowy lights or designate a smaller space above their headboard for the lights. Then, using small clips or mini clothespins, hang the pictures between the lights. Now your teen has a personalized light installation in their room that creates ambiance and style. Plus, whenever they feel like changing up their room, they can simply update the pictures.
DIY canopy
Even if it's the same bed your teen has been sleeping in for years, an easy DIY project can completely transform the look of their bed from a little kid room to a teenage dream. A canopy bed adds drama, style, and a cozy feel to the room, and you can make a canopy that won't break the bedroom renovation budget.
Here are three ways you can DIY a canopy over your teen's bed.
In a square shape, mount four curtain rods on the ceiling around your teen's bed and hang curtain panels from each rod. Be sure to choose curtain panels that are long enough to puddle on the floor around their bed.

Grab a hula hoop and drape curtain panels around the hoop. Hang the hoop above their bed near their headboard, and let the curtains drape around their bed.

Fasten two swing-arm curtain rods to the wall on either side of the bed. Make sure to hang the curtain rods just a few inches from the ceiling. Then complete the look by loosely draping swags of fabric or curtains across the bed from one rod to the other for a dreamy and low-cost DIY canopy.

Hangout lounge
Give your teen a cool space in their room that is perfect for hanging with friends. Rather than everyone sitting on the floor while they chat, designate a space or corner to become their lounge area. Start with the seating and get creative. From cool accent chairs, oversized bean bags, or even an assortment of cozy pillows, choose seating options that add style and function to the lounge space. Next give the area some personality by adding decor to the wall, a small area rug, and smaller pieces of furniture like an end table or even a floating nightstand.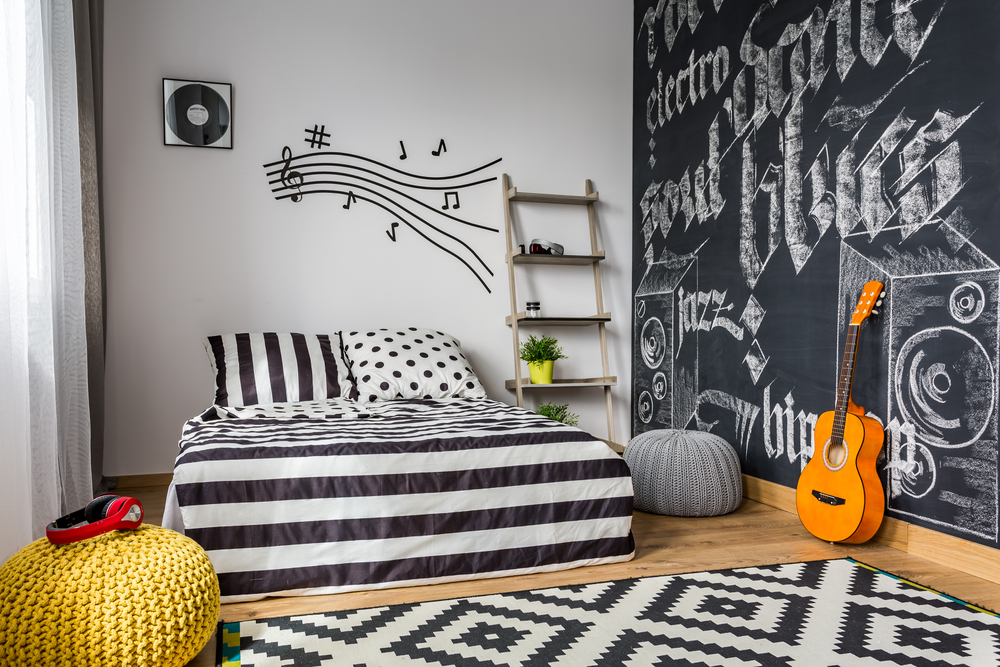 Hobby corner
If your teen is a gamer, a sports fanatic, a makeup guru, or could spend hours getting lost in their favorite book, create a hobby corner in their bedroom to shine a spotlight on what they love. Place furniture that functions in the space — a gamer chair or cozy seating to read — and decor that is uniquely their own (their favorite sports gear or the perfect lighting to create the newest makeup trend). Your teen's room will feel like it's a space that's designed just for them. As your teen's hobbies change and grow, so can this space.
A standout accent wall
An accent wall is a great way to add a bold change to your teen's bedroom. From a pop of color, a massive wall decal, or a chalkboard wall where they can doodle and sketch, an accent wall can become the centerpiece of your teen's newly designed bedroom.
When your teen was younger, you had full control over how their room was decorated. From the color scheme, the furniture, and all of the decor, you were the one deciding their style. However, now that they're older, they've got plenty of ideas and opinions on what should and should not be in their room. Honestly, it's pretty cool seeing our kids grow into their awesome new teen selves.
When it's time for a major overhaul of their kid bedroom, you and your teen can work together to design a space that is functional for their busy teen life, but also shows their creative and unique side.
Editors' Recommendations