Spring and summer are the most opportune times to update your outdoor spaces. And for homeowners who enjoy parties and backyard barbecues, patios can be a fantastic addition. However, how do you know which material is best for an outdoor patio when embarking on this project?
Today, we're weighing the pros and cons of using pavers vs. concrete in an outdoor space to help you decide what would work best for your needs.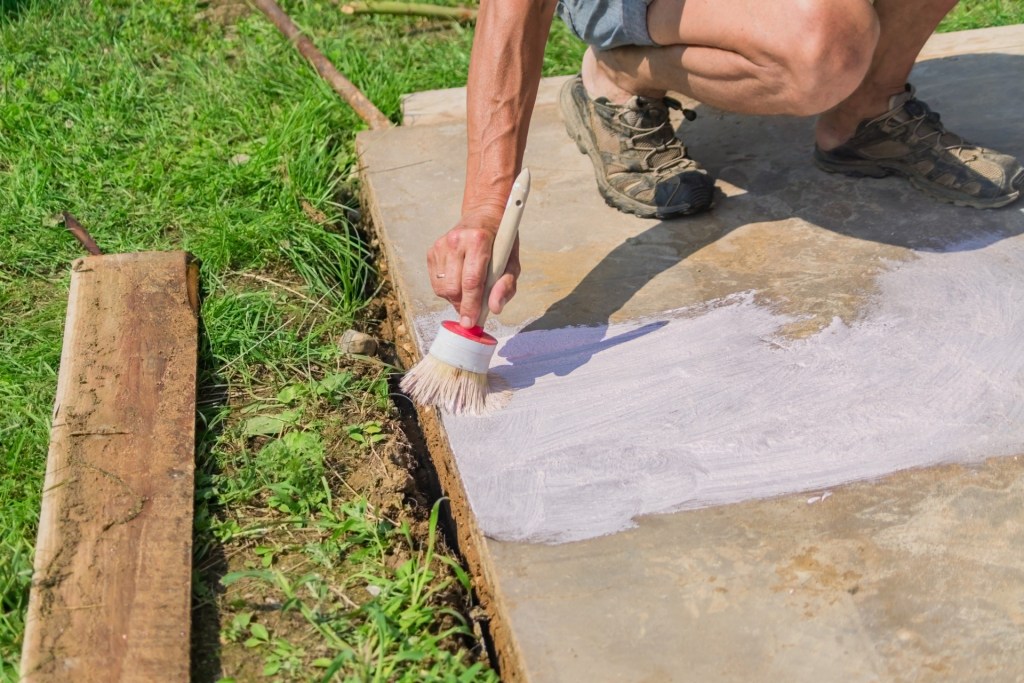 Based on upfront costs
When it comes to upfront costs, concrete is by far the more affordable option. When opting for concrete, you can expect to pay anywhere from $4 to $8 per square foot. However, this cost can vary depending on whether you do the installation yourself or hire a professional in your area. Still, even by hiring someone to pour your concrete patio, you may save money.
Brick pavers can cost around $8 and up to $20 per square foot, depending on the quality of the material you choose. This means that for a simple 10-by-10 patio, you might expect to spend up to $2,000 for the entire project.
DIY or hire a professional?
While it's certainly possible to DIY both a concrete or paver patio, this depends on your expertise level. If you want a smooth and even finish with few flaws or mistakes, it could be beneficial to hire a professional. This is particularly important to consider if you choose to install a concrete patio. Hiring an expert to lay your concrete patio will ensure the space is level and that fewer materials go to waste.
On the other hand, you could also hire a professional to lay your pavers. However, pavers are far easier to install for the average homeowner and don't require many complex tools or much expertise to DIY. Concrete slabs or concrete pavers could be a good alternative for a homeowner looking to save money while also valuing the look of pavers. Additionally, they are easier to install than pouring concrete, meaning you don't need to hire an expert to get the job done.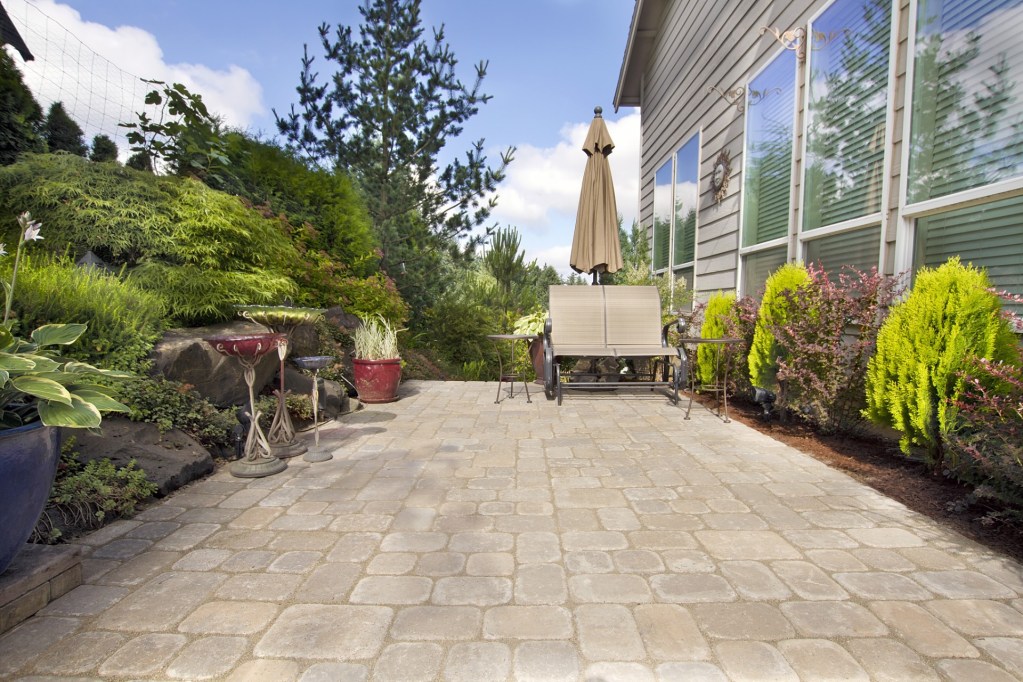 When it comes to durability
Hands down, pavers have more durability than concrete. While concrete patios and driveways can certainly last up to 30 years if well maintained, inevitably, they will eventually develop cracks and fissures. Rain, weight, and any number of environmental elements can slowly deteriorate concrete over time.
Pavers will also show signs of wear over time, particularly when it comes to shifting in the ground. You might notice pavers sink into the ground as the elements slowly work away at the ground, making your patio anything but level. However, this process usually happens at a rate slower than the deterioration of a concrete patio. As a result, paver patios can last up to 50 years!
Wear on pavers can also be more easily replaced than concrete, meaning that if your paver patio is "sinking," it's an easy and affordable solution to replace the pavers or re-level parts of the patio. Cracks in concrete can be more challenging to remedy, particularly if you're also struggling with crumbling or other issues of deterioration.
Consider maintenance and updating
As we mentioned above, concrete will wear over time and may require more upkeep and repairs. Cracks will need to be patched and smoothed over. Moreover, the patio will require an additional layer of concrete to be poured over to hide any patches and re-level the space. And as we also said above, pavers will also need to be replaced now and again. If your soil is susceptible to shifting or frequent flooding, this could mean more upkeep for your pavers as well.
Both, however, will need routine power washing or cleaning. Paver and concrete patios need to be cleaned to prevent faster deterioration. Additionally, you'll have to cut back weeds and be proactive about preventing grass and other plants from growing through any cracks or gaps in the patio, as plants can easily break up the time, money, and hard work you put into the space.
How will both affect curb appeal and property value?
Both concrete and paver patios can enhance curb appeal and up the property value of your home. Ultimately, the final decision will be based on personal preference and what you think looks best in your outdoor space.
Concrete provides a smooth finish and blends seamlessly with concrete porches and driveways that you may already have on your property. Additionally, poured concrete allows you to create more natural curves and designs to enhance the look of your space in a unique way.
On the other hand, pavers are highly customizable, with several bricks, colors, and patterns to choose from. They can be used alongside existing concrete porches and even near wooden decks. While not able to provide the perfect curve as concrete can, many homeowners favor the intricate designs and styles that pavers offer.
Both pavers and concrete patios come with pros and cons that homeowners need to weigh before making a decision. If you want something affordable and easy to install, concrete can be a great option. However, if you want something that has a more high-end look and feel and that offers more durability, pavers might just be your go-to. No matter what you choose, both can enhance your curb appeal and offer you space and comfort for plenty of backyard barbecues for years to come.
Editors' Recommendations